Groundbreaking innovations: as a leading research institute, imec at Holst Centre is at the very forefront of on-chip sensor technology. But to discover the true potential of such technology in the real world, imec regularly partners with designers and industry.
One such partner is the Dutch-based design agency GBO Innovation makers.
Erasing the lines between technology and design, the fruitful and symbiotic partnership between imec and GBO not only makes technology fit for purpose, but also makes purpose define technology.
The need
'At imec we do groundbreaking research and think up all kinds of innovative applications using sensors and chips,' explains Bernard Grundlehner, Systems Architect Connected Health Solutions within imec at Holst Centre. 'Only snag is that a brilliant idea isn't worth much if it turns out that its real-life application doesn't match up to what you had in mind.'
'In 2010, we were looking into applying our newly developed EEG read-out circuits into real tests. Typically, such tests are carried out by placing EEG electrodes with conductive gel on the scalp. The placing of these sensors needs to be done with extreme accuracy: it not only makes it time consuming, it can only be done by a professional. What's more, especially for measurements over a longer time, the electrodes need to be glued. The electrodes are subsequently connected to an EEG amplifier with wires. Having such electrodes on your scalp therefore seriously reduces mobility and can be the cause of considerable discomfort.'
'So, we asked ourselves, what if we could develop a mobile, consumer-like device with professional grade results? We most certainly had the high-quality sensors required for EEG tests, but we lacked the know-how to develop the wearable device we had in mind. It's why we turned to GBO,' Bernard recalls. 'We were already working with them – and continue to do so to this day – on a number of other collaborative projects.'
The challenge
'Imec has advanced sensors that are ideally suited to capture the brain's electrical activity, with dry electrodes that require no conductive gel, even through hair. The challenge though was that the sensors needed to be placed on the head in a secure way, without causing any discomfort whatever to the patient. With not one head being the same as the next, we first had to do extensive research into how we could realize a one-size-fits-all solution,' Jacques Gramser, Director at GBO explains.
Bernard: 'When GBO had successfully designed a first, rather technical, prototype, imec engaged with a consortium of Japanese research partners for the development of a headset to be used for research into measuring emotions and cognitive processes. The headset had to have the look and feel of a consumer product. It needed to be comfortable to wear and fit different head sizes and shapes.'
Jacques: 'We were fully aware that – as the saying goes – you never get a second chance to make a first impression! And we knew that the first impression (and functionalities) of what was intended to be a highly professional wearable with a consumer-like look & feel would 'make it or break it' for our client. We had a prototype, but this was a unique opportunity to take our design to a higher level!'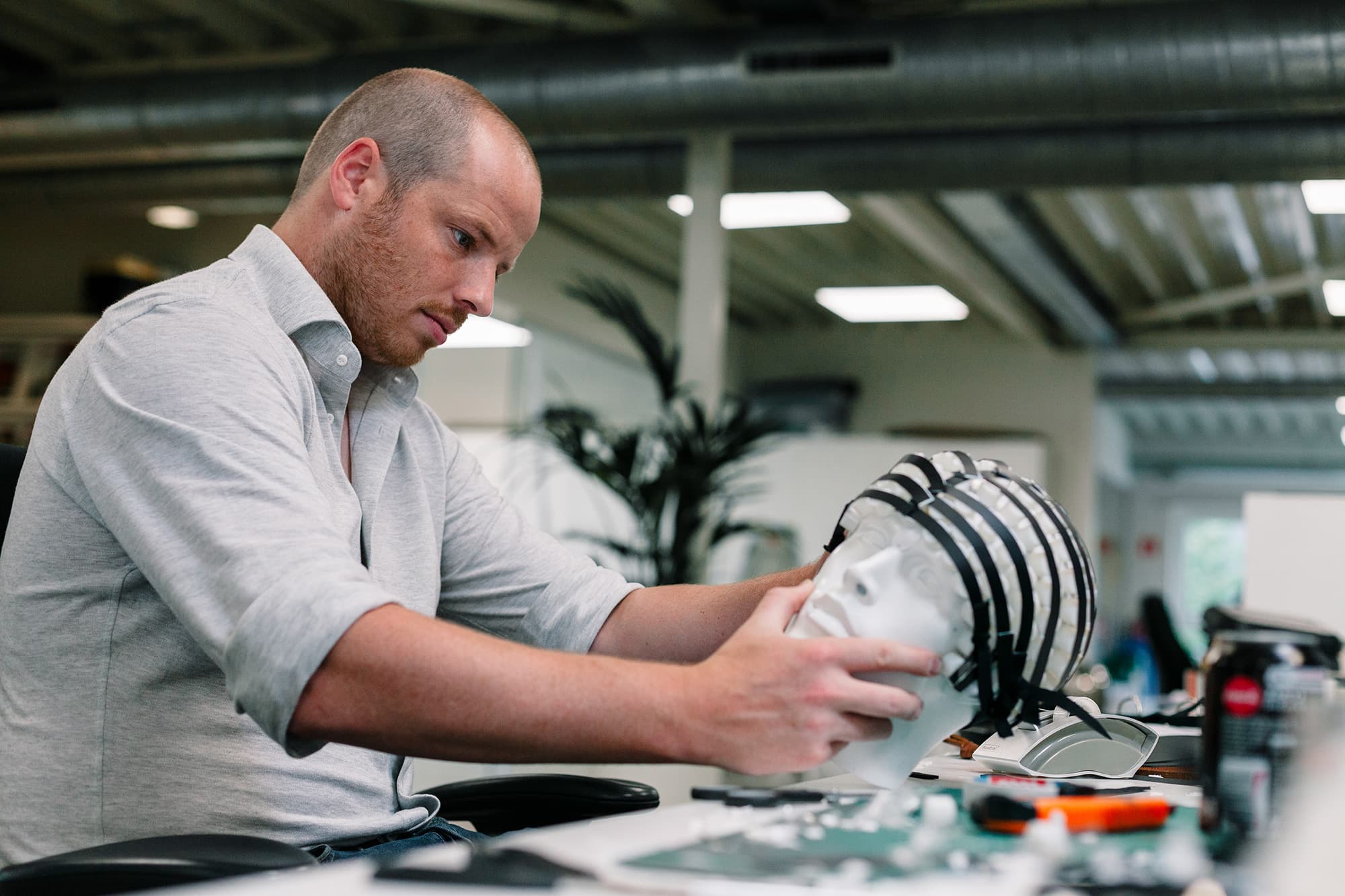 What the designers and engineers at GBO Innovation makers did
Jacques: 'The great thing about our collaboration with imec at Holst Centre – in this and many other projects – is that it's an almost symbiotic partnership. Their question to us was clear: to create a one-size-fits-all wearable (headset) that would offer maximum comfort to the wearer, with maximum performance using their unique sensor technology. And, of course, it had to be attractive, discrete, sophisticated and robust.'
'One of the first challenges that we hit upon, was in the creative phase,' recalls Bastiaan Hemmes, Product Designer at GBO. 'The shape and size of Japanese heads (and skulls) is generally different from our European ones. To be able to make a headset that would fit Japanese patients comfortably, we first had to do extensive research into Japanese head shapes.'
'Secondly, imec had placed its sensors into what they (and we) considered as being a discrete box. But such 'discrete' elements on the minimalistic head band that our designers came up with, turned out to be massive. So, we asked imec to go back to their drawing board.'
'This resulted in a sensor with an innovative and unique brush-like protruding surface* that pushes through a patient's hairs to gently touch the skin beneath and take accurate EEG measurements.'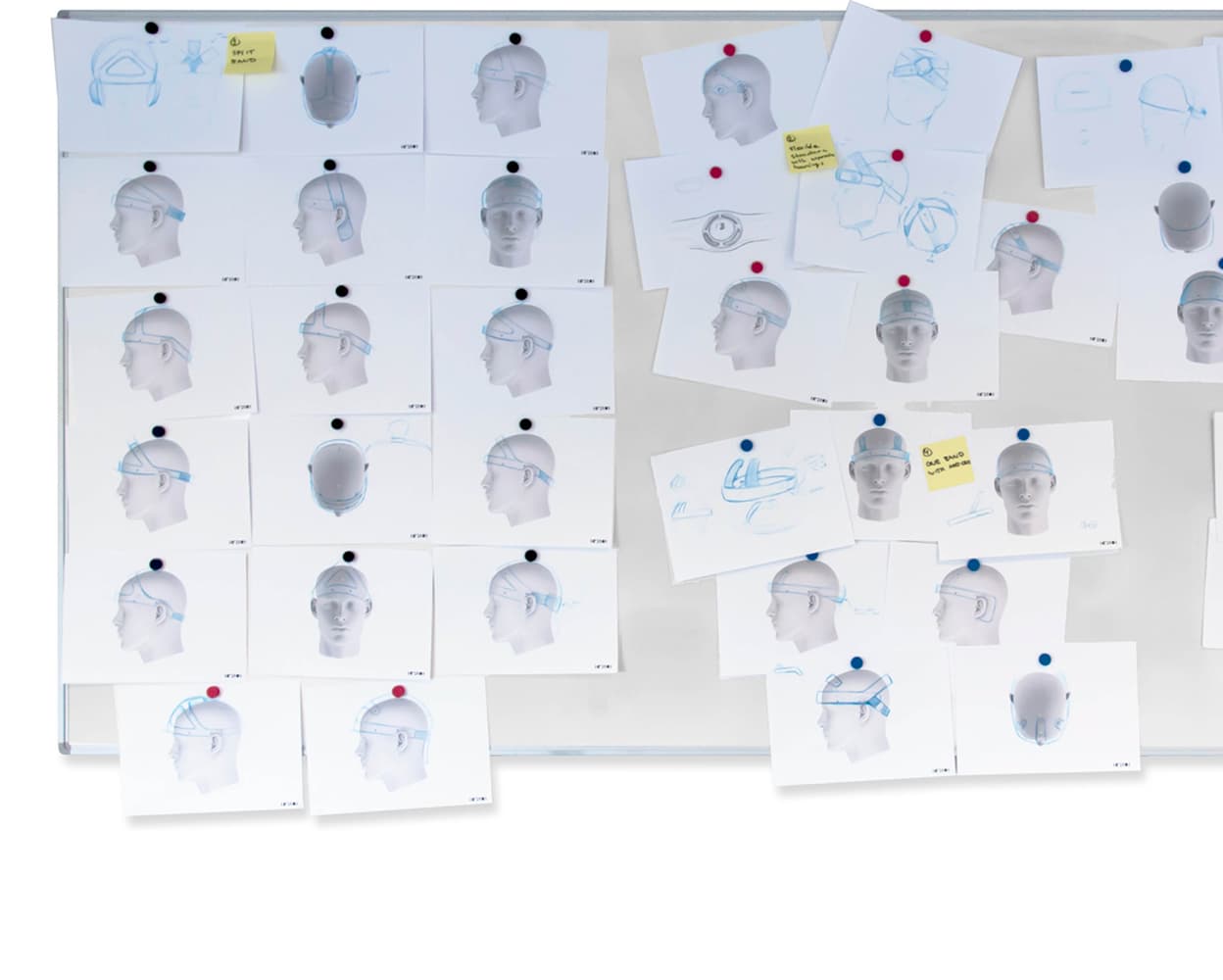 What imec did
Bernard: 'You could say that all our work is done once we've realized a new innovation. Such as the highly sensitive and accurate EEG read-out chips. But, the next step is equally important!'
Bastiaan points out: 'Real-life applications often call for something different or additional to make your innovation truly functional and value-adding.'
Bernard: 'It's here that a partner such a GBO brings us the collaboration and knowledge that is needed to turn breakthrough technology into breakthrough, validated and feasible products. The great thing with GBO is that they go beyond just the design phase to ensure proof of concept by actually producing it.'
What happened next
Using mock-ups, GBO defined the final shape and size-adjustment mechanism, as well as user interaction details like the button connector and LEDs. Based on a 3D-CAD design, they next printed a prototype in their 3D printer for further testing and fine-tuning. The mock-ups were tested in Japan, on Japanese test subjects.
In this way, GBO managed to take sensor innovation and turn it into an exclusive, elegant and comfortable wearable with unique electrode measurement technology. A limited exclusive series of EEG headsets was then manufactured by GBO.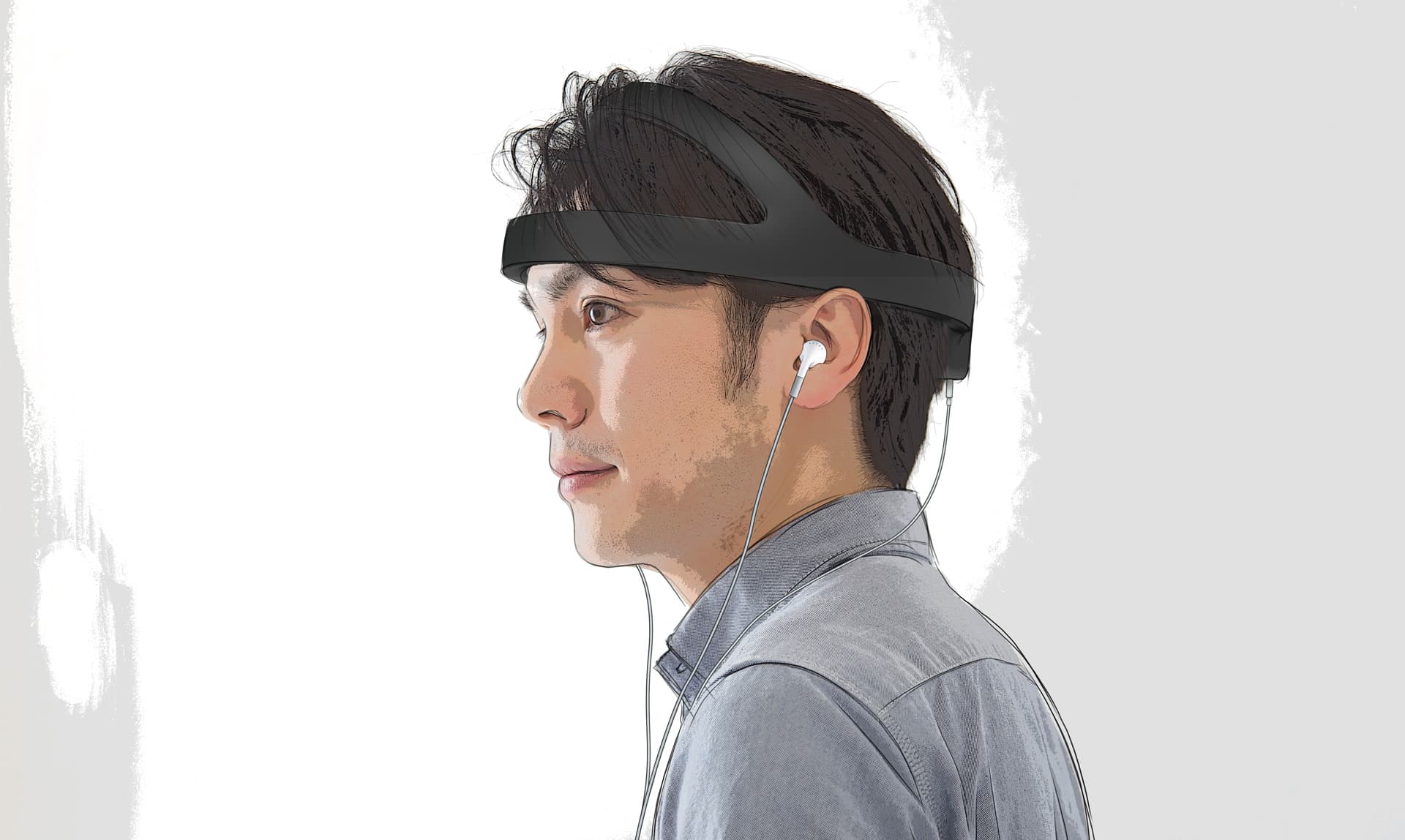 Moving forward
Bernard: 'Our innovations are easier to sell if their benefits and applications are demonstrated in a real use case scenario featuring a viable product. On the other hand, we're not in the business of selling an end-product. What makes our collaboration with GBO so unique is that – thanks to their prize-winning attention to both functionality and aesthetics – their design helps us tell what our innovations can bring clients. As we are owner of all design patents, added benefit is that if a client likes a design, we can offer them both the tech and the blueprint for an end product.'
Bastiaan: 'Most often our freedom to operate as designers is limited by brand guidelines or other product requirements. Working in collaboration with imec we get maximum freedom to design and help make their technology value-adding for real life applications. In the case of the headband, we were determined to make an iconic design for imec's Japanese client. And, at the same time, a design that would be so ingenious that it could be easily adapted to use for other measurement purposes.'
Bernard: 'Moving forward, we're collaborating with GBO in many other ways to use sensor technology in consumer-grade wearables, including a watch and glasses. And we've also been working with them on creating a so-called 'investigational' device. It's where design meets clinical studies: to create a minimalistic wearable that offers patients maximum comfort, and clinicians proven sensor technology.'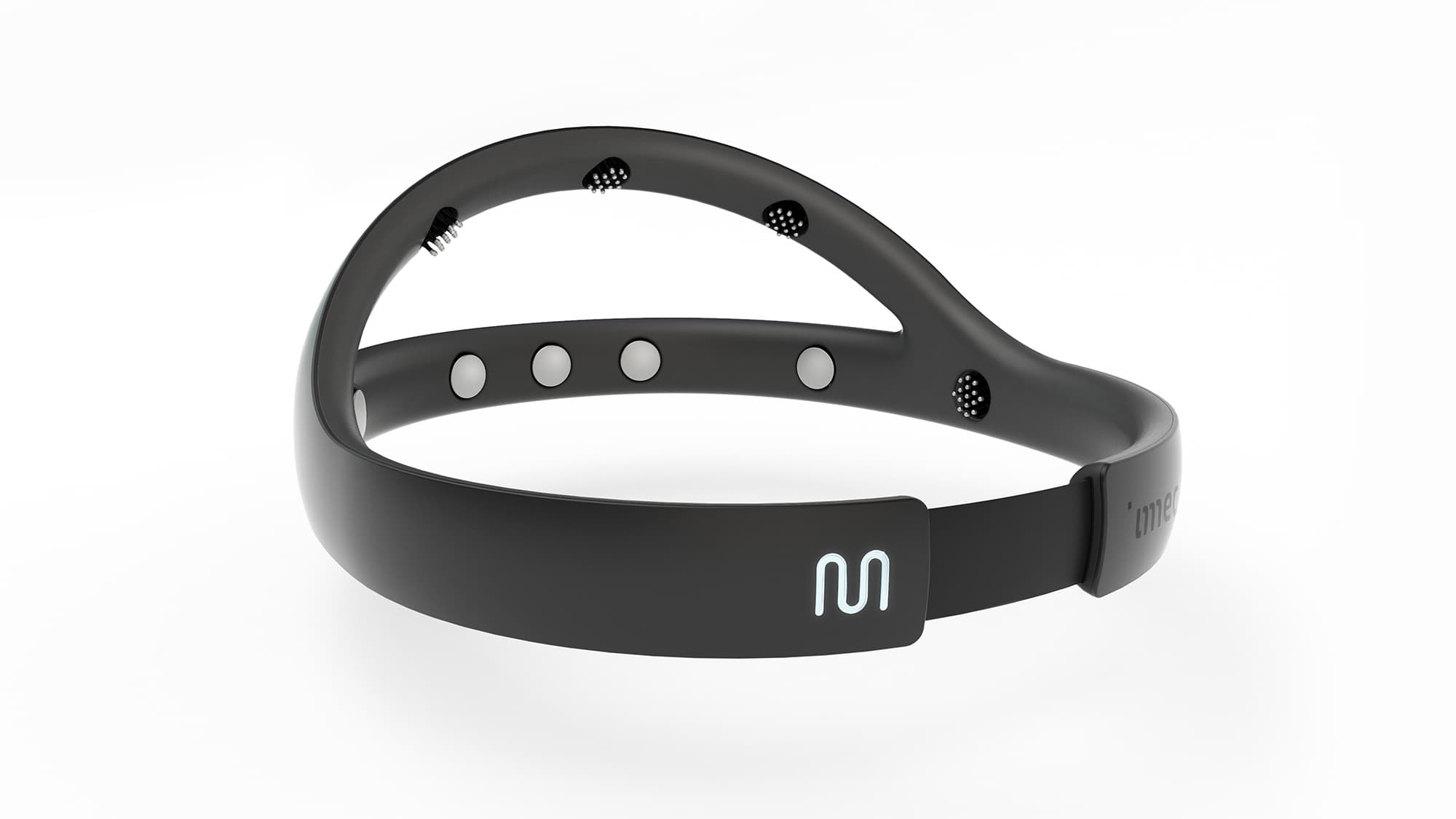 About GBO Innovation makers
Combining design skills with engineering capabilities, GBO Innovation makers goes beyond design to develop products that are not only appealing and functional, but also ready for production. They design, develop and deliver innovative products beyond expectations for more than 30 years.
How does an EEG work?
The billions of cells in our brain produce very small electrical signals that form non-linear patterns called brainwaves. An EEG measures the electrical activity in the outer layer of the brain. EEG sensors are placed on a participant's head, then the electrodes non-invasively detect brainwaves from the subject. They can record up to several thousands of snapshots of the electrical activity generated in the brain within a single second.
What does it show?
Our brain is constantly absorbing and processing information even during sleep. All of this activity generates electrical signals that EEG sensors pick up. This allows for changes in brain activity to be captured even if there is no visible behavioral response, such as a movement or a facial expression. Results can help identify emotional states affected by external stimuli.
Baanbrekende innovaties: als toonaangevend onderzoeksinstituut, loopt imec in innovatiecentrum Holst Centre voorop op het gebied van on-chip sensortechnologie. Maar om het werkelijke potentieel van dergelijke technologie in de echte wereld te ontdekken, werkt imec regelmatig samen met design- en industriële partners.
Een van die partners is het in Nederland gevestigde ontwerpbureau GBO Innovation makers.
In de vruchtbare en symbiotische samenwerking tussen imec en GBO, waarin grenzen tussen technologie en design verdwijnen, wordt de technologie niet alleen geschikt gemaakt voor het doel, maar bepaalt het doel ook de technologie.
De vraag
'Bij imec doen we baanbrekend onderzoek en bedenken we allerlei innovatieve toepassingen met sensoren en chips,' vertelt Bernard Grundlehner, Systems Architect Connected Health Solutions binnen imec in Holst Centre. 'Het lastige is alleen dat een briljant idee niet veel waard is als blijkt dat de toepassing in de praktijk niet helemaal is wat je in gedachten had.'
'In 2010 onderzochten we of we onze nieuw-ontwikkelde draadloze EEG-versterker konden toepassen in echte testen. Normaal gesproken worden dergelijke testen uitgevoerd door EEG-elektroden met een geleidende gel op de hoofdhuid te plaatsen. Het plaatsen van deze sensoren moet heel zorgvuldig gebeuren: dat maakt het niet alleen tijdrovend, maar het kan ook alleen door een professional worden gedaan. Bovendien moeten de elektroden, vooral bij metingen over een langere tijd, worden vastgeplakt. De elektroden worden vervolgens met draden aan een EEG-versterker verbonden. Als je deze elektroden op je hoofd hebt, beperkt dat je mobiliteit dus enorm en het kan voor behoorlijk wat ongemak zorgen.'
'Dus vroegen we ons af, wat als we een mobiel, consumenten-achtig device zouden kunnen ontwikkelen dat professionele resultaten oplevert? We hadden de hoogwaardige sensoren die vereist zijn voor EEG-testen, maar we hadden niet de knowhow om het draagbare device dat we in gedachten hadden te ontwikkelen. Daarom klopten we bij GBO aan,' vertelt Bernard. 'We werkten al met hen samen – en dat doen we nog steeds – aan een aantal andere gezamenlijke projecten.'
De uitdaging
'Imec heeft geavanceerde sensoren die bij uitstek geschikt zijn om de elektrische activiteit van de hersenen vast te leggen, zelfs door het haar heen, met droge elektroden waar geen geleidende gel voor nodig is. Maar de uitdaging was dat de sensoren op een zorgvuldige, veilige manier op het hoofd geplaatst moesten worden, zonder enig ongemak voor de patiënt. Omdat geen hoofd hetzelfde is, moesten we eerst uitgebreid onderzoek doen hoe we tot een one-size-fits-alloplossing zouden kunnen komen,' licht Jacques Gramser, Director bij GBO toe.
Bernard: 'Toen GBO erin was geslaagd een eerste, vrij technisch, prototype te ontwikkelen, ging imec in zee met een consortium van Japanse onderzoekspartners om een headset te ontwikkelen voor gebruik bij onderzoek naar het meten van emoties en cognitieve processen. De headset moest de look & feel van een consumentenproduct hebben. Hij moest comfortabel zitten en op verschillende hoofdmaten en -vormen passen.'
Jacques: 'We waren ons heel erg bewust dat – zoals het gezegde luidt – je nooit een tweede kans krijgt om een eerste indruk te maken! En we wisten dat de eerste indruk (en de functionaliteiten) van wat een uiterst professionele wearable met een consumenten-achtige look & feel moest zijn, voor onze cliënt een kwestie van 'nu of nooit' zou zijn. We hadden een prototype, maar dit was een unieke kans om ons design naar een hoger niveau te tillen!'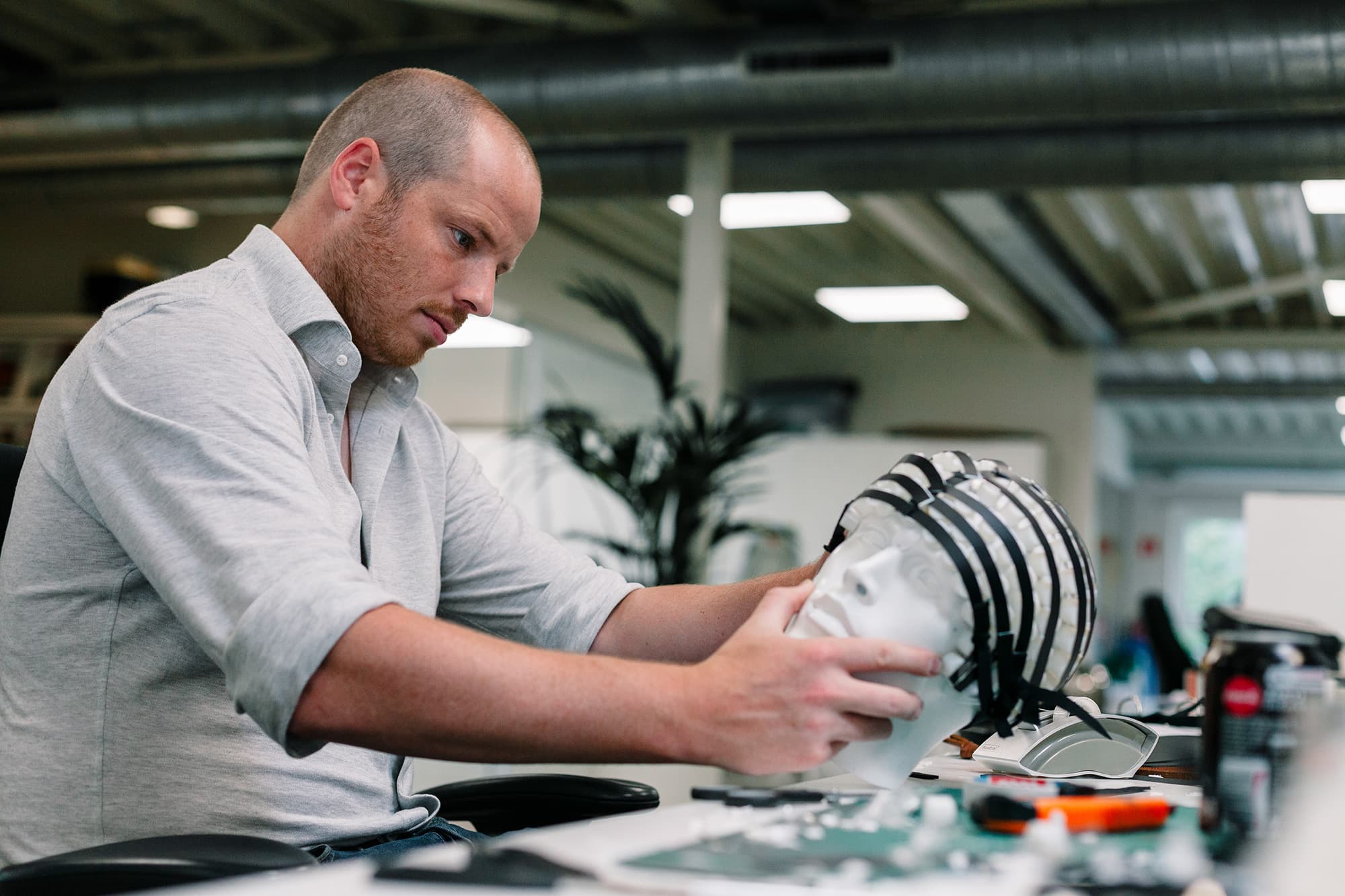 Wat de designers en engineers van GBO Innovation makers deden
Jacques: 'Het mooie van onze samenwerking met imec in Holst Centre – in dit project en talloze andere – is dat het een bijna symbiotische samenwerking is. De vraag aan ons was duidelijk: maak een one-size-fits-all wearable (headset) die de drager maximaal comfort biedt, met een maximale performance met behulp van hun unieke sensortechnologie. En uiteraard moest de headset aantrekkelijk, discreet, geavanceerd en solide zijn.'
'Een van de eerste uitdagingen waar we tegenaan liepen was in de creatieve fase,' zo herinnert zich Bastiaan Hemmes, Product Designer bij GBO. 'De vorm en grootte van Japanse hoofden (en schedels) is over het algemeen anders dan onze Europese hoofden. Om een headset te kunnen maken die comfortabel zou zitten bij Japanse patiënten, moesten we eerst uitgebreid onderzoek doen naar de vorm van Japanse hoofden.'
'Ten tweede had imec zijn sensoren geplaatst in wat zij (en wij) zagen als een discreet doosje. Maar dat 'discreet' bleek op de minimalistische haarband die onze designers hadden bedacht enorm te zijn. Dus vroegen we imec terug te gaan naar de tekentafel.'
'Dit resulteerde in een sensor met een innovatief en uniek borstelachtig-uitstekend oppervlak* dat door de haren van een patiënt heen duwt en zachtjes de huid daaronder raakt om nauwkeurige EEG-metingen te doen.'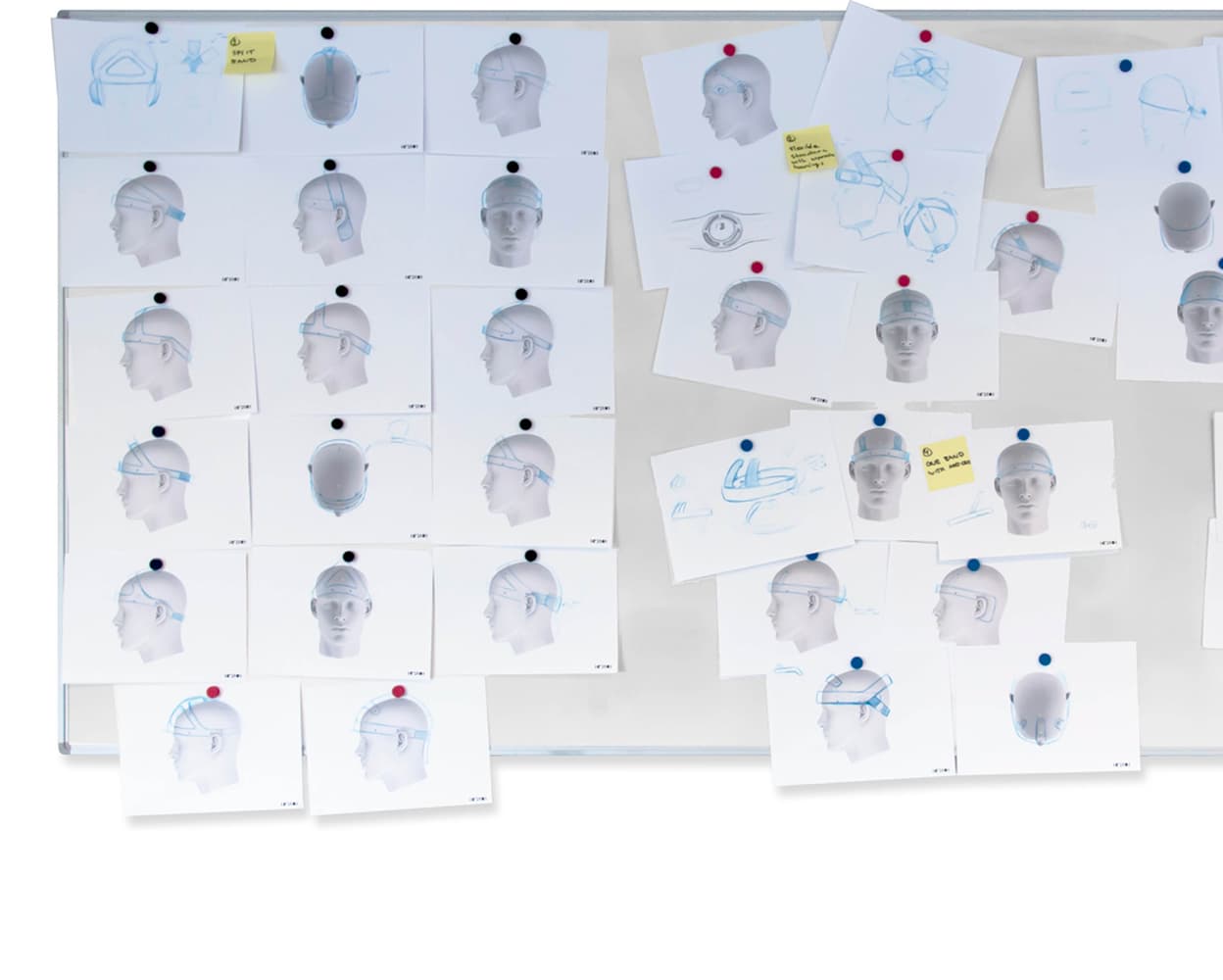 Samenwerking in optima forma
Bernard: 'Je zou kunnen zeggen dat ons werk klaar is zodra we een nieuwe innovatie hebben gerealiseerd. Zoals de uiterst gevoelige en accurate draadloze EEG-versterker. Maar de volgende stap is minstens zo belangrijk!'
Bastiaan vult aan: 'Real-life applicaties vragen vaak om iets anders of iets aanvullends, om te zorgen dat je innovatie echt functioneel is en waarde toevoegt.'
Bernard: 'Juist hier brengt een partner zoals GBO de samenwerking en kennis in die nodig is om een baanbrekende technologie om te zetten in baanbrekende, gevalideerde en haalbare producten. Het mooie van GBO is dat ze verdergaan dan alleen de designfase en zorgen voor 'proof of concept' door het product daadwerkelijk te produceren.'
De volgende stap
Met behulp van mock-ups heeft GBO de uiteindelijke vorm en het mechanisme voor de maataanpassing bepaald, als ook de gebruikersinteractiedetails, zoals de button-connector en de LEDs. Op basis van een 3D-CAD ontwerp hebben ze vervolgens met hun 3D printer een prototype geprint om verder te testen en te finetunen. De mock-ups zijn in Japan ook getest op Japanse proefpersonen.
Op deze wijze is GBO erin geslaagd de sensorinnovatie om te zetten in een exclusieve, elegante en comfortabele wearable met een unieke elektrode-meettechnologie. Vervolgens heeft GBO een exclusieve serie EEG-headsets in gelimiteerde oplage geproduceerd.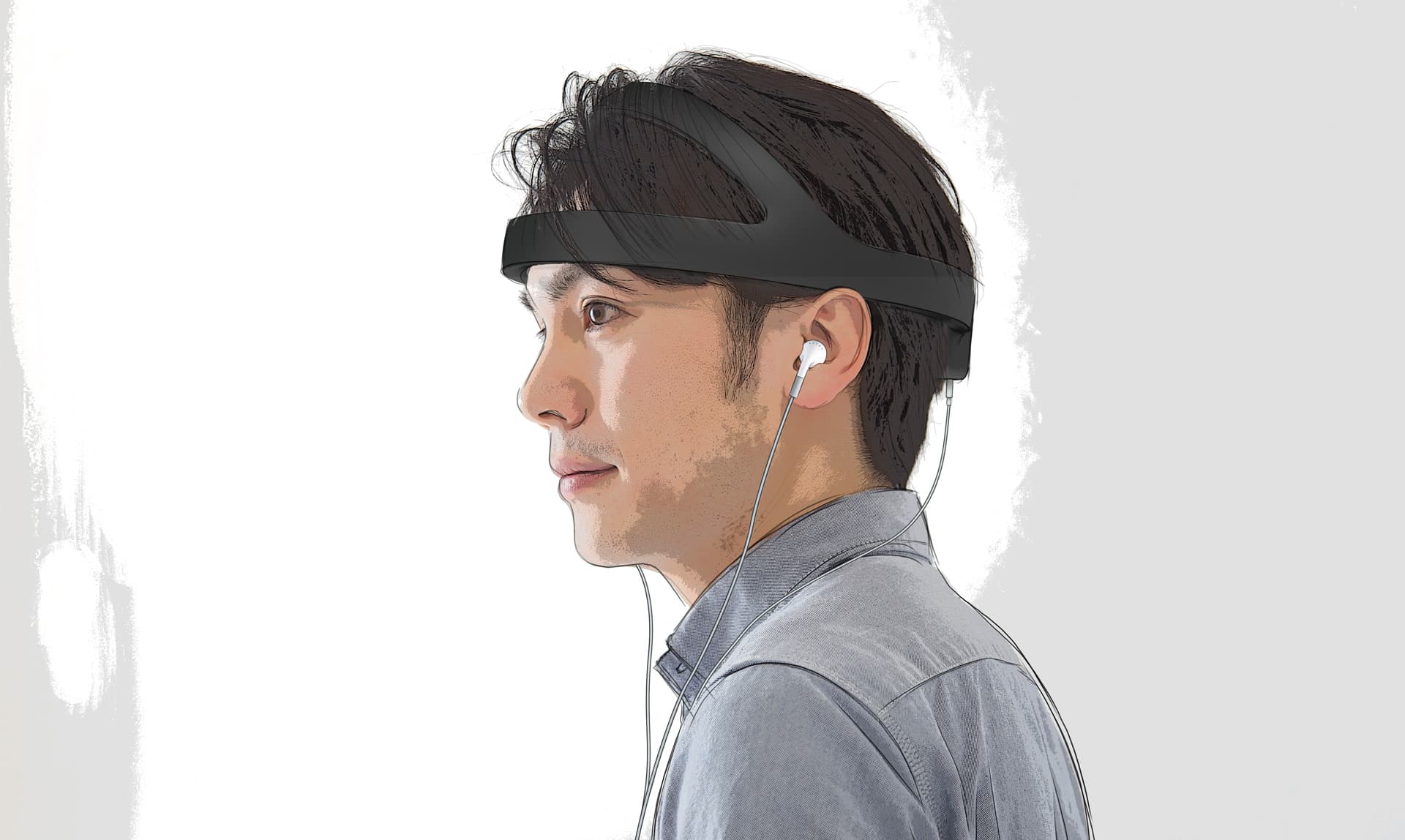 En de toekomst?
Bernard: 'Onze innovaties kunnen gemakkelijker worden verkocht als de voordelen en toepassingen ervan worden gedemonstreerd in een echt gebruikscase-scenario met een levensvatbaar product. Aan de andere kant: wij zijn niet in business om een eindproduct te verkopen. Wat onze samenwerking met GBO zo uniek maakt is dat – dankzij hun prijswinnende aandacht voor zowel functionaliteit als esthetiek – hun design ons helpt om te vertellen wat onze innovaties cliënten kunnen brengen. Aangezien we eigenaar zijn van alle designpatenten is een bijkomend voordeel dat als de cliënt het design mooi vindt we hem zowel de techniek als de blauwdruk voor een eindproduct kunnen bieden.'
Bastiaan: 'Meestal wordt onze vrijheid als designers beperkt door merkrichtlijnen of andere producteisen. In onze samenwerking met imec krijgen we de maximale vrijheid om te ontwerpen en te helpen met hun technologie waarde toe te voegen aan real life toepassingen. In het geval van de hoofdband, waren we vastbesloten een iconisch design te maken voor imec's Japanse cliënt. En tegelijkertijd een design dat zo ingenieus is dat het gemakkelijk kan worden aangepast om te gebruiken voor andere meetdoeleinden.'
Bernard: 'Ook voor andere toepassingen van sensortechnologie in consumentachtige wearables, zoals een horloge en een bril, werken we hen samen. En nu zijn we aan de slag met het creëren van een zogenaamd 'investigational' device. Wij bewegen ons hierbij op het snijvlak van design en klinische studies. Het doel daarbij is het maken van een minimalistische wearable die patiënten maximaal comfort biedt, terwijl clinici kunnen vertrouwen op bewezen sensortechnologie.'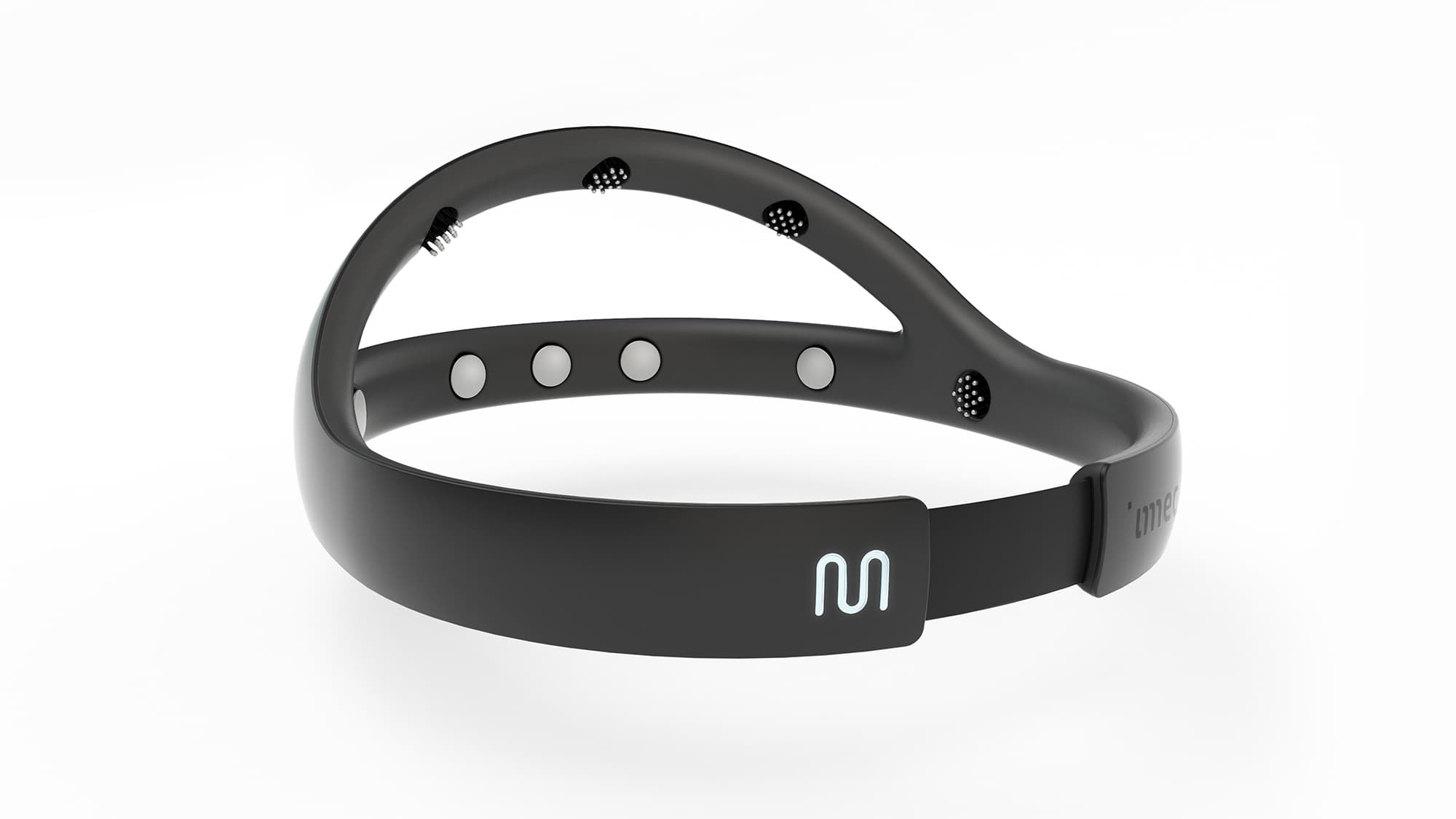 Over GBO Innovation makers
Door design skills te combineren met engineeringcapaciteiten gaat GBO Innovation makers verder dan alleen design, met het doel producten te ontwikkelen die niet alleen aantrekkelijk en functioneel zijn, maar ook klaar voor productie. Al meer dan 30 jaar ontwerpen, ontwikkelen en leveren we innovatieve producten die verwachtingen overtreffen.
Hoe werkt een EEG?
De miljarden cellen in onze hersenen produceren zeer kleine elektrische signalen die niet-lineaire patronen vormen, hersengolven genaamd. Een EEG meet de elektrische activiteit in de buitenste hersenlaag. EEG-sensoren worden op het hoofd van een deelnemer geplaatst, waarna de elektroden op niet-invasieve wijze hersengolven van de proefpersoon detecteren. Ze kunnen binnen één seconde enkele duizenden opnamen maken van de elektrische activiteit die in de hersenen wordt gegeneerd.
Wat laat het zien?
Onze hersenen zijn voortdurend bezig informatie op te nemen en te verwerken, zelfs tijdens de slaap. Al deze activiteit genereert elektrische signalen die door de EEG-sensoren worden opgepikt. Hierdoor kunnen veranderingen in hersenactiviteit worden geregistreerd, ook als er geen zichtbare reactie in gedrag is, zoals een beweging of gezichtsuitdrukking. De resultaten kunnen helpen emotionele gesteldheden te identificeren die worden beïnvloed door externe stimuli.
Published on:
7 September 2021