Some time ago, the whole world was watching how a giant containership got stuck on the banks of the Suez Canal. The 20,000 containers on board and the more than 400 other vessels waiting for passage, made it abundantly clear how important the logistic sector is for worldwide trade, for keeping our ports and factories up and running, and for our personal comfort. A blockage of cargo ships disrupts trade flows in all kinds of materials and components. And if the past year has taught us anything, it is that we can stop the mobility of people, but not the transport of goods. On the contrary.
The unstoppable growth of logistics
Food, equipment, materials, and vaccines must get to their destination. On top of that, it is more tempting than ever to place an online order with one single mouse click, that will arrive at your doorstep on the next day. The logistics sector is experiencing a solid growth to meet the increasing demand from (homeworking) customers. And yet, did you know that 20% of the trucks on our roads simply carry air, and that the remaining 80% are about 56% loaded? Did you know that a lot of freight traffic ends up taking the same overlapping route? Each transportation company uses its own system for planning; this makes it difficult to cooperate, which results in fragmented deliveries with low fill-rates.
Also, there is still a long way ahead to reach greener traffic. While we notice a decrease in exhausts in passenger transport (due to electrification for example), the transport sector is struggling with an increase, since a lot of freight traffic is provided by trucks. Their share increases while the use of more sustainable means of transport, such as inland waterways and railways, remains stable.
These are some of the challenges that the Physical Internet intends to address.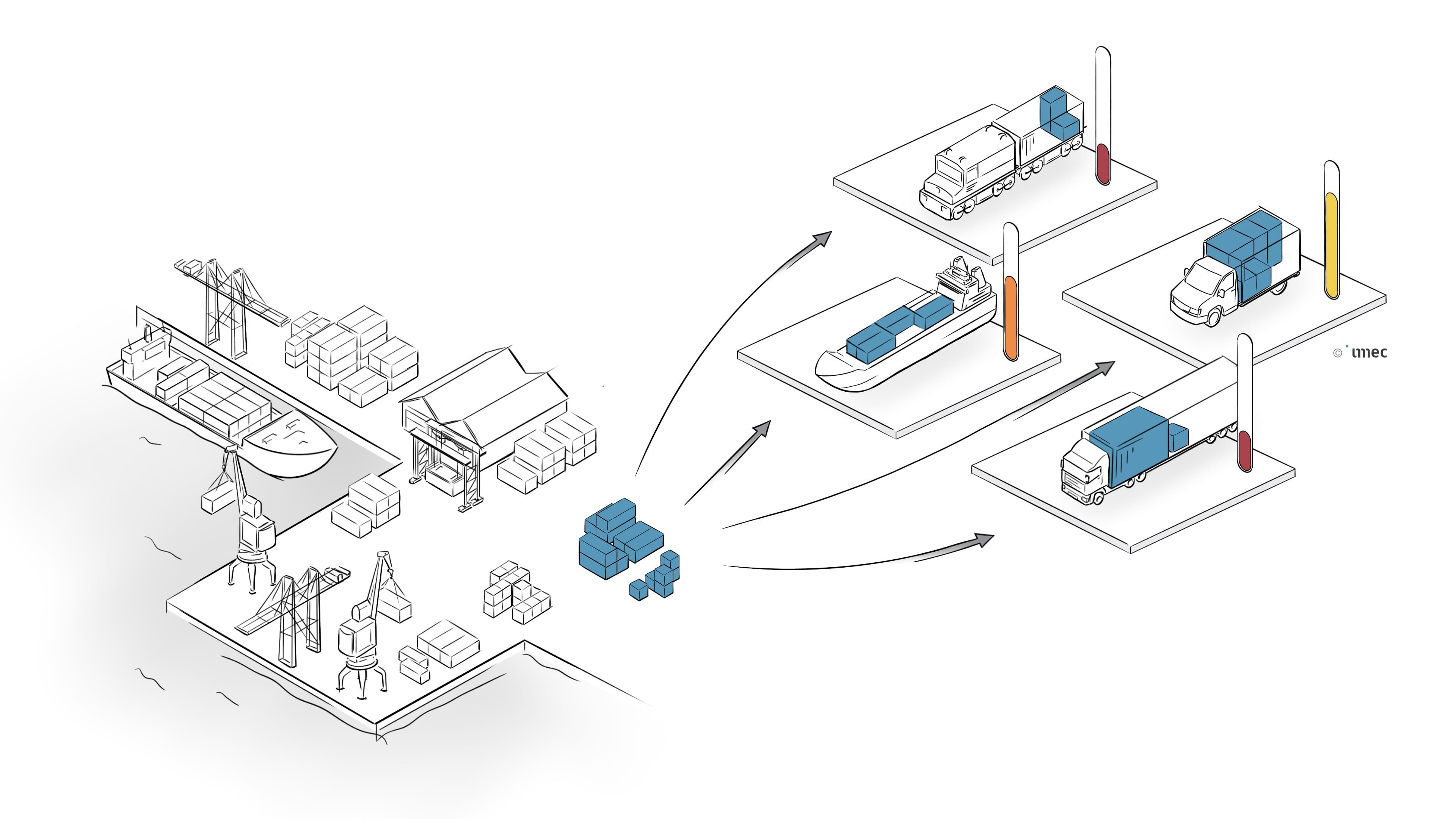 Physical Internet for efficient transport from origin to destination
"The Physical Internet introduces the concept of digital internet in the logistics sector. In the same way that an e-mail uses the full network capacity to go from sender to receiver, goods should use the full capacity of the infrastructure," explains Tomas Ambra, Logistics Research Leader at imec. "If you send an e-mail, it does not matter which provider or device you use, and that is how it should in principle work for freight traffic to go from origin to destination. That would ensure, for instance, that congested traffic on freeways could be avoided by diverting the goods via waterways or railroads. Simply copying the digital model, however, is not an option. There are still significant differences. For example, switching modes within intermodal traffic involves a non-negligible terminal handling cost and requires additional paperwork for cross-border transport, customs clearance etc."
Synchromodality creates new opportunities
Today's challenges in logistics require a radically new approach. The Physical Internet aims to improve underutilization of capacity and other inefficiencies by connecting transport networks and transporting goods in the most optimal way from origin to destination. Crucial to this is the concept of synchromodality. That refers to the flexible deployment of different modes of transport in real time. This ensures that a supplier is offered an integrated solution to get goods from point A to point B in an agile way.
Synchromodality is akin to intermodality (the use of different modes of transport) but supplemented with contextual, real-time information to pick the best means of transport. For example, if the water level is too low, a container can be redirected to truck or train traffic. If there is a traffic jam or any other disruptions, containers can be transferred to inland waterways or rail traffic.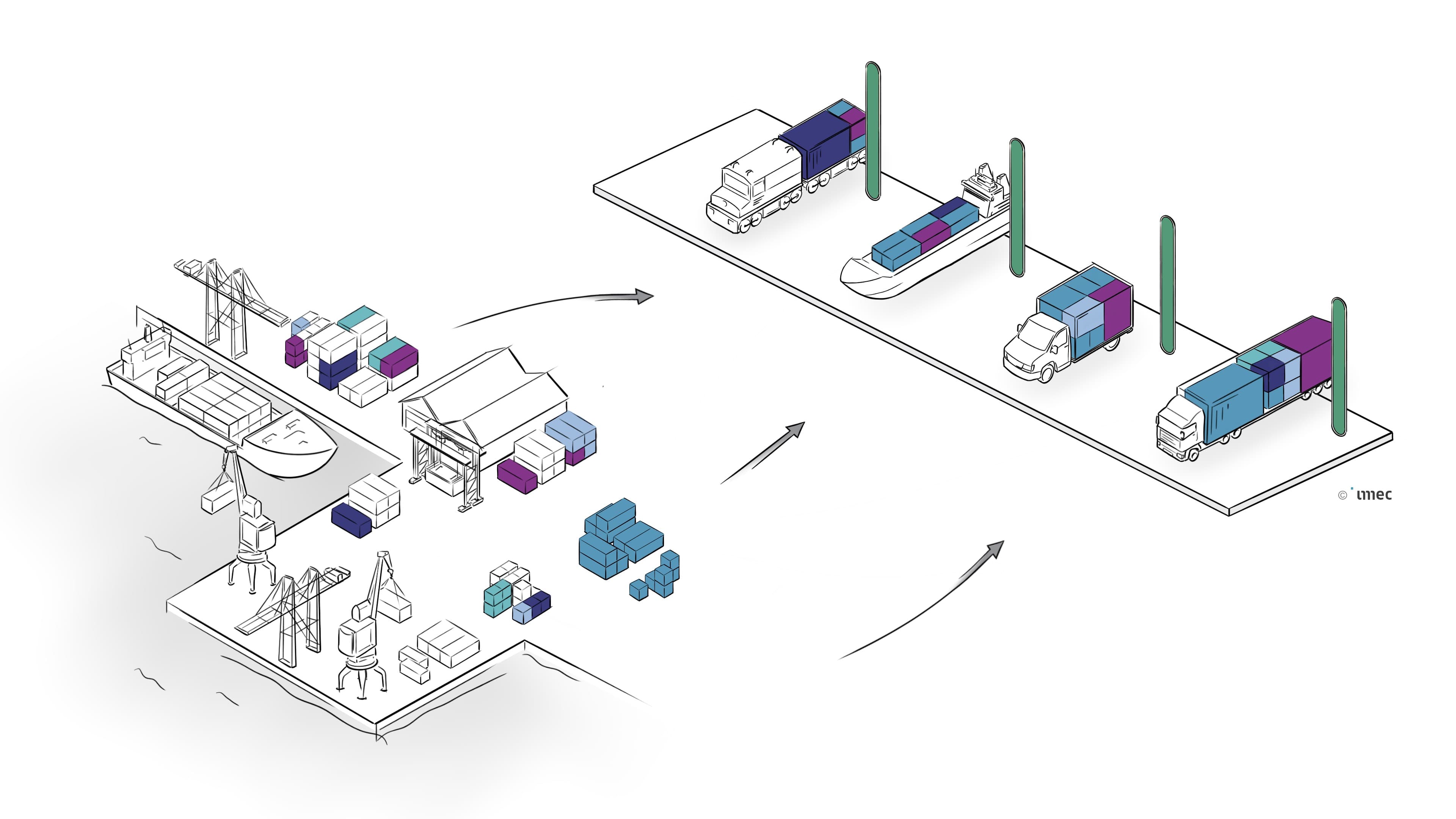 Shift to sustainable transport
"We expect that the development and realization of the Physical Internet will enable the shift to more sustainable logistics in the future. And that is crucial, since we expect that freight transport will increase by approximately 40% by 2030 and little over 80% by 2050 (compared to 2005). We need to get that increase off the road, otherwise the traffic situation in Flanders will become untenable," explains Tomas Ambra.
The Physical Internet focuses specifically on the expected growth in freight traffic. Making the entire truck fleet electric is just a piece of the puzzle, since there will still be an enormous number of trucks on the road. To create the shift towards sustainable transport, the switch to green fuels and other sustainable alternatives must be complemented by the integration of different transport modes, connecting roads with railroads and waterways.
Turn theory into practice
Until now, the Physical Internet was a theoretical concept. In the new PILL (Physical Internet Living Lab) project, that imec is coordinating, the focus is on the practical elaboration of the concept, focusing on logistics in and around ports.
The first challenge is to evolve to a paperless environment. Digitization will make logistics processes faster, easier, and more efficient. Moreover, e-documents are essential to optimize workflows because you need to have an overview of different parameters such as the location and destination of the container or the required temperature or humidity.
Therefore, researchers of the PILL project will build the first IT prototype of the Physical Internet for nodes, such as the Port of Antwerp and Zeebrugge. The intention is to develop a system, based on digital documents and sensor data, that organizes seamless transport by proposing the most optimal route in overlapping transport networks, regardless of the transport type. The sensor input will be translated into a virtual system. The 'brain' of that system is a so-called digital twin, a digital copy of the port which integrates all data, and then connects this virtual risk-free environment with the real world.
In the future, PILL will automate this system to be able to respond in a flexible way to real-time changes in capacity or infrastructure.
A living lab for the Physical Internet
As soon as the IT prototype exists, it will be validated in a Living Lab, a living test environment. In that environment, different interactions of real situations can be tested. For this project, for example, an IT architecture is being designed with existing sensor and freight data from the Port of Antwerp and Zeebrugge. Transport companies will validate the proposed interventions and IT architecture.
The port environment is a perfect testbed for the Physical Internet because it unites diverse companies that operate in many silos with their own systems. The Physical Internet can connect all these processes and ecosystems by following existing standards. It can become a platform which any company can step into or out of.
As it is the first practical elaboration of the Physical Internet, the PILL project will focus first on the limited ecosystems of the ports, but in time this can be then implemented in a broader environment – in Flanders, in Europe, eventually globally as well.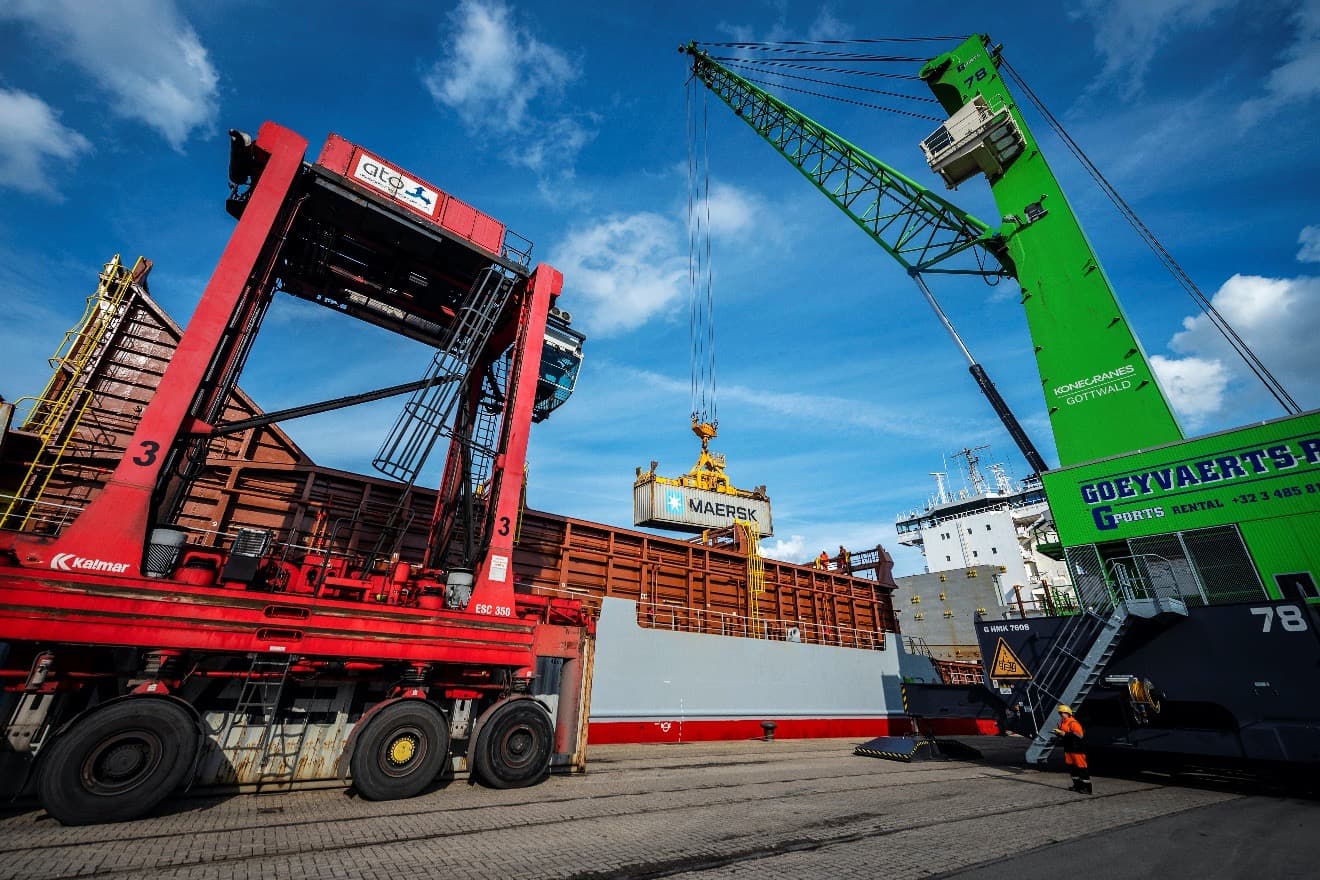 The Physical Internet Living Lab (PILL) project started at the beginning of 2021. Physical Internet (PI) is an innovative concept for organizing logistics. It is a next-generation vision on more efficient, resilient, and sustainable logistics. PILL focuses on the ecosystem of ports in Flanders. The project is funded by Flanders Innovation & Entrepreneurship (VLAIO) and within the project, there is a partnership of imec, VUB MOBI and VIL. Besides the initiating partners, there are 21 companies and organizations involved in PILL. They are a testament to the fact that PILL is grounded by the industry. The project will be relevant to port authorities, shippers, terminal operators, transport providers, technology enablers and integrators, governmental agencies and industry organizations. Each of these entities can derive different types of valorization benefits.
According to Liesbeth Geysels, General Manager at VIL: "The PI opens the door to countless new logistics business
models, in which an overarching IT system gives logistics service providers new opportunities in terms of collaboration, more efficient use of available personnel, assets and transport capacity. As a result, it will make an important contribution to lower logistics costs, make the sector more sustainable and increase the service level."
For Prof. Cathy Macharis, coordinator of the MOBI research group at the VUB, the PILL project can play a key role in the realization of sustainable transport: "A transition of the transport sector is imperative to achieve climate goals. We should put emphasis on avoiding unnecessary long-distance transport by, for instance, focusing on short chains and a circular economy, shifting to more sustainable transport modes, and improving vehicle technology. The PILL project can help us to avoid extra miles and shift to more sustainable transport as it focuses on the best use of the full capacity of each mode of transportation, avoiding the transport of air, and maximizing the modal shift in logistics."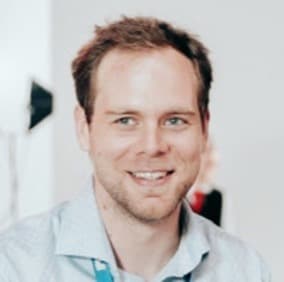 Dr. Tomas Ambra is a Logistics Research Lead at imec where he works in operations as well as the shape division which explores and engages in new strategic opportunities. He also acts as the vice-chair for corridors, hubs and synchromodality at ETP-ALICE (European Technology Platform for Logistics).

His skills are linked to simulating real-time dynamics of freight transport processes in geo-referenced environments. Besides simulation modelling and GIS (Geographic Information Systems), he has a strong interest in digital twins, IoT and other technologies and techniques applicable to logistics. He obtained his PhD in Business Engineering for his research entitled "A Decision Support System for Synchromodal Transport and the Physical Internet". Tomas received the 1st prize for cross-modality from the European Commissioner for Transport in 2018.
Published on:
15 April 2021