The main requirements driving hyperspectral imaging commercial markets are form factor (mobile, light weight), broad-spectrum capabilities (Visible, NIR, SWIR range...) and snapshot acquisition at video-rate or faster speeds. Imec made significant development progresses in all these three domains. Continued efforts in building an internal team for hardware-to-software system-level R&D solutions, have resulted in further integration of its unique spectral filter on pixels created via CMOS-based chip technology. A summary of the 3 different novelties that will be presented can be found below:
Mobile version of SNAPSCAN VNIR range hyperspectral imaging camera:
The SNAPSCAN hyperspectral camera is a proprietary breakthrough system concept initially introduced by imec in 2017. It combines a high signal-to-noise ratio and high spatial and spectral resolutions with the user friendliness of a snapshot hyperspectral imaging camera.
The current version is now made battery- or laptop-powered and can be seamlessly mounted on a mobile tripod. Allowing users to take this device into the field and use it in a whole set of new application domains like art & cultural heritage inspection, forensics, medical, security & surveillance, but also general hyperspectral imaging R&D 'out of the lab' in outdoor environments.
See more information on imec's mobile SNAPSCAN VNIR range camera here.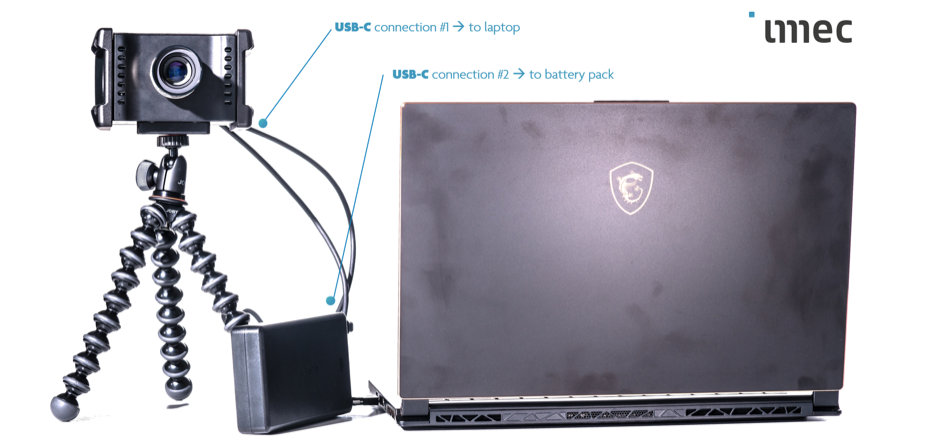 First video-rate snapshot mosaic SWIR range hyperspectral imaging camera:
Imec's snapshot imager (using per-pixel filter on-chip technology, arranged in a "Bayer-like" mosaic) was at the time of its first launch in 2015 one of the first ever commercially available solutions offering true multispectral imaging at video rates in a small form factor. Previously available in VIS, RedNIR and NIR ranges, imec now for the first time also offers two new SWIR range mosaics of 3x3 (9 color) or 4x4 (16 colors) versions. Compared to VNIR-range based systems, SWIR-based hyperspectral imaging solutions capture more of the molecular structure of the screened objects (like moisture, lipid, protein contents) and allow for high added value distinctive material analysis. This widens the application potential in domains such as recycling, food sorting and quality grading, security & surveillance solution, etc.
See more information on imec's SWIR range snapshot mosaic camera here.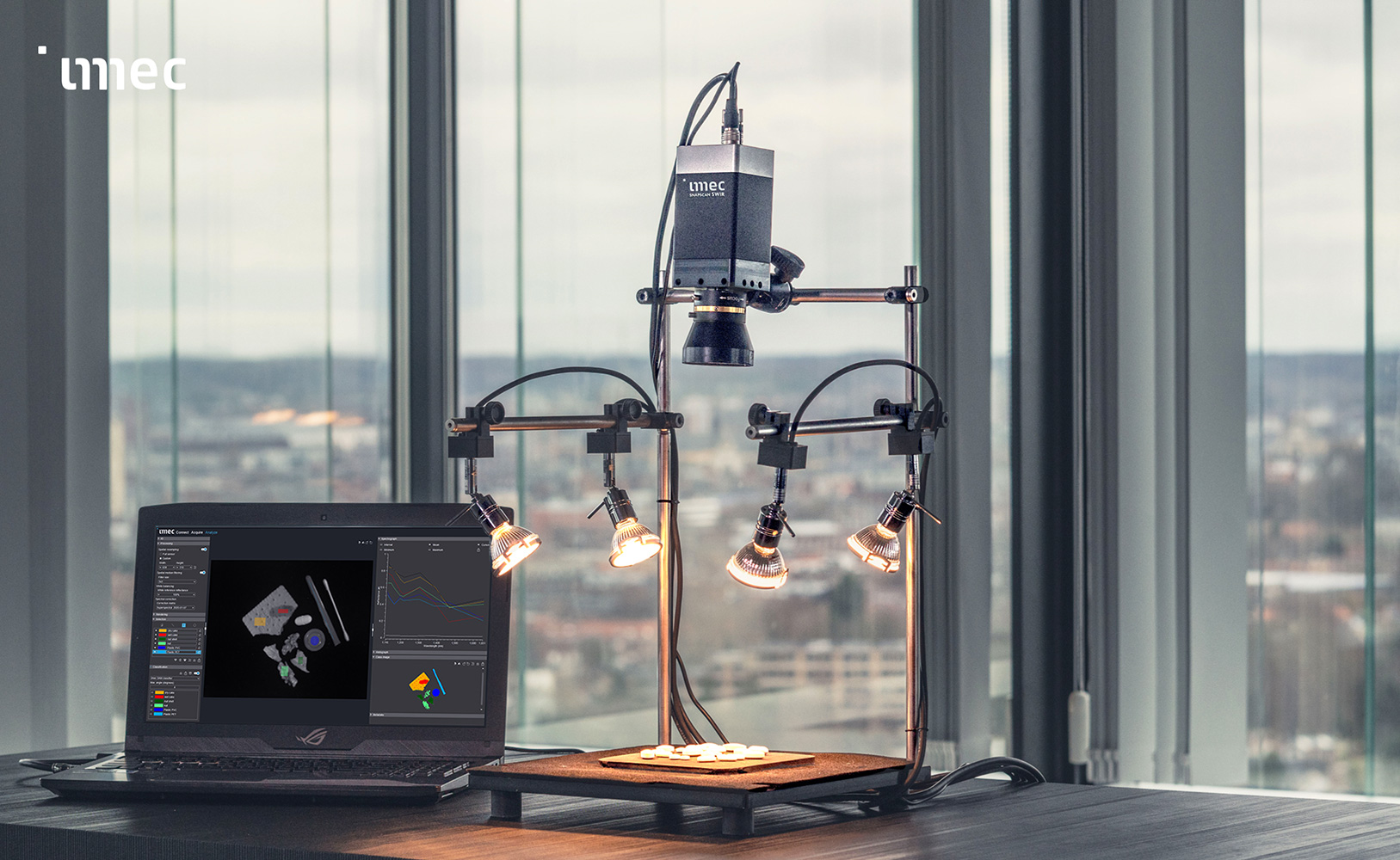 First UAV hyperspectral imaging system platform:
In applications such as precision agriculture, forestry management, security & surveillance etc., the ability to mount several hyperspectral imaging sensors on unmanned aerial vehicles (UAVs) is of crucial importance. Imec developed a new technology platform fully dedicated to this purpose, featuring multi-sensor & multi-camera-head capabilities to allow for example simultaneously mounting one VNIR and one SWIR-based hyperspectral imaging camera. The platform is supported by a powerful embedded computing platform featuring nVIDIA Jetson GPU, integrated storage and both wireless and wired controls connectivity via standard drone gimbal interfaces like (but not limited to) the DJI Matrice 600. This UAV system solution has been designed with the mindset of enabling end-users with real-time acquisition, processing and down-streaming of the application data at video-rate from drone-based systems.
See more information on imec's UAV hyperspectral imaging platform here.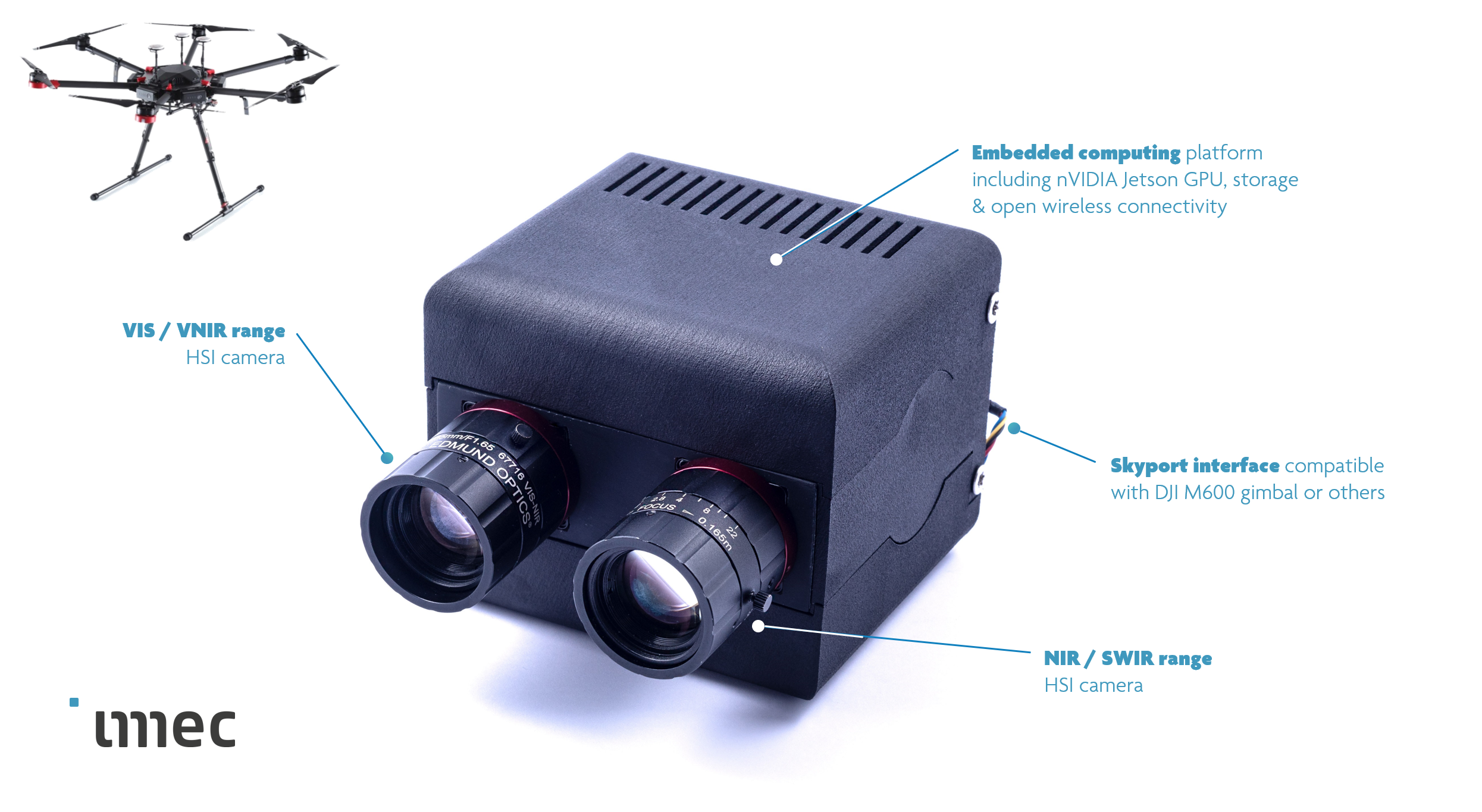 imec invites interested journalists, media representatives and partners to visit its booth #3189 (hall E) at SPIE Photonics West exhibition and to make an appointment for in-depth interviews with our hyperspectral imaging team by writing us on hsi.sales@imec.be
Published on:
22 January 2020