TAIPEI (Taiwan), September 20, 2018 — Imec Taiwan, subsidiary of imec - the world-leading research and innovation hub in nanoelectronics, energy and digital technology - today announced that it has signed a memorandum of understanding with Taiwan's Instrument Technology Research Center of National Applied Research Laboratories (ITRC-NARLabs). Under the agreement, both research centers will closely collaborate on developing advanced imaging and optics applications. The MOU was signed at the Imec Technology Forum TAIWAN 2018 in Taipei, in the presence of Professor Yao-Joe Joseph Yang, the director general of ITRC- NARLabs.
2018年9月20日,臺灣臺北-長期深耕於奈米電子、能源與數位科技的世界知名創新研究單位比利時微電子研究中心 (Imec),今日與國家實驗研究院 (NARLabs) 簽署合作備忘錄,比利時微電子研究中心台灣實驗室 (Imec Taiwan) 與國家實驗研究院儀器科技研究中心 (ITRC-NARLabs) 將密切合作、共同研發先進影像與光學應用技術。該合作協議備忘錄由比利時微電子研究中心執行長Luc Van den hove博士 與國家實驗研究院院長王永和博士於2018 Imec科技論壇期間,進行簽署儀式並正式宣布。

ITRC is subordinated to NARLabs, Taiwan's National Applied Research Laboratories, with which imec Taiwan already concluded several successful projects.
Luc Van den hove, CEO and president of imec, stated that:
"I am truly pleased by this collaboration between imec and ITRC, leveraging the strengths of both partners. ITRC's researchers have years of experience, for example in advanced hyperspectral and other imaging instruments for satellites. And imec is a world leader in applying advanced technology to miniaturize and integrate imaging systems and displays and is a leader in image data processing. Together, we can develop a new generation of instruments that greatly improve the capabilities, cost and reliability of existing tools."

隸屬於國家實驗研究院的儀器科技研究中心,與比利時微電子研究中心台灣實驗室過去已在多項合作計畫中取得豐碩的成果。比利時微電子研究中心執行長Luc Van den hove博士表示:
「我對此次結盟感到相當開心,雙方將得以充分利用彼此優勢,包含高光譜與其他先進的衛星成像儀器,以及儀器科技研究中心研究團隊本身具有的多年經驗。比利時微電子研究中心不僅在成像系統整合與微型化技術方面首屈一指,更是影像資料處理方面的佼佼者。在強強聯手之下,研發出高性能兼具成本優勢且性質更為可靠的新一代儀器將指日可待。」
Professor Yeong-Her Wang, the President of NARLabs, indicated:
"ITRC has accumulated more than 40 years of experience in optical manufacturing technology, vacuum technology, opto-electro-mechanical integration technology and so forth. Starting the cooperation since 2014, ITRC has developed great relationship with imec-Taiwan, and therefore, both partners gratefully decided to sign the MoU for a closer cooperation on advanced hyperspectral imaging technology and wearable device applications. This collaboration is expected to effectively promote our NARLabs' international visibility, to establish great partnership with global companies, and to increase Taiwan's influence and reputation the in instrument technology field."
國家實驗研究院院長王永和博士表示,比利時微電子研究中心是世界知名的研究中心,儀器科技研究中心則長期深耕光學、真空與光機電系統整合等核心技術。從 2014 年開始,儀器科技研究中心即與比利時微電子研究中心台灣實驗室共同研發,雙方合作順利愉快,也促成今日雙方簽署此合作協議,建立更密切的合作關係,共同開發高光譜技術及穿戴式裝置等應用技術。此合作將有助於提升國家實驗研究院建立與國際大廠的合作關係,擴大台灣在儀器科技領域的知名度與影響力。
Within the framework of the collaboration, imec and ITRC-NARLabs will jointly support the innovation lifecycle of local companies, from idea to product. Our joint innovation service, including development on demand of electronic systems, design of instruments for industry and manufacturing quality inspection, feasibility studies and prototyping, will help them to build future generation devices based on scientific methods, and shorten their time-to-market. The new collaboration also involves advanced R&D into imaging and optics, including spectroscopy and discrete optics components. As part of the collaboration, ITRC's scientists will evaluate imec's latest snapscan hyperspectral imaging camera system and characterize and integrate it for the use in microscopy applications. Possible applications are microscopic analysis tools for nanomaterials or human tissue. Furthermore, ITRC will also bring to bear their expertise in the development of optical components for highly integrated and compact projection display systems.
在本合作協議的框架下,雙方團隊將共同由創意發想,致力於產品的實現,並且為當地企業客戶提供充分的支援。我們的聯合創新服務包含電子系統的需求研發、儀器設計與生產品質檢驗、可行性研究與原型設計,將以科學方法協助客戶打造新一代設備,縮短進入市場的時間。此次合作也涉及先進成像與光學系統的研發,包含高光譜技術與各種先進光學元件開發。儀器科技研究中心的團隊會評估比利時微電子研究中心最新的快掃式高光譜成像系統,以及應用於顯微鏡的性能與系統整合測試,潛在的應用領域則包含奈微米材料與人體組織的顯微影像分析。此外,儀器科技研究中心也會在先進光學元件研發貢獻所長,並應用於先進投影顯示系統。
Peter Lemmens, managing director of imec Taiwan, added:
"We are excited to be able to announce this agreement at this year's Imec Technology Forum Taiwan, where we are joined by Taiwan's top entrepreneurs and visionaries to discuss the future of technology.Also, this year imec Taiwan celebrates its 10th anniversary. In this decade, imec Taiwan has grown into a reliable R&D partner for the world's electronic industry, designing, building and fabricating smart applications based on innovative hardware and IP. We are confident that this new collaboration will propel us to a new decade of innovation."
比利時微電子研究中心台灣實驗室總經理雷孟思表示:
「我們在本次imec科技論壇上滿懷欣喜地宣布這項合作案,這也是與台灣頂尖企業和研究人員一同探討未來科技的起頭。同時,今年也是台灣辦公室的成立十周年紀念,藉著十年來累積的智慧財產與硬體創新,已發展為全球電子產業、設計、建築與製造智慧應用產品的可靠研發夥伴。相信這段嶄新的合作關係,會引領我們進入下一階段創新十年。」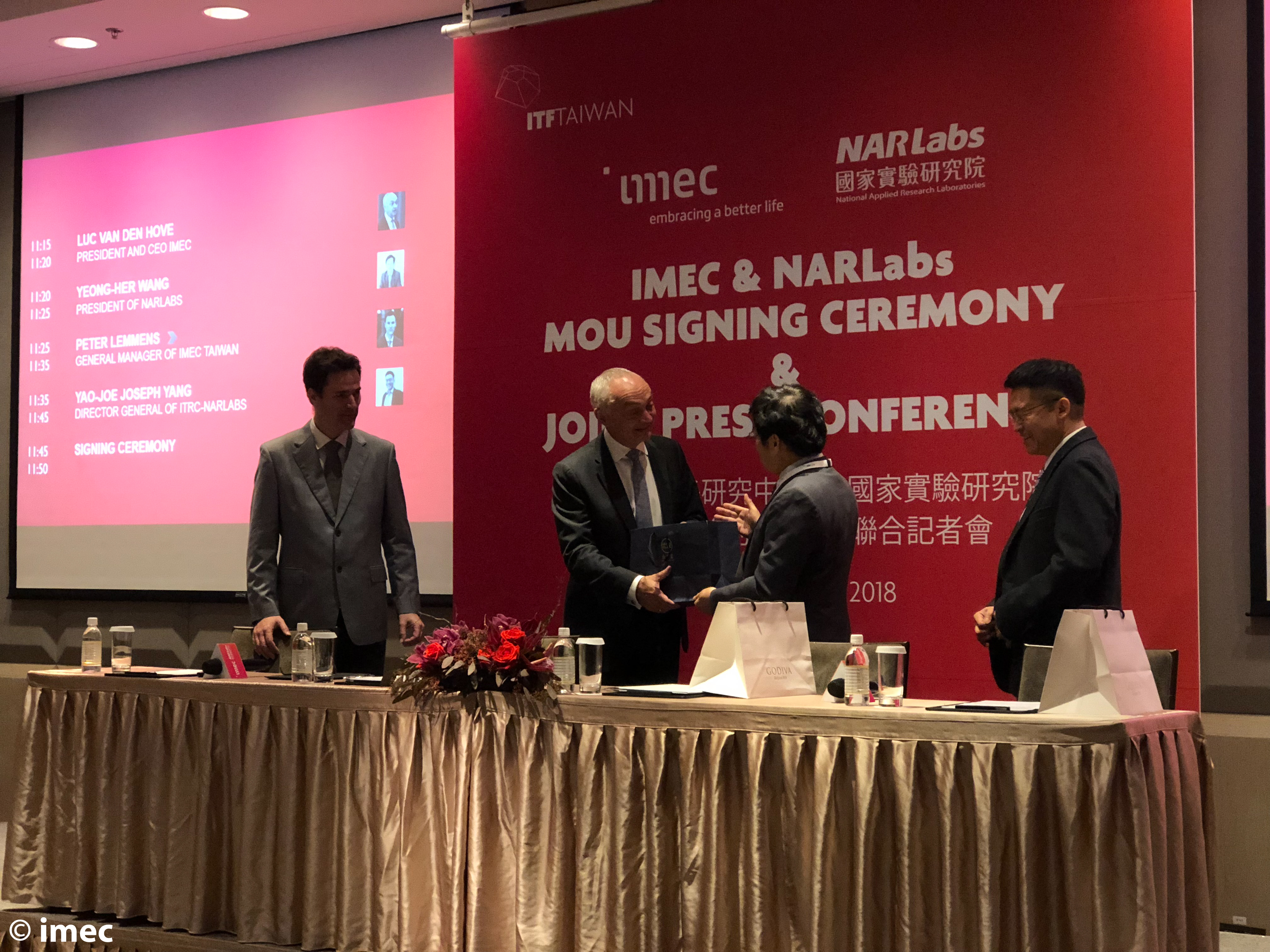 About imec
比利時微電子研究中心簡介
Imec is the world-leading research and innovation hub in nanoelectronics and digital technologies. The combination of our widely acclaimed leadership in microchip technology and profound software and ICT expertise is what makes us unique. By leveraging our world-class infrastructure and local and global ecosystem of partners across a multitude of industries, we create groundbreaking innovation in application domains such as healthcare, smart cities and mobility, logistics and manufacturing, energy and education.
比利時微電子研究中心,是在奈米電子與數位科技領域中領先世界的研究與創新中心。享譽全球的微晶片技術加上軟體與通訊科技的專業知能,是我們立於不敗之地的原因。藉世界級的設備與全球各地各行各業中的夥伴,我們得以在醫療、智慧城市移動、物流生產、能源及教育領域做出突破性的創新。
As a trusted partner for companies, start-ups and universities we bring together more than 4,000 brilliant minds from over 85 nationalities. Imec is headquartered in Leuven, Belgium and has distributed R&D groups at a number of Flemish universities, in the Netherlands, Taiwan, USA, China, and offices in India and Japan. In 2017, imec's revenue (P&L) totaled 546 million euro. Further information on imec can be found at www.imec-int.com
身為各企業、新創團隊與大學的可靠夥伴,我們擁有來自85國的四千名專業人才。我司總部設於比利時魯汶,並於多處設立研發團隊,包含多所佛蘭德斯地區的大學、荷蘭、台灣地區、美國、中國大陸以及日本與印度辦公室。2017年的總收益(P&L)為5.46億歐元。 想知道更多資訊,請上 www.imec-int.com
Imec is a registered trademark for the activities of IMEC International (a legal entity set up under Belgian law as a "stichting van openbaar nut"), imec Belgium (IMEC vzw supported by the Flemish Government), imec the Netherlands (Stichting IMEC Nederland, part of Holst Centre which is supported by the Dutch Government), imec Taiwan (IMEC Taiwan Co.) and imec China (IMEC Microelectronics (Shanghai) Co. Ltd.) and imec India (Imec India Private Limited), imec Florida (IMEC USA nanoelectronics design center).
Imec為IMEC International (比利時法律下的法人"stichting van openbaar nut")、imec Belgium (佛蘭德斯政府支持的IMEC vzw )、imec the Netherlands (Stichting IMEC Nederland, 荷蘭政府支持的霍爾斯特中心分部)、imec Taiwan (IMEC Taiwan Co.) 、imec China (IMEC Microelectronics (Shanghai) Co. Ltd.)、imec India (Imec India Private Limited)以及 imec Florida (IMEC USA 奈米電子設計中心)進行活動所用的註冊商標。
Contact
聯絡方式

Hanne Degans, Press communications manager, 新聞通訊經理, +32 16 28 17 69 // +32 486 06 51 75 // Hanne.Degans@imec.be
About NARLabs
國家實驗研究院簡介
Established in June 2003, National Applied Research Laboratories (NARLabs) has combined 10 national laboratories into an independent non-profit institute under the guidance of Ministry of Science and Technology (MOST). With the four major missions "Establish R&D platforms, support academic research, promote frontier science and technology and foster high-tech manpower" in mind, NARLabs is striving for "global excellence, local impact." It endeavors to translate academic research results into real businesses and emerging industries in the hope of contributing itself for the benefit of social welfare. For more updated information about NARLabs, please visit our official website: www.narlabs.org.tw
財團法人國家實驗研究院,成立於2003年6月,隸屬於科技部,下轄10個國家級實驗研究中心,由院本部統合協調並配合科技部推動全國科技發展,秉持「建構研發平台、支援學術研究、推動前瞻科技、培育科技人才」四大任務,以「追求全球頂尖、開創在地價值」為願景,並以「創新科技、守護台灣」作為營運目標,扮演國內科技人才與創新經濟所需之科技研發平台的提供者,轉譯學術研究成果,創造新興產業,貢獻民生福祉。更多國家實驗研究院的資訊,請參考官方網頁www.narlabs.org.tw
Contact
聯絡方式

Tom Lee, Press communications manager, +886-2-6630-0622 // +886-931-162081 // tomlee@narlabs.org.tw
Emily Wu, +886-3-577-9911 ext. 303 // +886-932-351-670 // emily@narlabs.org.tw
李名揚,新聞聯絡人,02-6630-0622 // 0931-162081 // tomlee@narlabs.org.tw
伍秀菁,新聞聯絡人,03-577-9911 ext. 303 // 0932-351-670 // emily@narlabs.org.tw