Neurotechnology plays an invaluable role in assessing and modulating brain states for research and therapeutic purposes. However, current non-invasive brain monitoring and stimulation devices usually have one or more of these drawbacks:
They are relatively expensive.
They need to be administered by experts.
They deliver an output – such as long EEG traces – that's hard to interpret.
They focus on a single modality: either monitoring or stimulation.
Through improvements in neuroscience technology, imec is developing platforms for wearable brain monitoring and stimulation devices that are affordable, convenient and relevant for clinical applications.
Taking neurotechnology beyond the lab

Thanks to our partnership with Datwyler, we can assist you in developing neurotechnology platforms that are equipped with state-of-the-art dry electrodes that combine:
comfortable wear, even over a long period of time
quick and easy set-up, also by non-specialized staff
excellent signal properties, including a suitable impedance range
Other convenience factors that imec considers are:
ergonomic and practical design – Our prototype EEG headsets can be worn during an activity and are adjustable to make room for extra wires.
extremely low power consumption – We are able to develop brain monitoring devices that work continuously for several hours to days.
wireless operation – Thanks to a Bluetooth connection, our monitoring systems can be connected to a pc or smartphone.
All this means that – on top of our solutions for the clinical space – we can assist you in developing brain monitoring devices that people can wear during their daily activities.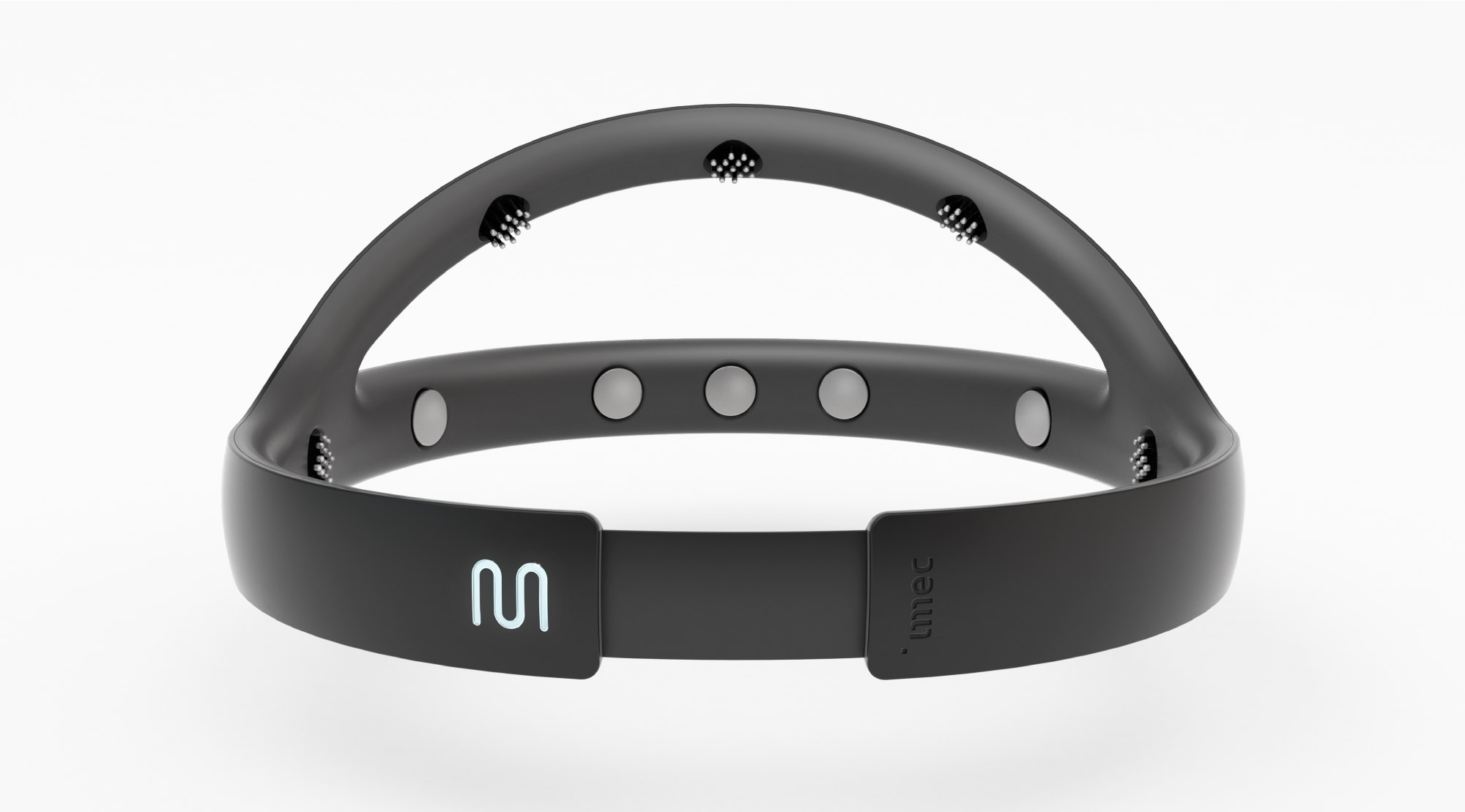 Advancing wearable neuroscience technology
At imec, we realize that quality of data is a principal concern in neurotechnology. We offer a set of algorithms that perform:
signal quality assessment
artifact classification and handling
robust feature extraction
On the system level (mechanical design and electronics), we are able to ensure excellent signal properties. Our in-house developed DAE (digital active electrode) technology – where each electrode is accompanied by an IC that immediately digitizes the signal – enables us to make a modular and expandable system while reducing noise levels even further. Additionally, DAE is used in a multimodal brain monitoring platform that combines EEG and fNIRS – developed as part of the EU-funded ASTONISH project.
Through real-time data analysis, abnormal brain activity – such as an epileptic discharge – can be automatically signaled to a clinician. In this way, advanced neurotechnology helps to improve the level of care and frees up resources in healthcare. An excellent example: the EEG Headset for ER and ICU patients that we developed together with Nihon Kohden.
Building on these technologies, we have also developed a platform that enables you to explore non-invasive brain stimulation.