"When I'm 80, I hope I'll be surrounded by lots of people and a little technology. And I also hope that this technology does not treat me as though I was a patient or an 'old dodderer', but that it really helps my needs." So says 32-year-old doctorate student, Bas Baccarne, who works at mict. As the letters of the acronym suggest, this imec research group at UGent concentrates on the media, innovation and communication technology.
Bas talks about the 'Hello Jenny' project he is coordinating and which has already delivered some great results one year down the track:
"The solutions being developed today for the elderly are often aimed at relieving both family and care-providers.
Push technology is also playing a major role: you know, robots that are able to chat with older people, to help them do their exercises and so on. Or shoes with sensors so that residents can't 'go missing' undetected from their retirement home – as well as many others.
But if, as a society, we want the elderly to be happy in the future – and hence stay healthy for longer – then we need to invest in the kind of human capital and technology that seniors themselves need and which bring people together.
This is exactly what we try to do in our mict research group. We use a people-centric vision when it comes to technology. And at the moment, this is somewhat on the revolutionary side – which is something we noticed at the Smart City Expo in Barcelona. There, amongst all the high-tech solutions on display, we had a simple 'wooden box' to show the world."
Loneliness = smoking 15 cigarettes a day?
But let's begin at the beginning. Working with the City of Ghent, mict has carried out an analysis of problems in the city. Some of these problems are concentrated in the high-rise residential blocks that you see in virtually every city. All sorts of problems are hidden behind the walls of these towers and one of these is loneliness.
Loneliness is a major problem today – and not just among the elderly. And it has also been shown that loneliness has a negative effect on health. In fact, a publication from 2015 (Holt-Lunstad) even stated that a lack of social contact can be just as harmful as smoking 15 cigarettes a day!
"We specifically opted to tackle the problem of loneliness among the elderly," recounts Bas Baccarne. "We began by studying existing solutions and looking at why they worked, or didn't. Even more important, though, we went and talked with seniors from the residential high-rises in Ghent.
And we soon saw that there certainly are enough initiatives in place that try and combat loneliness, but that the elderly often were not aware of these programs, and that the threshold for asking for help is too high."
A wooden loudspeaker, Facebook and a dashboard
After numerous co-creation sessions between seniors, students and a Public Center for Social Welfare (OCMW) with imec.livinglabs and their application prototyping team (APT), a smart loudspeaker was developed. Not one of your lovely, glossy 3D prototype speakers, but one made out of … wood. Bas Baccarne again:
"We deliberately avoided being high-tech, because research tells us that users are more likely to give feedback on something that looks 'unfinished'. And because we are still in the test phase, we want to get as much feedback as we can."
But this particular loudspeaker also features a lot of technology from IDlab, which is another imec research group at UGent. Among other things, IDlab provided the underlying data infrastructure (originally developed for City of Things in Antwerp) to enable the various data sources to communicate with each other, and DYAMAND, a tool developed in-house to incorporate IoT sensors in applications.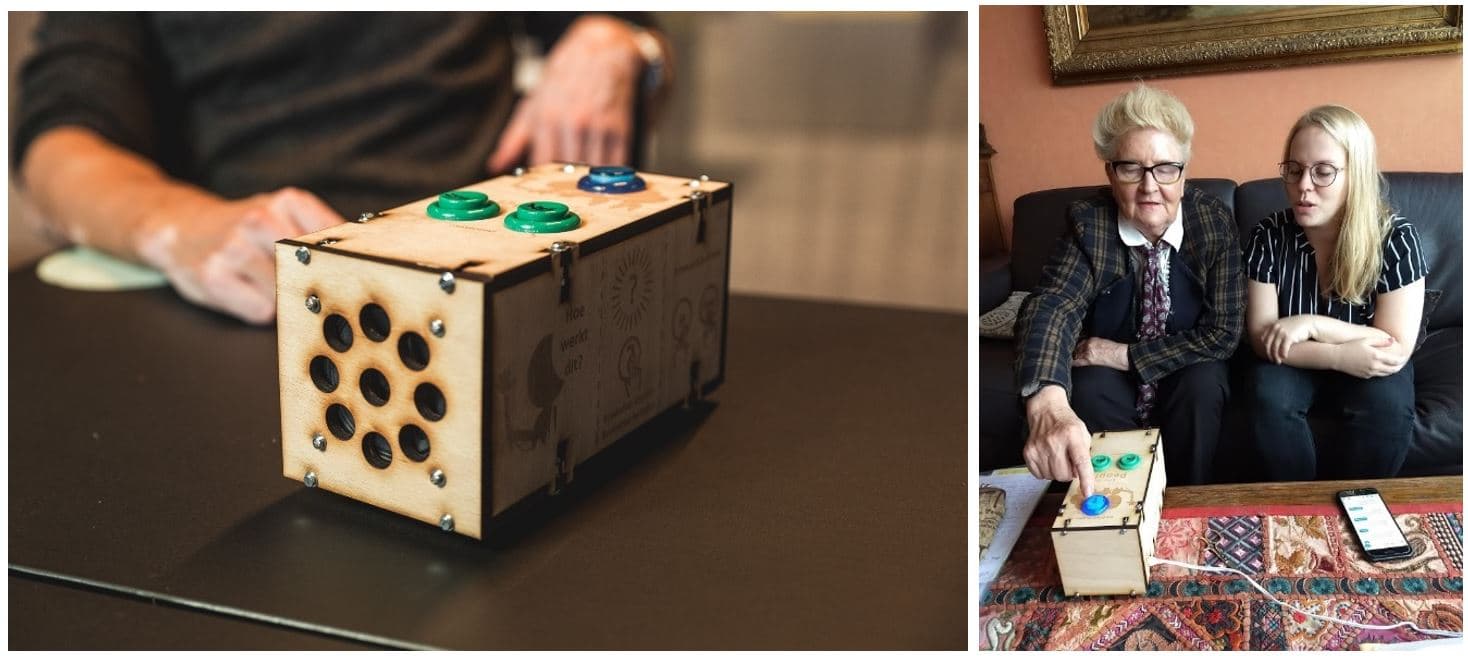 Of course, the innovation is not in the wooden loudspeaker itself, but in the whole concept behind it. So, how does it work?
Seniors wanting to take part in the research were given a smart speaker to go in their living room. The boxlike speaker has three buttons: 'yes', 'no' and 'can you repeat that, please' and is connected with a sensor at the door. If the sensor doesn't detect any movement for, say, 3 consecutive days, the speaker springs into action and asks the elderly person whether they would like someone to visit, or not.
At the other end of the line was a group of students (3rd-year bachelor's course on social work at the Artevelde Hogeschool) working on the project. At a later stage, their place could also be taken by voluntary organizations. Using a chatbot on Facebook Messenger, they then receive a message that asks, 'whether they have the time soon to drop in on 'their' senior'. They then suggest a time, via the chatbot, and this in turn is passed on via the loudspeaker to the elderly person, who can answer using the 'yes' or 'no' button if the time suggested doesn't suit them. All of which enables an agreement to visit to be made via a platform geared to suit each target group.
A dashboard that highlights all of the interaction has also been developed for the OCMW. It tracks how often each senior receives a visit and how both parties evaluate how the visit went. OCMW staff are also able to keep an eye on whether both parties feel comfortable when they meet. This is because the past has already shown that problems can arise with this sort of 'buddy' arrangement.
This video explains how the smart loudspeaker works and how it brings seniors and students together (In Dutch).
What next?
Obviously this is a very uncomplicated solution – but one that has a lot of potential. Of course, it still needs to be tested on more elderly people and over a longer period. And because the project has now won an award, there is sufficient budget to keep it working for another year and a half.
There are lots of other plans for the future, too, involving voluntary organizations that can be brought in to work alongside or instead of the students.
These volunteers would work as 'human sensors' and be able to report any problems they may notice with the elderly person to the OCMW. On the flipside, the volunteers can also be used as a 'walking information facility' to explain to seniors what other services there are available (free taxi service, collecting books from the library, etc.).
And there's plenty more that can happen on the tech side, too. Such as using other, smarter sensors capable of detecting loneliness (instead of just the sensor on the front door). These could operate based on ambient sounds and could even work using artificial intelligence. Or maybe the yes/no buttons could be replaced with voice recognition algorithms that allow the two-way communication to take place in a more natural way? Mastering the dialect and speech patterns of the seniors is one of the major challenges here. And finally, of course, the wooden loudspeaker could be given a high-tech makeover – so long as the simple interface remains in place.
Want to know more?
Listen to Bas Baccarne live giving his presentation for Kraks@DeKrook in this audio recording (in Dutch).
If you as a company are interested in developing this concept further and taking it to market, or if you are working on technology that might make it even better, please let us know via the contact form.
You will find more information about what imec.livinglabs could mean for your business (user research, co-creation, prototyping, etc.) on this webpage.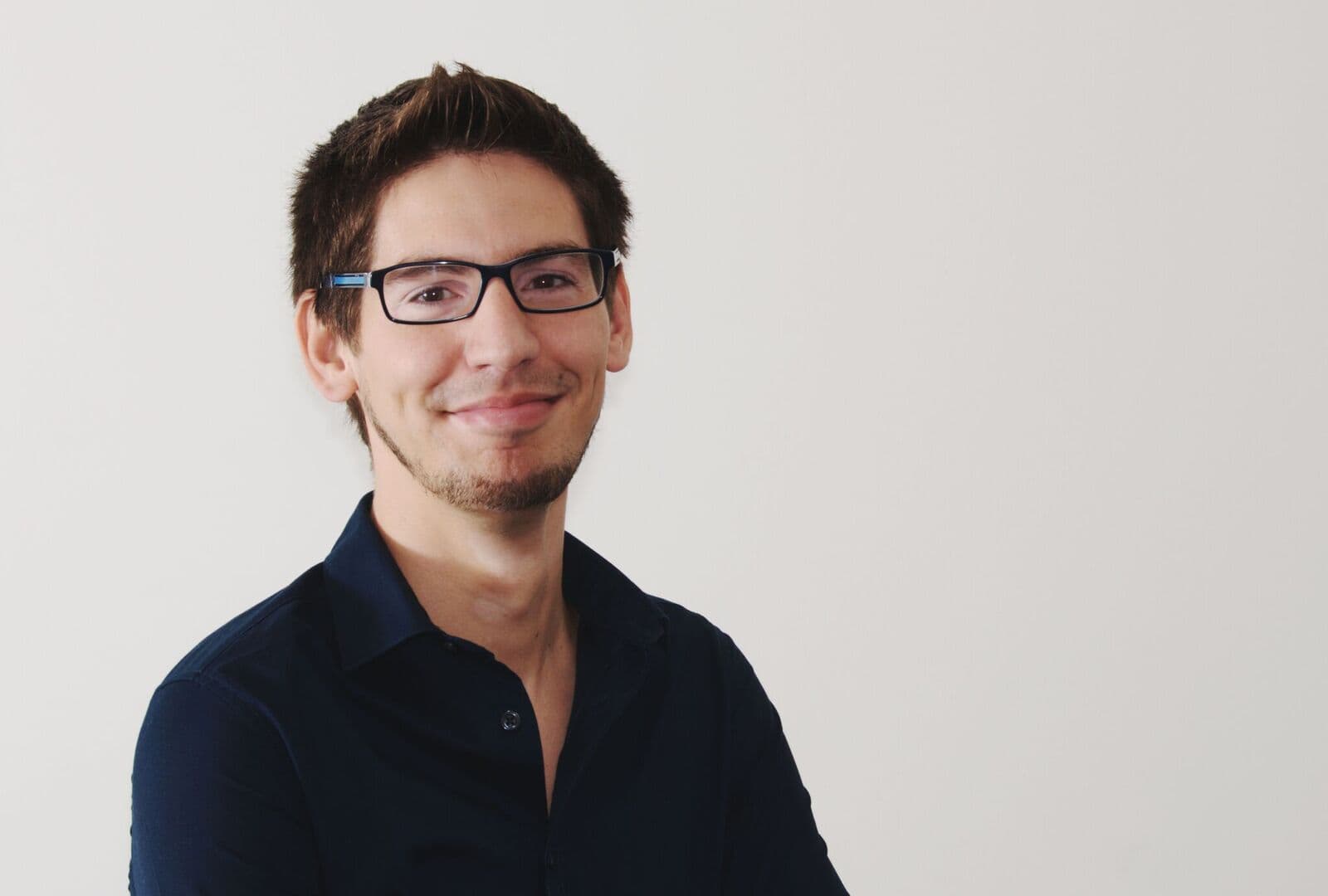 Bas Baccarne works as a researcher in the imec-mict-UGent research group. As a social scientist working in a world of computer scientists and entrepreneurs, Bas conducts research into innovation ecosystems (such as the quadruple helix) and user-centric innovation processes (e.g. living labs) in a smart city context. Bas is also a research coordinator for the City of People project in which the City of Ghent, Ghent University and imec are working with city-dwellers to find innovative technological solutions for complex social problems.
Published on:
29 March 2019