Introduction
In Flanders a lot of research is carried out into new high-tech technologies – often with impressive results. But only a small portion of these innovations filter through to the market, for example as new products or upgrades. Roger Lemmens, director of imec's incubation and innovation services, explains how imec is helping to bridge this gap, with more support for the whole innovation process and with a comprehensive offering of software and hardware expertise from 2017 on.
Over the years, iMinds (now incorporated into imec) has developed a number of services to help young start-up companies bring new digital technology to the market. And also imec proper had a range of services to help entrepreneurs, albeit more focused on developing hardware. Now, after the merger of the two research centers in October 2016, the new imec has the highest level of expertise in both software and hardware. And thanks to its 3,500 researchers, it also has significant leverage in fields such as healthcare and the IoT, as well as in smart cities, mobility and logistics.
"In 2016, the iStart operation (now imec.istart) was responsible for launching 20 new digital start-ups," says Roger Lemmens. "That brings the total number of companies launched and supported by iStart to well over 100 since the program began in 2011. In 2016 alone, our portfolio of start-ups has raised almost 20 million euro in follow-up funding. This demonstrates that our approach is able to generate a great deal of value."
Also ICON (now imec.icon) – the support for demand-driven, cooperative research involving multidisciplinary teams from companies and universities – again saw a good number of successful projects. One example is iFest, a project aimed at developing a new generation of festival bracelets to provide a more enriching festival experience, based on built-in communication and sensor functionality.
Another highlight of 2016 was the launch of the City of Things project in Antwerp, an ambitious living lab relating to the organization and technological set-up of a smart city environment for the future.
The Leuven innovation team for Flanders made a major contribution to a number of sector initiatives. One example is the Flemish food industry's i-FAST platform. i-FAST brings innovative technologies and analysis methods to the companies involved in food processing. Through working with a sector, imec is able to bring innovation to the attention of whole groups of companies at a time, companies that are often not aware of the rapid developments in high-tech. The Leuven-based group also organized a range of workshops for the industry and provided practical support to a number of Flemish SMEs to help prepare their products for market. These included the start-ups Airobot (a module for measuring distances in drones) and Sensolus (a GPS tracker), as well as Hydroko, which is developing a smart water meter solution that e.g. will be rolled out in Antwerp by 2020.
"What we have been doing until now with these programs was to provide a helping hand, with research and business expertise as well as with financial assistance where applicable," says Lemmens. "We now intend to expand this approach, helping companies through the entire innovation process, from the idea and application prototypes right through to a successful product. We call this our digital incubation and innovation services (DIS). Central to this is the 'Living Lab' methodology. In short, this involves calling on panels of end-users or professionals at every stage of the innovation process. These provide feedback that is used to improve the ideas, plans or prototypes in a continuous cycle of co-creation. Such an interactive development results in products that better meet the needs and expectations of users – and so hopefully gain a quicker foothold in the market."
In 2017, DIS will be rolled out as an integrated service to Flemish and international industry partners. Roger Lemmens: "In the new, extended imec, we can now call upon all departments, such as imec IC-link or imec Taiwan, to offer added value for DIS."
Central to the new approach from March 2017 onwards will be the 'De Krook' site in Ghent. This ultramodern building is equipped for the digital future. It includes a data wall and areas where users can design and test technology in various stages of development. It also has around 250 intelligent sensors spread across the site. These send their data to an open platform that is similar to the City of Things platform that imec is rolling out in Antwerp. De Krook is designed to be the physical showcase for the digital incubation and innovation services, enabling imec to work closely with strategic partners such as UGent and industrial players involved with digital innovation.
Another leading light is the City of Things project in Antwerp. Roger Lemmens: "Antwerp is our biggest Living Lab, with an open data network in which businesses at all stages of the innovation process can experiment and validate their solutions by e.g. making a structured use of the expertise of our user panels. That City of Things project will become our Smart City flagship – an example of what we could also realize in other cities or environments."
"Finally in 2017," continues Lemmens, "we offer two complementary services for start-ups. Imec.istart will focus on Flemish high-tech start-ups that will be supported by experienced entrepreneurs and experts towards growth and an international breakthrough. Imec.xpand, our second initiative, is designed to support more capital-intensive start-ups: initiatives that will take imec's knowhow and technology to market, with products that use the unique power of nanotechnology and miniaturization. More than in the past, we will focus on acceleration, on growing quickly. This will involve more vertical support, with services and experts specializing in a specific fields such as healthcare."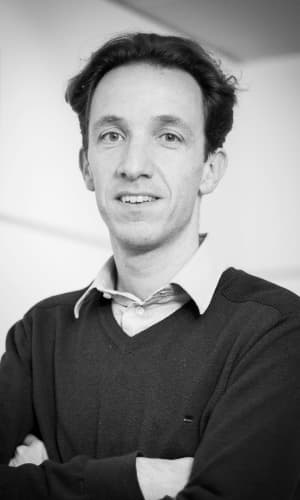 Roger Lemmens is imec's director of incubation and innovation services. He studied Civil Engineering Mathematics at TU Eindhoven and obtained an MBA at the Vlerick Business School. Roger has built his career at various software companies, such as Real Dolmen, Pietercil (Netherlands) and NMC (Germany). Six years before joining iMinds, Roger was CEO of xperthis, a Belgian company with almost 200 staff, developing, implementing and supporting software for the healthcare sector.
Published on:
1 January 2017