From winning the BEMAS Digital Innovation Award to conquering the petrochemical industry. Jan Coppens and Maarten Weyn, founders of the Antwerp start-up Aloxy, reflect on the success of their technology and the business they have created.
Petrochemicals – and the process industry in general – face an exciting challenge in the transition to the "Industry 4.0" age. This is a new industrial era in which automation, big data and collaboration throughout the whole value chain are encouraging further optimization. At Aloxy we identified two major markets: digital monitoring of the way manual valves operate, and tracking individual parts and assets when a production process is halted temporarily for maintenance.
The limitations of smart systems
The average petrochemical site has anything from between a few hundred to as many as a thousand valves that have to be operated manually. These may involve stopcocks that rotate through more than 360 degrees or levers that move through 90 degrees. Typically, these valves are only used occasionally in processes, so it doesn't make good cost-related sense to automate them. Yet these valves may also have an enormous impact if they are not kept in good working condition. For instance, you need to be certain that a discharge valve is properly closed before you refill a tank with chemicals after a cleaning operation. But because manual operations, by definition, increase the chance of human error, we wanted to give these companies a little digital assistance.
The biggest challenges here are cost and integration. As we have already said, full integration with existing process automation isn't the answer because it's too expensive. So you need to come up with a solution that's both inexpensive and easy to use. You also want the new technology to add information to the existing systems, but not interfere with the precisely tuned manufacturing processes.
The possibilities of a smart solution
The solution created by Aloxy provides an answer to this delicate technical dilemma. We use our solution to attach an autonomous sensor to, say, the operating hand wheel of a manual stopcock or lever. These sensors contain gyroscopes, accelerometers and magnetometers; technology based on a patent application by imec and the University of Antwerp. This enables us to know how the sensor moves, which in turn also immediately tells us what position the valve is in without having to adjust the installation itself. This information is then sent wirelessly to the control room.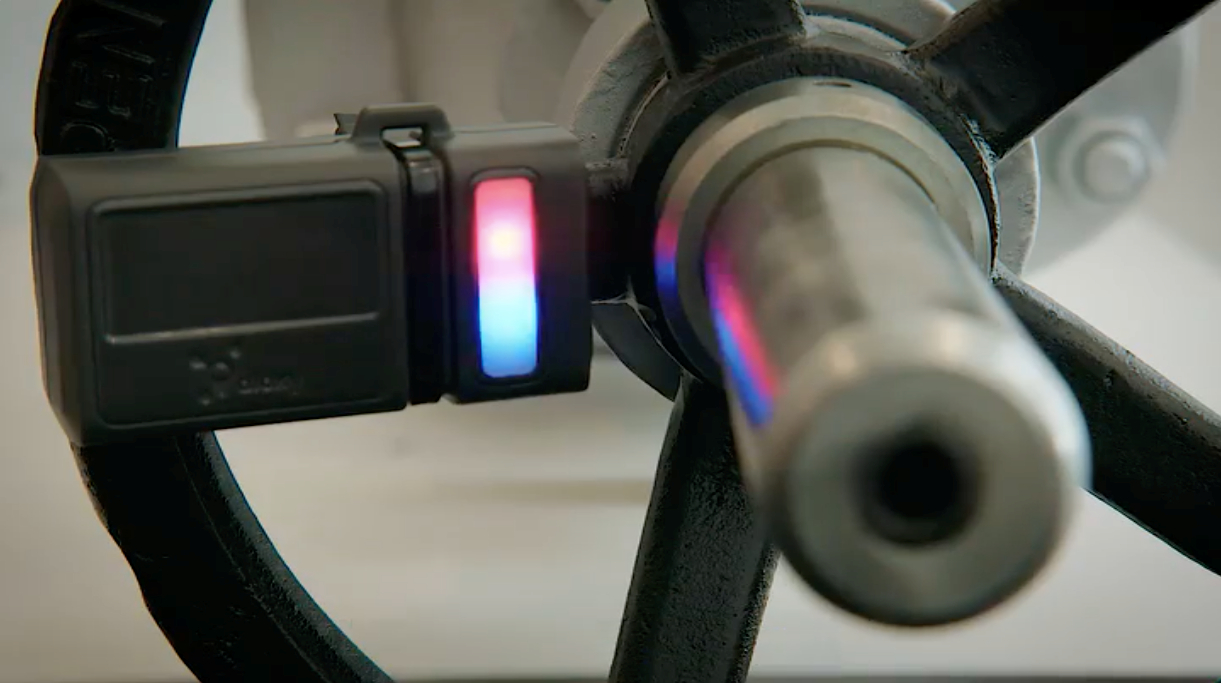 The Aloxy sensor is fitted to the operating hand wheel of manual valves and so is easy to implement.
Our sensors can be retrofitted and are easy to install. The wireless communication is also compatible with current standards (Lora, SigFox, Dash7, etc.). And the software is accessible as a cloud application or can be integrated with the customer's software.
The system gives the operator real-time information about the status of the manual valves. Using the software that we supply with it, the operator can then use that information in different ways. For example, it is possible to set certain valves to the closed position virtually and to program a warning signal to prevent unwanted operations. Or you can monitor a manual process flow digitally. This can be done by helping an engineer on the workfloor from the control room to carry out a protocol correctly with a number of successive actions.