Two years ago, imec and Ghent University inaugurated their joint 'HomeLab'. Companies as well as researchers can call upon the HomeLab facilities to experiment with new technologies; technologies laying the foundation of new residential services. HomeLab offers a hyper-realistic, homely setting to conduct experiments – just as if you were really at someone's place (be it then a house with 300+ built-in sensors!). We talked to Matthias Strobbe from IDLab – an imec research group at Ghent University. He looks back on two years of HomeLab research, featuring a dozen of projects in application domains such as (home) care and energy.

Testing technologies for innovative residential applications – in a realistic setting

HomeLab is a unique location in Belgium. It is used by companies and researchers to experiment with innovative technologies in a realistic, homely setting. Examples include experiments with new sensors and home automation systems – with experts studying how these components communicate (and collaborate) with existing solutions, or how end-users interact with them.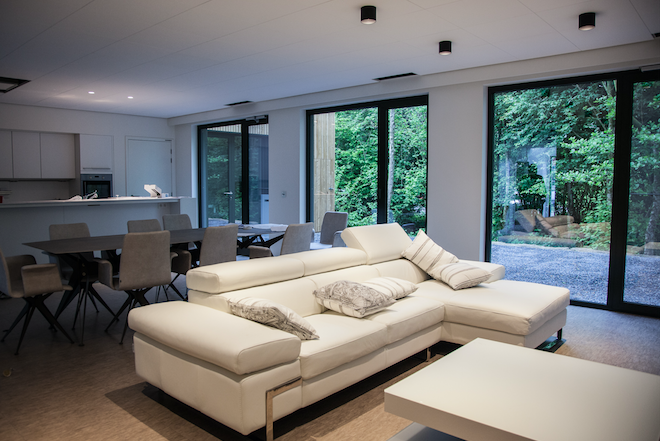 HomeLab: experimenting with innovative, residential technologies and services in a realistic setting.
"HomeLab bridges the gap between a traditional lab test and field tests at users' homes. New technologies can be installed quickly and easily, while the right experts are available to set up experiments, adjust research parameters and capture data. Technical labs and people's homes often lack that level of flexibility," says Matthias Strobbe.
"Partners typically come to us with innovative concepts that have already undergone some level of development, but that are not yet eligible for field tests."

Two floors, 300+ sensors, 300+ actuators

The 600m² HomeLab is open to companies and researchers operating in areas such as energy, (home) care and security. To respond as flexibly as possible to their research needs, the building has been equipped with numerous sensors and actuators.
"HomeLab features more than 300 sensors and 300+ actuators. To interact with those elements in a simple way, we have developed a graphical user interface (GUI) that allows us to automatically adapt the house to the personal preferences of our temporary residents (position of the window shutters, light intensity, etc.)."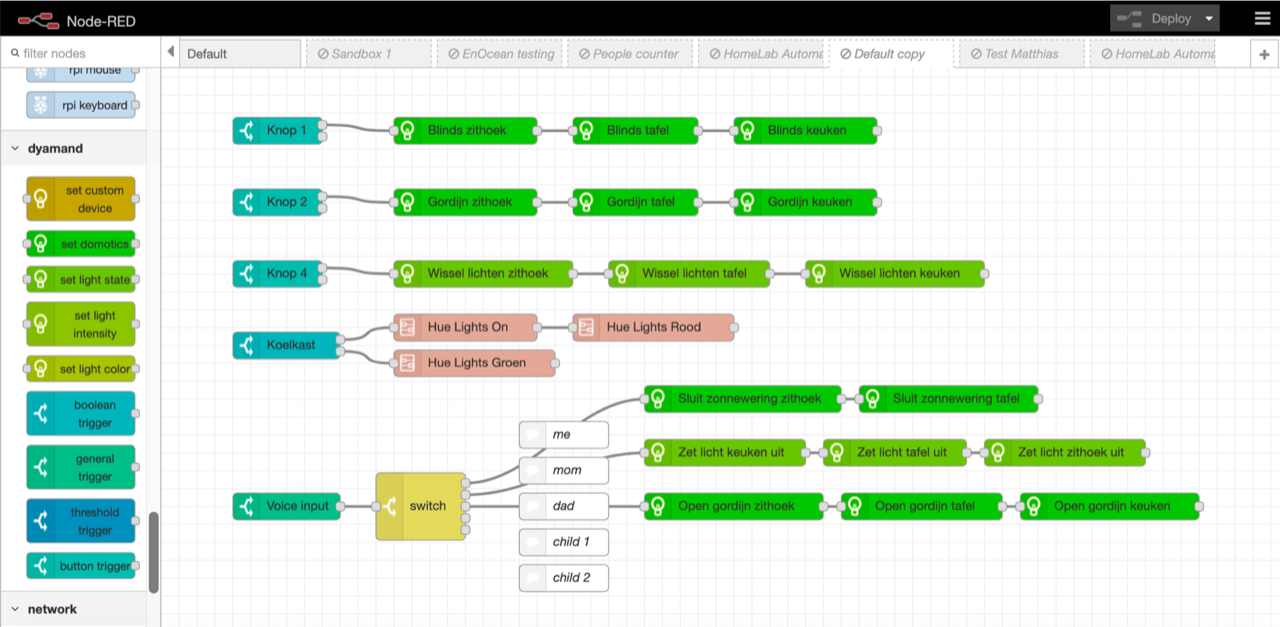 The HomeLab GUI allows the house to be adapted quickly and easily to residents' personal preferences.
HomeLab includes a.o. following interactive elements:
20 air quality sensors (measuring CO2, humidity and temperature)
35 temperature sensors
164 energy measurement points (per socket and for various HomeLab systems)
21 combined passive infrared (PIR) and light intensity sensors
71 door and window sensors
1 weather station
Ultrawideband, radar, Bluetooth and ultrasonic localization technology
45 controllable window shutters, windows and curtains
2 controllable doors
Controllable elevator
66 controllable (light) switches
200 controllable relays (e.g. for switching sockets on and off)
2 ventilation systems
15 wireless buttons

From experiments with social robots to testing indoor radar technology

Over the past two years, a dozen of projects has made use of the HomeLab infrastructure – accounting for a total research effort of tens of man-months.
One of those projects is ROBO-CURE, investigating how social robots can help children with diabetes better cope with their disease; by teaching them how much insulin they should use, for instance.
"The HomeLab infrastructure was used to study whether social robots have a role to play outside the hospital walls – with one of our researchers extensively investigating how this impacts a robot's programming," explains Matthias Strobbe.
The project also included a localization track. A practical example: suppose that our patient goes to the refrigerator and pulls it open to have something to eat. The idea is then for the robot to move to the little boy or girl and to start interacting with it – asking questions such as 'Are you hungry?', 'What are you going to take?', 'Do you know how much sugar is contained in this snack?' and 'Do you know how much insulin you have to take?'.
"Yet, for this scenario to work, the robot should be able to move freely and autonomously – while its sensors are often not accurate enough to allow the robot to pass through a door. That's why we have experimented with additional localization technologies – from ultrawideband to lidar. Throughout the project, HomeLab's flexibility and the speed at which experiments can be set up, proved to be of particular value."
Another project leveraging the HomeLab facilities is the Antwerp Circular South project – with homes in the South of Antwerp being equipped with sensors to map parameters such as energy and water consumption, as well as waste flows. Building on those data, residents are encouraged to change their behavior – for example by adapting their energy consumption to the availability of renewable energy.
"We are using HomeLab to test the integration of the various sensors with the project's central data processing platform – well before the field tests at users' homes. This has allowed us to discover upfront that the water meter suffers from a limited wireless communication range. If this had only been noticed at the start of the field tests, this would have been a serious setback for the entire project," says Strobbe.
The Belgian market leader in switches and sockets – Niko – also frequently makes use of HomeLab, especially to bridge the gap between the lab versions of its solutions and the final field tests; but also to simulate user tests.
And, obviously, imec researchers regularly call on the HomeLab infrastructure too. A concrete example includes the tests they conducted with indoor radar and machine learning technology.
"Using HomeLab's specifically equipped care room, our researchers wanted to check whether an indoor radar system – enriched with artificial intelligence – is capable of recognizing people based on their movements (in order to generate alarms, for instance). Of course, one could do this with a camera as well, but radar technology comes with the advantage that it also works when it's dark – while being less privacy sensitive. The researchers concluded that their concept works, but also noticed that the underlying technology still suffers from some limitations. Especially when the set-up is moved to another location / room, extra training is needed to deal with this changing environment. In this scenario, too, HomeLab was able to demonstrate its added value."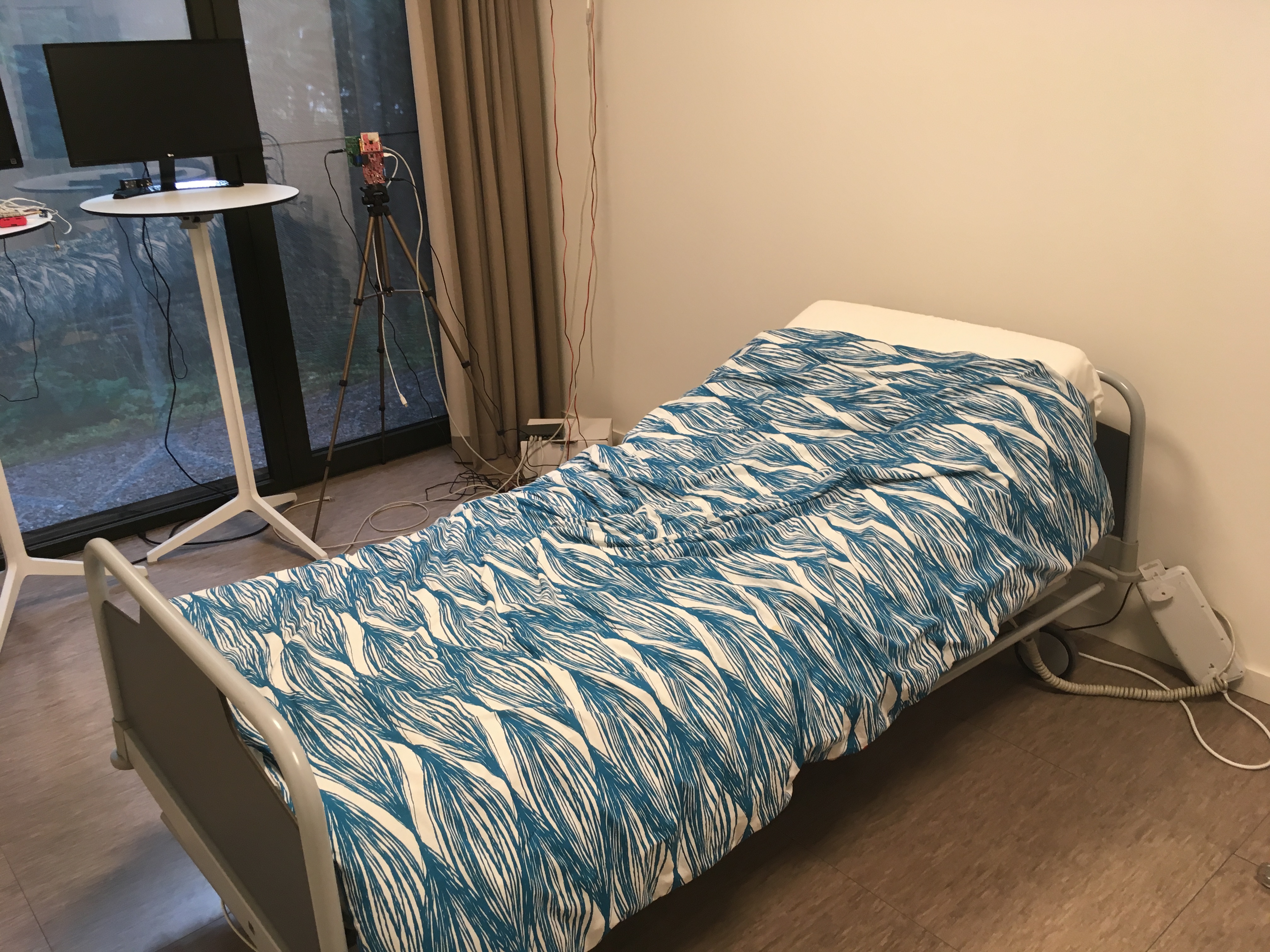 HomeLab's care room, equipped with indoor radar. Research question: can indoor radar technology be used to recognize people based on their movements? Further research aims at finding out whether the same technology can be used to detect specific human activities.
HomeLab 2.0

According to Matthias Strobbe, HomeLab continues to invest in new services and technologies.
"We have just installed a virtual reality (VR) set-up to test VR experiences – both in a home environment but also in the context of exposure therapy for people having developed a phobia. With the same set-up, we can also investigate underlying technological challenges such as the efficient transmission of huge amounts of VR data. In addition, we have started to organize training sessions that dive into specific questions from our partners. In October, a first workshop focused on the use of voice-controlled services. The attendees learnt a.o. how voice capturing technology functions, and how the technology can be embedded in existing products. Looking further into 2020, we have already started to explore the potential of similar workshops on localization technologies and interoperability," he concludes.

Want to know more about – or interested in using – the HomeLab facilities?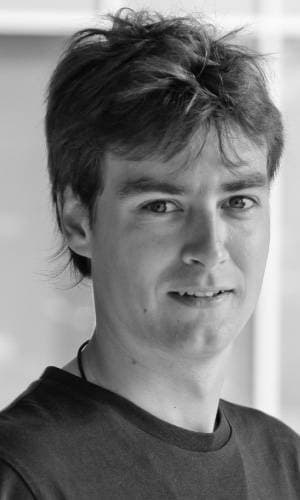 Matthias Strobbe received his M.Sc. degree and Ph.D. in Computer Science Engineering from Ghent University in July 2004 and June 2011, respectively. Since 2004, he has been a researcher at IDLab – an imec research group at Ghent University. Matthias has been active as a senior researcher and project coordinator in the domain of smart energy grids. In 2016, Matthias also became an IoT business developer for smart energy and smart buildings. As such, he is responsible for setting up industry collaborations in the framework of HomeLab.
Published on:
4 November 2019