Imec has set up the research program imec.iCHANGE to develop the building blocks for disruptive new tools for coaches, therapists and health professionals. Datwyler is one of the first companies on board. What are the challenges and advantages for a company to work with imec?
Once upon a time
The story of Datwyler starts in 1915 on the northern side of the Swiss alps when Adolf Dätwyler took over a heavily indebted wire and rubber factory. In the years to come, the company produces car tires, bicycle tires, telephone cables and the first plastic-insulated high-voltage cable.
Today, the company employs more than 7000 people, and counts two major divisions. One is in technical components and sells electronic, automation, maintenance and ICT components and accessories. The second division – employing the majority of 5000 people – develops, produces and sells so-called 'sealing solutions' for various markets: automotive, healthcare, civil engineering and consumer goods industries. This division e.g. produces critical sealing components for prefilled syringes and other drug packaging systems and for automotive break and fuel systems. And, Datwyler also left its mark on some famous buildings and constructions: they made the rubber profiles to seal the concrete tunnel fragments of the Channel Tunnel, and the sealing profiles for the facades and windows of the Burj-Al-Arab in Dubai and the Gherkin in London. And, even some kind of capsuled coffee uses Datwyler's sealing solutions.
Datwyler meets imec
The story of imec and Datwyler starts in 2012 when people from imec and Datwyler meet at a conference. At that time, imec is developing its brain monitoring headset. It is a wearable device to measure electroencephalogram signals, with clinical quality. Other than the existing clinical-grade systems at that time, the headset is wireless, comfortable to wear and can also be worn outside clinical settings. It can be used in sleep clinics, for diagnosis of epilepsy, etc. The standard systems use rigid, metal electrodes which are attached to the skull through a conductive gel. To make the system more user-friendly however, imec is looking for dry and soft conductive electrodes that are comfortable to wear and reliable for long-term measurement of brain waves through the skull. Since the headset is pre-fitted with electrodes, this eliminates the need for expertise in electrode placement and can be used on a regular basis with minimal setup time.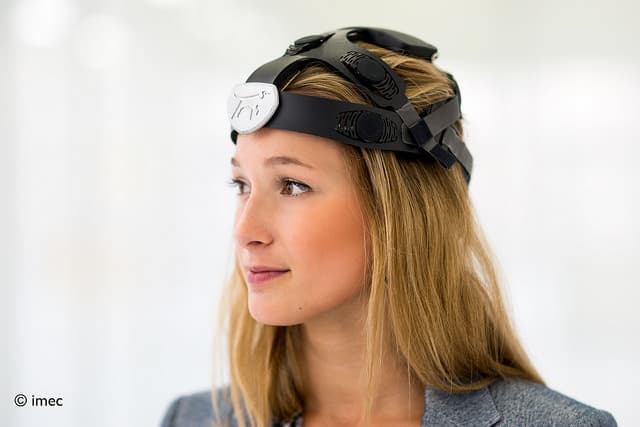 Six years later, beginning of 2018, at the International Consumer Electronics Show (CES) in Las Vegas, imec and Holst Centre present a prototype of the EEG headset that can measure emotions and cognitive processes in the brain. The headset can be used to recognize emotions which could be interesting for therapeutic, learning and gaming applications. The electrodes in the headset are made by Datwyler Sealing Solutions.
What happened in the six years between the first contact and the launch of a unique demonstrator at CES? Norbert Haberland, VP New Processes & Products, Switzerland, and Ronny Vrijens, Head of New Product Development at Datwyler Sealing Solutions, Belgium tell about their collaboration with imec and why it is both interesting and challenging to work with a research center.
Three reasons to work with imec
1. Discover new markets
Datwyler makes customized sealing solutions for their clients. Some of the requests are relatively easy to fulfill with the expertise in house, others are a bit more challenging. Ronny Vrijens: "In 2012, when we met people from imec, our core business was based on isolating rubber components, for sealing syringes, tunnels, car fueling systems etc. The idea of making conductive rubber to enable the dry EEG electrodes was very appealing and we took on the challenge. In a very intense co-creation process with the imec researchers, our material engineers developed a whole new material formulation or 'recipe' that in the end would enable the creation of the perfect soft, low-cost and reliable electrode for the headset."
Norbert Haberland: "The fact that the headset was still in research phase and was not a finalized product, made that Datwyler needed to be very flexible in all of its steps, and needed to respond quickly to changing needs (e.g. in form factor). Today, the work for the EEG headset is almost finalized: the product was well received by the users and the focus is now on upscaling the production of the electrodes towards a commercial product."
Ronny Vrijens: "It was an interesting exercise to make electrically conductive rubber parts. New markets often arise thanks to new projects with clients. For example, the conductive rubbers made for imec within the healthcare division, are now also being investigated for other applications.
2. Tap into an elaborate industrial network
Imec has a broad pallet of expertise and technologies in which Datwyler's materials can certainly play a key role. Ronny Vrijens: "Through the six years of collaboration, and the visits to the imec technology forum, we learned a lot about other activities that imec is working on. At the moment, we are having some exploratory talks with an imec research group in Ghent to develop a sealing solution for their specific application field."
Norbert Haberland: "Next to this immense network of research groups within imec, an important asset of this collaboration is the unique pool of international partners that work with imec: from material and equipment suppliers, to application companies. In the EEG headset project, we showed to be a reliable and innovative partner, which imec can recommend to its other partners. Also, companies interested in commercializing the headset, will get in touch with our know-how."
3. Get a glimpse of the future
A second project with imec, is the development of electrodes for the eye-tracking glasses. These glasses use small dry electrodes on specific locations of the face, to measure the voltage on the skin surface around the eye and from this the eye movement. They can be used for different applications: to identify and treat ocular diseases and potentially also for early diagnosis of neurodegenaritive diseases; for human machine interface e.g. managing notification in smart glasses display; for virtual reality; for neuromarketing.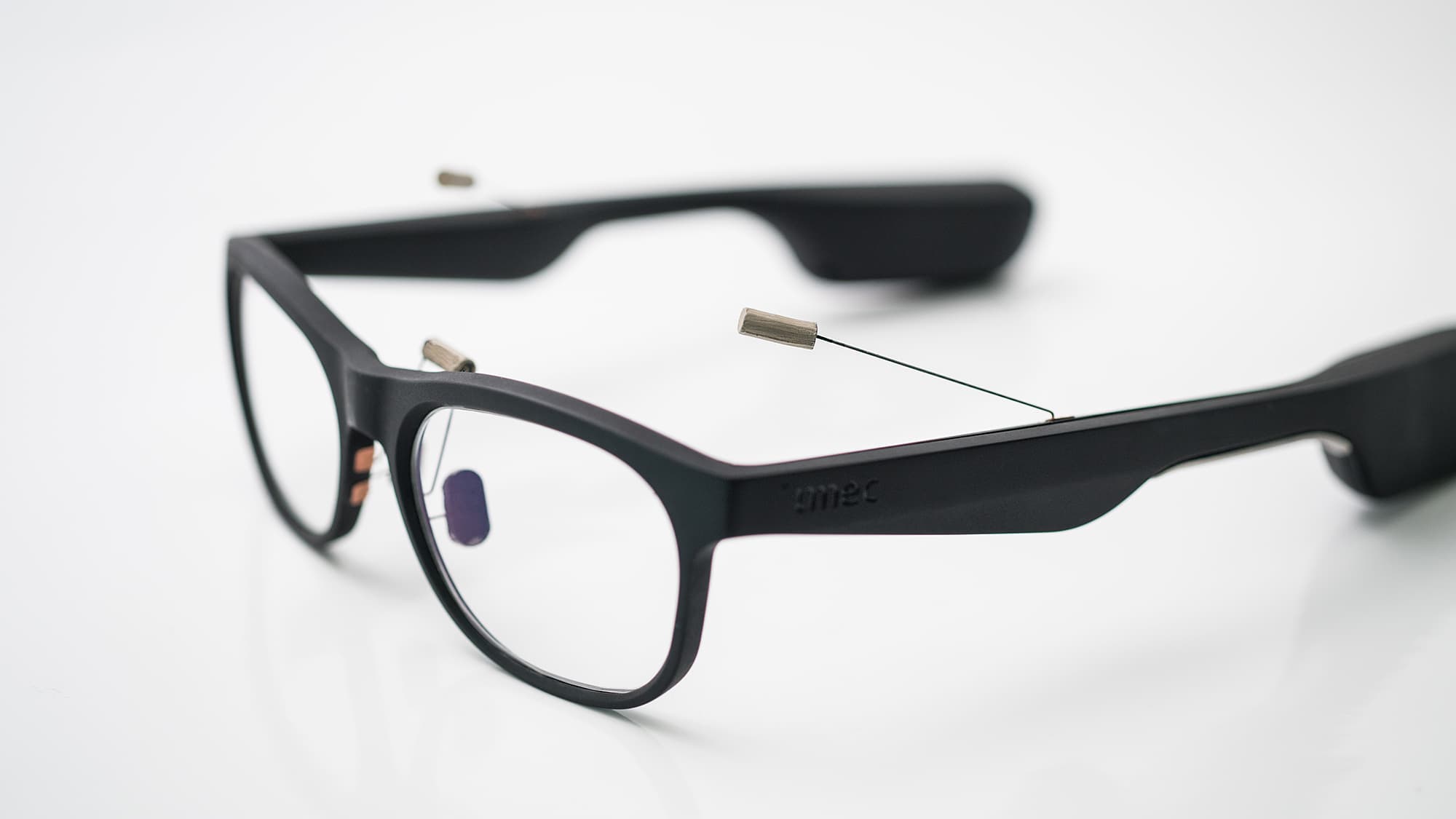 Ronny Vrijens: "For the glasses, the extra challenge for Datwyler and imec is that this doesn't replace an existing application. Take for example the EEG headset: it's an alternative for today's EEG measuring systems with gel electrodes and wires used in hospitals for diagnosis. But the eyetracking glasses don't replace an existing product. So there are still a lot of uncertainties regarding the specs. For this reason, the flexibility in the development of the electrode fabrication process needs to be even greater. Setting up a clear roadmap is of uttermost importance in this case."
Norbert Haberland: "Next to imec, Datwyler works with other research institutes – such as Fraunhofer and CSEM – to keep an eye on new needs in the market. It's the perfect way to get a glimpse of the future."
imec.iChange
Datwyler is one of the companies that make up the ecosystem around the imec.iChange program. The goal of this program is to develop technologies for a healthier life. The focus is on creating hardware and software innovations for assessing behavior, habits, mental stress, and context; and use these metrics towards prevention, disease interception, and coaching. On the longer term, these innovations can become disruptive new tools for coaches, therapists and health professionals.
Chris Van Hoof, senior director connected health solutions at imec: "The depth and breadth of the program is unique anywhere in the world. And the applications it will create will be unique in terms of personalization for both detecting health problems and feedback. By depth I mean the clinically relevant, scientific nature of the data gathered. Our sensors enable us to measure an enormous number of parameters. For example, in the stress test we use a sensor wristband and plaster to measure 3 physiological signals (skin conductance, ECG and temperature), from which we can calculate 20 parameters. In the trials we will typically measure as many signals as possible so that we can then pick out the most relevant parameters for each specific application. The ultimate commercial product that will be developed by our partners may consist of just one sensor and one smartphone app, otherwise it would be too complicated for the user. In addition to our own sensors, we also include commercially available sensors from our partners in the trials. The breadth of the program is also huge. We have psychologists and therapists working with us, as well as people specializing in sensor technology, user interfaces, digital phenotyping, privacy and security. Our work includes establishing living labs and trial organizations and developing the most suitable business models (subscription, hire, prescription by a physician, etc.). But in the end, the success of the program will depend on the partners we are able to convince to work with us. Datwyler is one of these partners. We are very happy to have a material supplier on board with such an elaborate expertise and the skills to customize the product to the specific needs of our wearables."
Are you the partner we're looking for?
So, if you are a company working with materials, components, sensors, systems or apps relating to health or specific diseases, or if you are a doctor or specialist or coaching company and are interested in imec's approach, please contact Chris Van Hoof (016/281815).
Dr. Norbert Haberland, born in 1956 in Germany, received his MSc degree in Chemistry and Technology of Rubber and Plastics (thesis on synthesis and application research of a novel class of secondary accelerators for Sulphur based vulcanization of diene-type rubber) from Moscow Institute for Fine Chemical Technology in 1981. In 1986, he gained his PhD in chemical engineering from the same institute. After diverse management positions in Material Development, Technical Management and General Management in globally active rubber companies, since 2010 Norbert is working in Datwyler Switzerland Inc., currently in the position Vice President New Processes & Products. Focus on Advanced Technologies and Innovation. Norbert is member of German Rubber Association, where he worked for many years as Chairman of the North Rhine-Westphalia section. For his dedication and contribution to the German Rubber Association, he became member of the Rubber-Hall-of-Fame in 2012.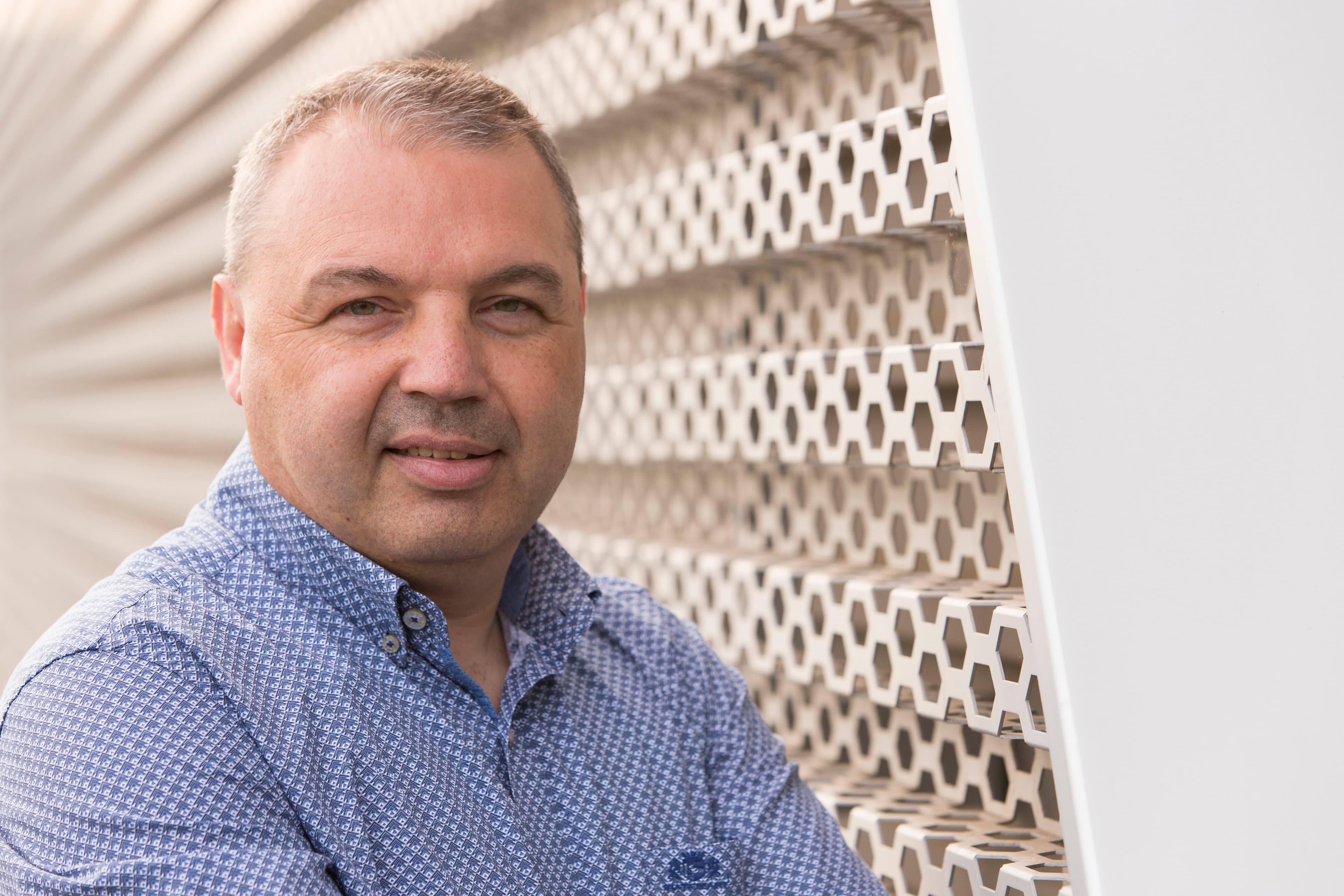 Ronny Vrijens received his master degree in chemistry, with an emphasis on polymer science and plastics processing, from the Catholic Industrial College in Limburg, Belgium, in 1992. Prior to joining Datwyler in 2007 he has held positions as R&D 'flavourist' in the food industry and as packaging and material development engineer at medical device manufacturer Terumo Europe in Haasrode, Belgium. His career in Datwyler (at that time still called Helvoet Pharma) started as R&D product development manager in the Healthcare R&D center in Alken, Belgium where he became responsible for new product developments of rubber and rubber/plastic components for pharmaceutical devices in the parenteral drug delivery industry. He is also coordinating the intellectual property management for the global healthcare division of the Swiss-headquartered Datwyler Sealing Solutions Group. In 2013 he started complementing the work done on conductive rubber material research in the company by coordinating product development activities around dry/soft EEG electrodes in close collaboration with the Wearable Health Solutions team at Holst Centre / imec. Today, Ronny is Head of New Product Development in Datwyler's Advanced Technology & Innovation group.
Published on:
28 June 2018