Wearables as the missing link between mind and body
To the outside world – and often even to the patients themselves – mental problems sometimes seem to appear out of thin air. Nevertheless, psychiatrists suspect that our body actually already gives us warning signals long before the situation becomes problematic. Stephan Claes (psychiatrist at UPC KU Leuven): "At the University Psychiatric Center at KU Leuven we have already been working on research to detect biomarkers for mental diseases, such as depression, for quite some time. Examples of such biomarkers could be a specific pattern in the activity of the autonomous nerve system or immunological changes. We suspect that a disrupted stress system – i.e. when people no longer react in a logical or proportional way to stress factors – plays an important role in this."
Sweaty hands, headaches and a raging heartbeat. If we are stressed, our body reflects this. Until now this kind of physiological stress symptoms have mainly been analyzed in lab environments, where participants were asked to perform a stressful task while their physiological data was being monitored. But thanks to the availability of advanced wearable technology, it has now become possible to monitor people longer time and in their daily lives. For this purpose, imec has developed the Chill Band, a wristband that measures the physiological signals that reflect our stress level, e.g. heartbeat, skin temperature and skin conductance.
In 2017 – as part of her PhD research – imec researcher Elena Smets used the Chill Band for a large-scale study on stress in the work environment. In this SWEET-study (Stress in the Work Environment) more than 1000 participants wore the Chill Band for five consecutive days. In addition, contextual data, like GPS location, were collected to obtain insight into the link between physiological stress signals and self-reported stress. The SWEET-study focused on healthy people in their work environment, but wearables such as the Chill Band could also mean a breakthrough in psychiatric research. In the long term, this kind of technology could even be used to provide daily support and coaching to patients struggling with mental problems.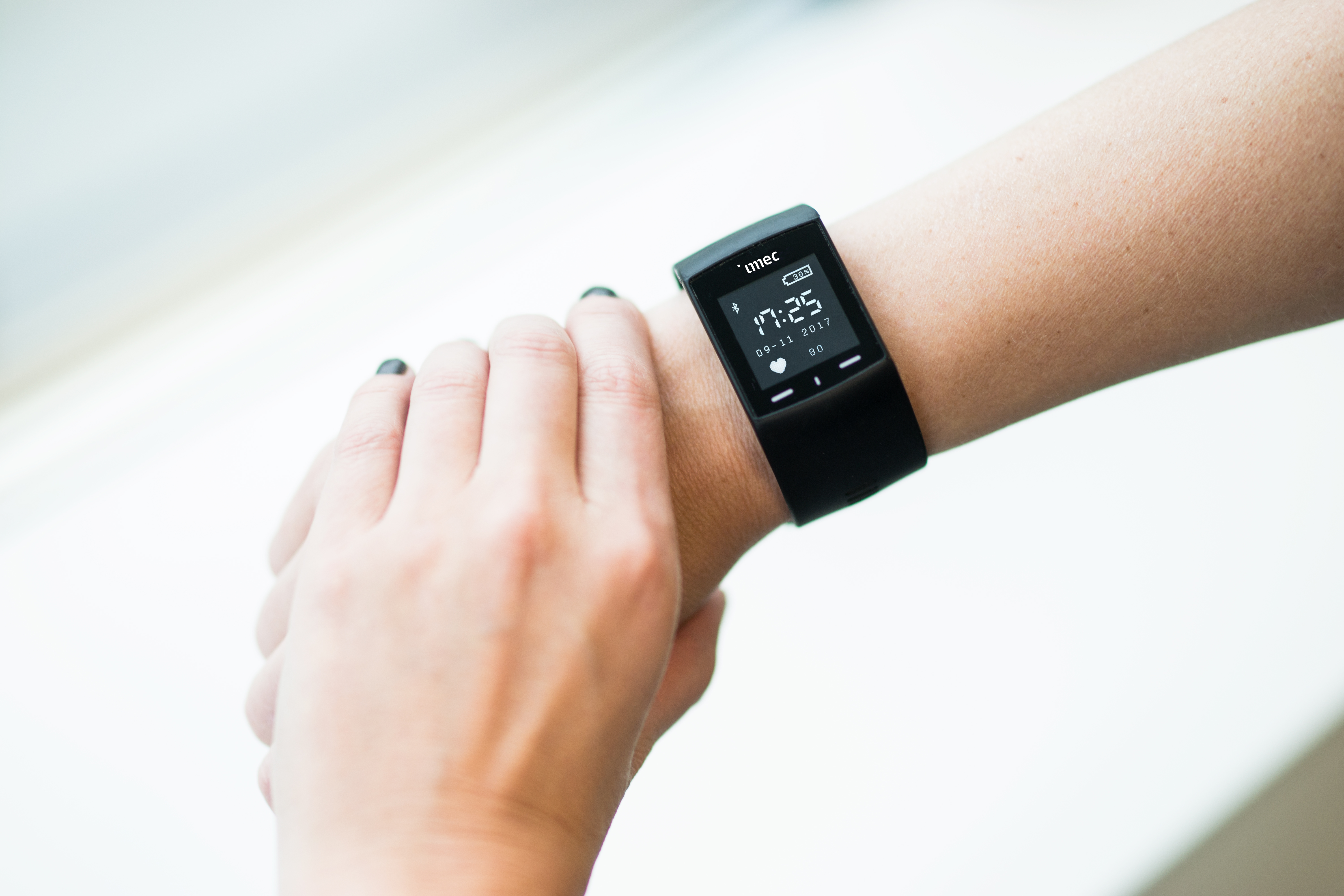 Imec's Chill Band+ measures the physiological signals associated with stress.
Depressed or happy: what does your body say?
One of the studies conducted in collaboration with imec at UPC KU Leuven is a clinical trial on the effect of ketamine for treatment-resistant depression. Ketamine – currently mainly known as a party drug named 'Special K' – is safe at low doses and could be a promising medicine for patients who do not respond to traditional antidepressants.
Participants to the study – patients suffering from a depression and a control group – were monitored with the Chill Band for a couple of days. Some of the participants with a depression were given ketamine, a substance that induces a temporary feeling of happiness, in a way lifting them out of their depression for a short while.
The aim of the study was not only to investigate the effect of ketamine on the patients, but also to analyze how this change, i.e. the temporary relief from the depression, is reflected in their physiology. In other words: how do our bodies – e.g. through body temperature, heartbeat, transpiration, etc. – show that we are feeling happier? And more importantly: can changes in our physiology predict a depression or a potential relapse?
Stephan Claes: "Depression often strikes more than once in a lifetime. Until now we were only able to follow up on patients for a limited time period, but in the future, I think we could use wearables to monitor people longer. If we then notice that someone's stress signals indicate that he/she is at risk again, we could warn them in time."