Wearables as the missing link between mind and body
To the outside world – and often even to the patients themselves – mental problems sometimes seem to appear out of thin air. Nevertheless, psychiatrists suspect that our body actually already gives us warning signals long before the situation becomes problematic. Stephan Claes (psychiatrist at UPC KU Leuven): "At the University Psychiatric Center at KU Leuven we have already been working on research to detect biomarkers for mental diseases, such as depression, for quite some time. Examples of such biomarkers could be a specific pattern in the activity of the autonomous nerve system or immunological changes. We suspect that a disrupted stress system – i.e. when people no longer react in a logical or proportional way to stress factors – plays an important role in this."
Sweaty hands, headaches and a raging heartbeat. If we are stressed, our body reflects this. Until now this kind of physiological stress symptoms have mainly been analyzed in lab environments, where participants were asked to perform a stressful task while their physiological data was being monitored. But thanks to the availability of advanced wearable technology, it has now become possible to monitor people longer time and in their daily lives. For this purpose, imec has developed the Chill Band, a wristband that measures the physiological signals that reflect our stress level, e.g. heartbeat, skin temperature and skin conductance.
In 2017 – as part of her PhD research – imec researcher Elena Smets used the Chill Band for a large-scale study on stress in the work environment. In this SWEET-study (Stress in the Work Environment) more than 1000 participants wore the Chill Band for five consecutive days. In addition, contextual data, like GPS location, were collected to obtain insight into the link between physiological stress signals and self-reported stress. The SWEET-study focused on healthy people in their work environment, but wearables such as the Chill Band could also mean a breakthrough in psychiatric research. In the long term, this kind of technology could even be used to provide daily support and coaching to patients struggling with mental problems.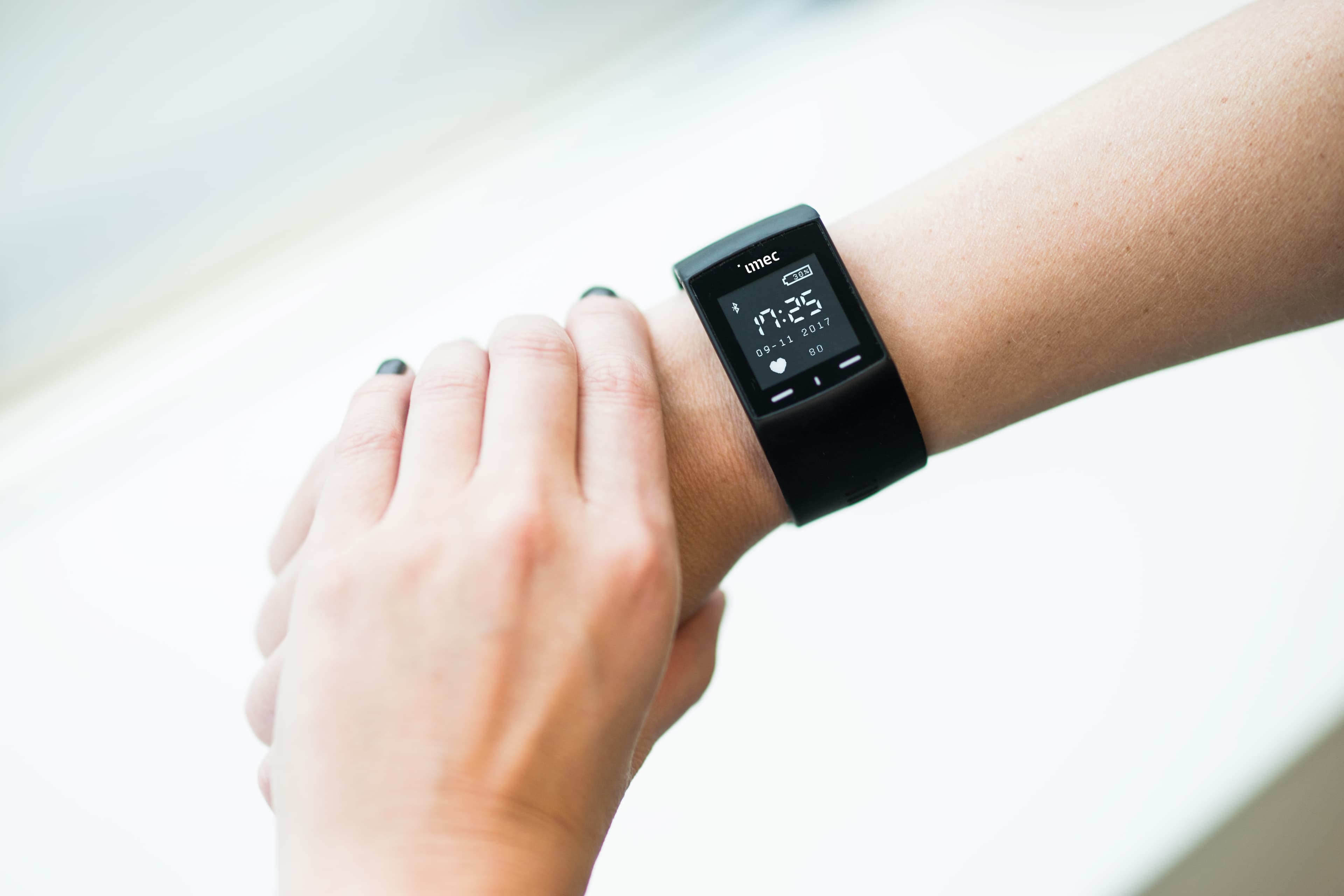 Imec's Chill Band+ measures the physiological signals associated with stress.
Depressed or happy: what does your body say?
One of the studies conducted in collaboration with imec at UPC KU Leuven is a clinical trial on the effect of ketamine for treatment-resistant depression. Ketamine – currently mainly known as a party drug named 'Special K' – is safe at low doses and could be a promising medicine for patients who do not respond to traditional antidepressants.
Participants to the study – patients suffering from a depression and a control group – were monitored with the Chill Band for a couple of days. Some of the participants with a depression were given ketamine, a substance that induces a temporary feeling of happiness, in a way lifting them out of their depression for a short while.
The aim of the study was not only to investigate the effect of ketamine on the patients, but also to analyze how this change, i.e. the temporary relief from the depression, is reflected in their physiology. In other words: how do our bodies – e.g. through body temperature, heartbeat, transpiration, etc. – show that we are feeling happier? And more importantly: can changes in our physiology predict a depression or a potential relapse?
Stephan Claes: "Depression often strikes more than once in a lifetime. Until now we were only able to follow up on patients for a limited time period, but in the future, I think we could use wearables to monitor people longer. If we then notice that someone's stress signals indicate that he/she is at risk again, we could warn them in time."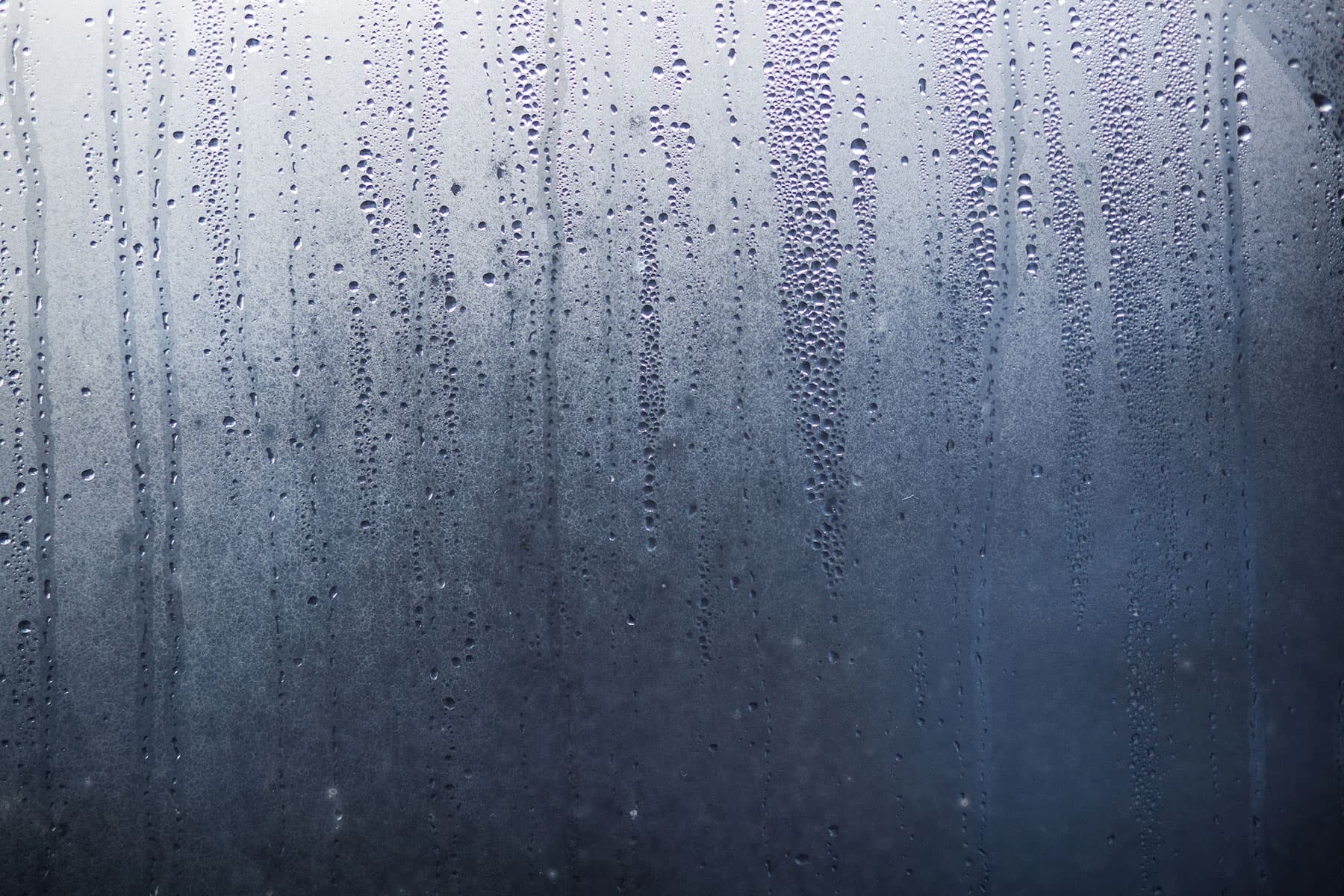 Depression often strikes more than once in a lifetime. Until now we were only able to follow up on patients for a limited time period, but in the future, I think we could use wearables to monitor people longer. If we then notice that someone's stress signals indicate that he/she is at risk again, we could warn them in time.
Autism: when the world becomes too much to take
But the Chill Band also provides interesting opportunities for other target groups. For her PhD research at imec, Erika Lutin is collaborating with psychiatrists and psychologists from UPC KU Leuven to investigate how wearables can help children with autism deal with sensory overload.
People with ASD (autism spectrum disorder) tend to be very sensitive to all kinds of stimuli and impressions, such as noise and bright light. Especially children often do not have the natural reflex to take action to prevent overstimulation, e.g. by leaving the room when it is too loud and crowded. If the unprocessed stimuli keep building up, this could lead to problematic behavior, either through internalization (anxiety, depression) or externalization (emotional outburst, aggression).
To avoid this, we first have to understand how stress and environmental stimuli are connected. Erika Lutin explains how she approaches this: "In collaboration with imec's Application Prototyping team we have developed an app that measures sound and light, tracks location and monitors smartphone activity. We combine this with a small sensor attached to the child's clothing that measures light and temperature. The app also regularly requests information on the child's mood, e.g. whether they are feeling calm or tense. In a second phase of the study we will use the Chill Band to track their physiological symptoms as well."
The end goal is to give real-time feedback to the children. By tracking both their physiological signals and environmental factors, the app could predict when the child is likely to experience sensory overload and could suggest a targeted intervention before it becomes too much. For instance, it could suggest that they put on their headphones if the room is too loud or do a relaxation exercise after a busy moment that has put them on edge.
Erika Lutin: "By intervening in time, we could avoid the negative experience of built-up anxiety or emotional outbursts. In Belgium we are trying to integrate more children with ASS into regular schools, so in this context it has become even more important to help them manage the stimuli from their environment."
Psychiatrists and engineers: a golden combination?
The Chill Band plays a crucial role in imec's joint research with UPC KU Leuven. Stephan Claes: "But our collaboration is broader than only the use of the Chill Band as an accurate and convenient measuring device. This kind of research is still very new so there are many things that we are still experimenting with: which signals to measure, how often we need to measure them, how we can turn this raw data into valuable clinical information, etc. To do all this, it is important we can fall back on a team of engineers who know the Chill Band really well and excel in data analytics."
Erika Lutin: "And for us, as engineers and data analysts, it is also important to collaborate with experts in psychiatry studies. We can find the link between physiological symptoms and a reference point, but we need their medical expertise to give meaning to these data: why is there a link between physiology and stress and how can this be useful to improve patients' therapy and coaching?"
The feedback from the researchers is also used to optimize the technology itself. The newest version, the Chill Band+, does not only measure skin conductance, skin temperature and movement (acceleration), but is now also equipped with a heart rate meter, a gyroscope (which monitors movement more closely), and a screen (to give feedback to users).
Elena Smets: "This is the beauty of the whole process: we are closing the circle. Imec develops the Chill Band+, it is tested in the field, the data then returns to us to be analyzed and the feedback on the device itself goes directly to the developers of the Chill Band+. This process enables us to make sure that our technology is perfectly suited to the kind of research we want to do."
Want to know more?
The Chill Band was also used in the SWEET (Stress in the Work Environment) study, the first large-scale study that used wearables to examine the link between mental stress and physiological symptoms in daily life. Read more about it in this press release.
Click here to download the Chill Band+ brochure.
For more information on other studies imec is conducting in collaboration with the UPC KU Leuven, please contact Walter.deraedt@imec.be.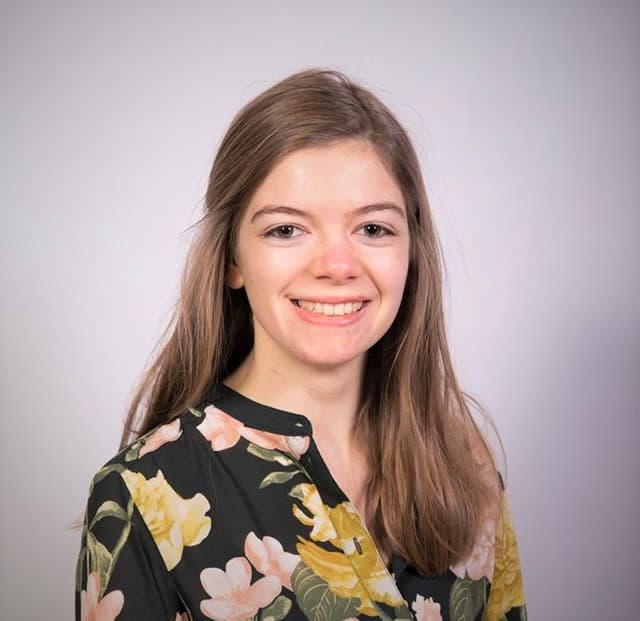 Erika Lutin received a Master of Science in Bioscience engineering from KU Leuven in June 2017. During her Master's, she mainly focused on measuring and modeling human health. Following a personal interest in monitoring mental health, Erika started a PhD in the imec.ichange program in September 2017. She is currently doing research on personalized interventions for children with autism spectrum disorder.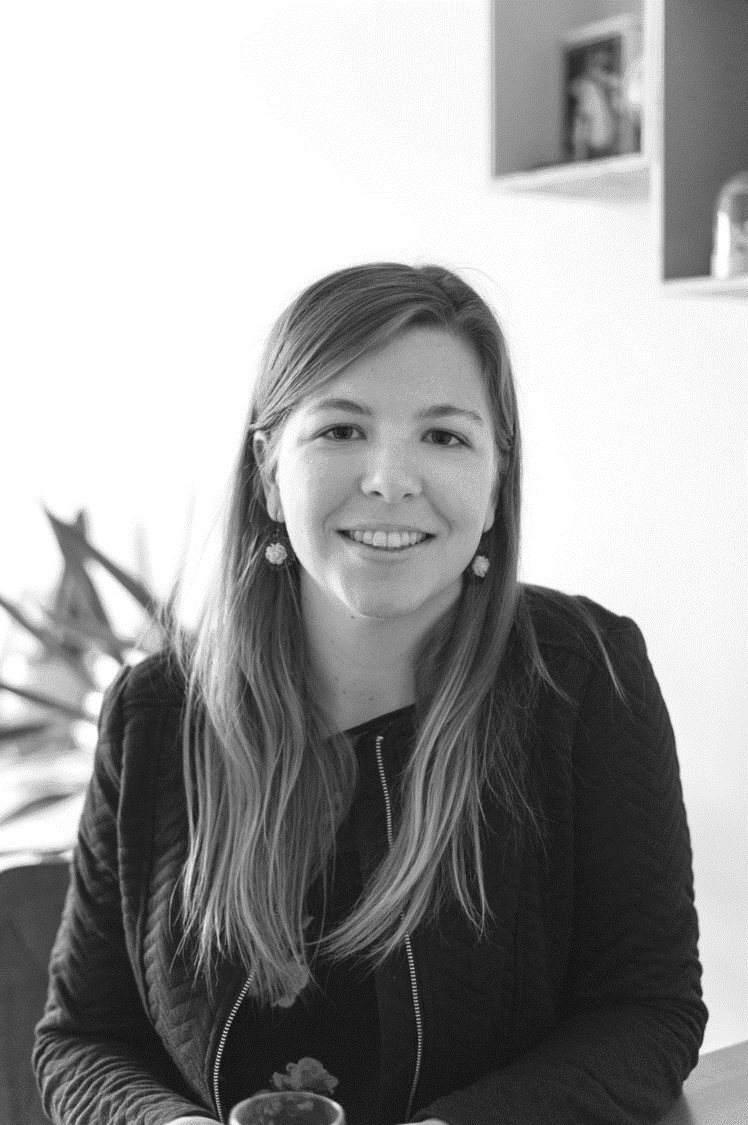 Elena Smets graduated as a Master of Science in Bioscience engineering from KU Leuven in June 2013. She started working at imec in 2014 where she is doing research on personalized stress detection. In October 2018, she received her PhD in Electrical engineering in collaboration with KU Leuven. Currently, she is working in the imec.ichange program, which aims to use wearable sensors and data analytics towards preventive health.
Stephan Claes studied medicine and psychiatry at KU Leuven between 1985 and 1999. In 1997, he also completed a PhD at the Centre for Human Genetics, focusing on the genetic background of mental disabilities.
Afterwards he became a lecturer at Antwerp University and a psychiatrist at the University Hospital. In addition, he was connected to Antwerp University's Molecular Genetics Department as a postdoctoral researcher.
In 2005 he returned to KU Leuven as a professor in psychiatry. In 2013, he became the head of the adult psychiatry department at UZ Leuven. He's also a Fundamental Clinical Researcher at FWO, the Flemish research foundation. His current research focuses on the genetic and epigenetic background of psychiatric disorders. He is the (co-)author of over 1000 scientific publications.
Published on:
5 November 2018