New spin-off brings ultrasonic plasters on the market
Pulsify Medical, a spin-off of imec and KU Leuven, successfully completed a first financing round for an amount of €2.6 million. This thanks to imec.xpand, KU Leuven and UZ Leuven. This new spin-off will develop wireless plasters that, thanks to ultrasonic imaging technology, can monitor certain body parameters, e.g. the condition of the heart. It is a big step forward for intensive care units and also for home monitoring. Read the full press release here.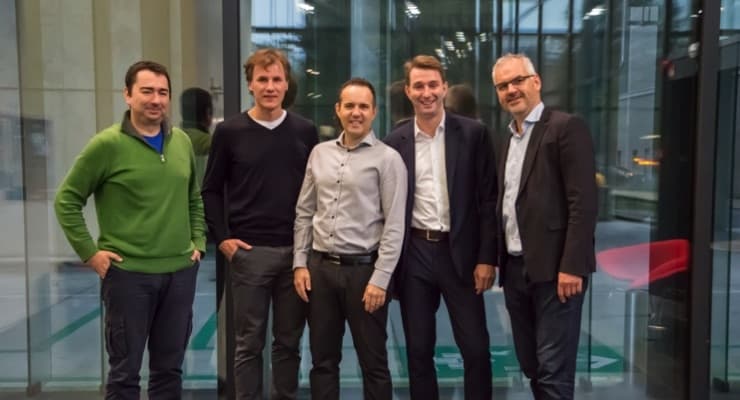 Research on FeFETs published in Nature Scientific Reports
The paper "Positive non-linear capacitance: the origin of the steep subthreshold-slope in ferroelectric FETs" by Md Nur Kutubul Alam, Philippe Roussel, Marc Heyns and Jan Van Houdt was published in Nature Scientific Reports. It includes a study of the capacity of ferroelectric materials and stacks to gain more insight into the so-called 'negative capacity effect'.
Imec develops technology for low-cost infrared image sensor
Imec's new thin-film image sensor can detect light in near-infrared (NIR) and short-wave infrared (SWIR). Where current IR image sensors are made with a hybrid technology - detector and reading electronics are produced separately and then connected - the new image sensor is based on a monolithic process. This makes the sensor much cheaper and therefore much more widely applicable. Examples of applications are surveillance cameras, biometric identification, virtual reality, and monitoring of industrial processes. Read more about it in this press release and in this article.
Imec's Chief Strategy Officer in Forbes magazine
Jo De Boeck, imec's chief strategy officer (CSO), answered the question in his column in the renowned American Forbes magazine: "Will AI soon perform better than the human brain?". The answer appears to be 'not yet'. Despite the fact that AI systems can perform certain tasks better and faster than people, people can still learn faster and adapt better to new tasks and situations.
Nevertheless, AI is a very valuable technology on which imec also puts a lot of effort. Imec recruited Mieke De Ketelaere as program director Artificial Intelligence. Mieke De Ketelaere was Director Customer Intelligence Western Europe and Ethical AI Evangelist at SAS.
Partner companies up to date again
The semi-annual Partner Technical Week (PTW) was held at imec from 21 to 25 October. During this week, imec invites its partners to discuss the latest research results from the joint projects. This time, 759 employees of these companies visited imec and imec researchers gave 480 technical presentations. It was another successful week, with lots of interactions, discussions and new ideas.
Published on:
31 October 2019