If you had to choose between a skiing class in a group, or paying a little more for an individual lesson, which would you go for? Lots of people would opt for an individual skiing lesson because they're likely to learn to ski much more quickly, which in turn means that the price of learning would actually be the same. Unfortunately, you can't make the same choice when it comes to your standard education or secondary school diploma. No, everyone sits together in the classroom and the teacher conducts the lessons at the level of the 'average' student. All of which means that there's a good chance that many pupils will become distracted because the lessons are either too hard or too easy.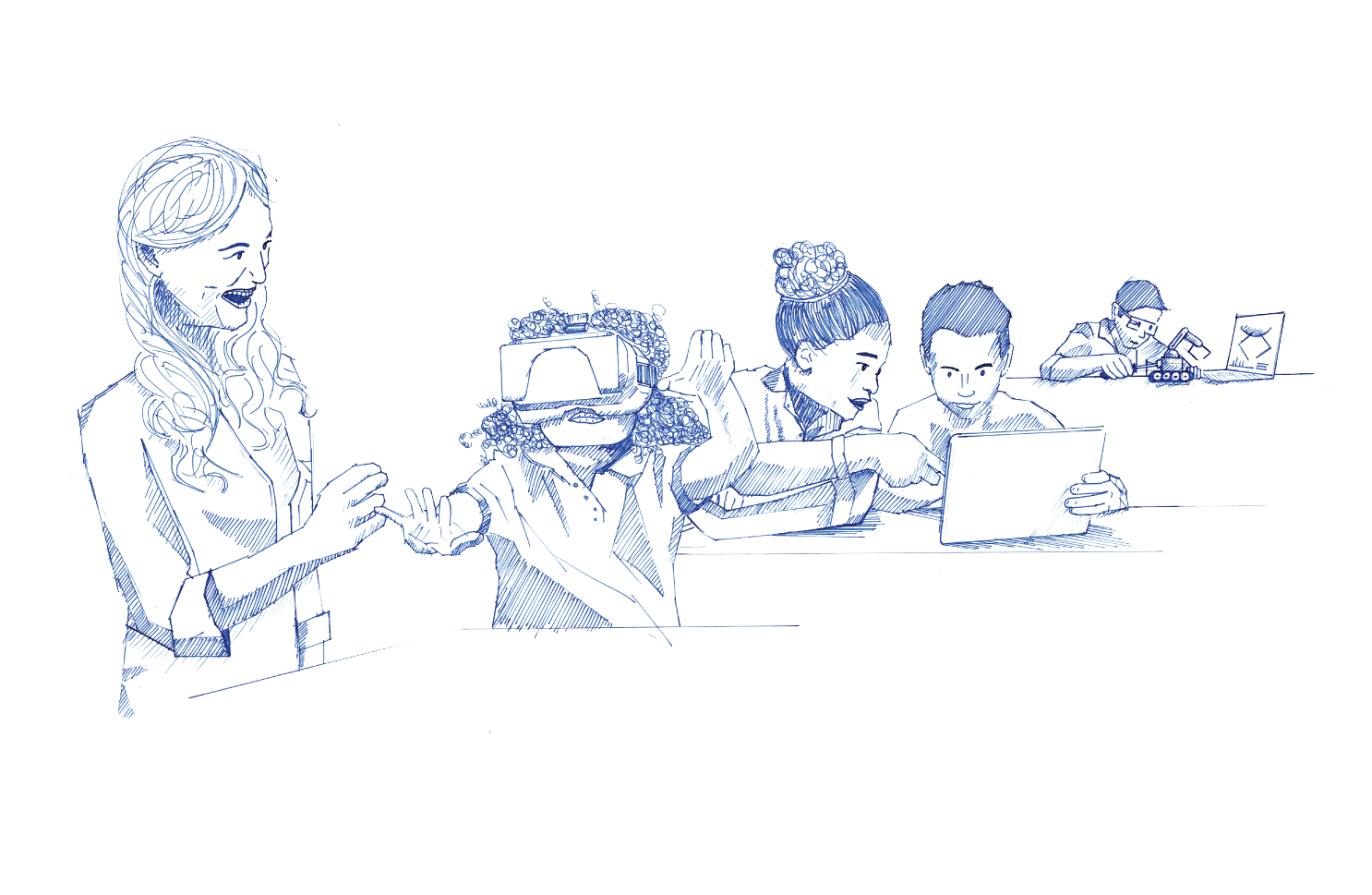 But technology (possibly in the form of artificial intelligence) may bring about a major change to all this by 2035. Come and take a look at the classroom of the future:
All of the students have their own device and log into their personalized learning platform. Tom's dashboard suggests that he do some math exercises or conjugate French verbs. He decides to begin with the French, because in the afternoon they will be working on their creative project in French. The platform suggests that he start by watching a short explanatory video, but he decides to skip that part. He prefers to learn by doing things and, because the subject matter is presented in the form of a game, he's eager to get started on it.
Tom is not very good at French. The previous time he played the French verb game he made lots of mistakes. In recent weeks, though – to improve his French – he has been watching a French crime series. In the beginning, the learning platform presented exercises that were actually too easy for him, but pretty soon the game noticed that his level had improved and he was given more challenging exercises. Now and then, a sentence appears that is clearly inspired by the series he has been watching. In the meantime, the teacher walks up and down between the desks, helping pupils who need additional assistance. She's wearing special augmented reality (AR) glasses that enable her – by allowing her gaze to stay on specific students – to see a summary of their progress.
Sometimes the students are required to log into the learning platform from home, but today they will be working on their creative group projects after the break and so they are all at school. In a society where artificial intelligence has become mainstream, soft skills – such as creativity, communication, teamwork, empathy, etc. – are much more important. Tom and his partner put on their AR glasses. The artificial intelligence in the glasses monitors their conversation and automatically projects relevant visual information that supports them in their work, such as a map of the region they are discussing. Meanwhile, the teacher walks around the classroom and monitors their learning process. She evaluates how they work together and points them in the right direction if they get stuck.
There may even be a robot moving round the classroom. In fact, research has shown that robots are more efficient than software for learning things. And these robots are not all-knowing geniuses, but 'stupid' robots. The children themselves then learn by teaching the robot something, such as writing out letters, multiplication, speaking French and so on.