If you visit a concert or festival, chances are that you will be wearing textile wristbands for access control and that you will be using paper tickets and cash money to buy drinks. In other words: although the artists are working with the latest high-tech equipment, concertgoers cannot yet enjoy the benefits of a high-tech festival experience for access control, social interaction and so on.
But change is on its way. During the 2014 edition of Tomorrowland – a pioneering event in terms of innovating the festival experience – "smart wristbands" were used to ensure smooth access control, enabled by combining short range RFID with long range wireless. In addition, the tracking and LED features enabled, at the same time, enhanced security and massive visitor engagement during an impressive light show. And much more is to come: by integrating wearables, wireless network technology, data analysis, mobile applications, sensors, etc. a real revolution for festivalgoers and organizers can be realized.
The iFEST consortium contributed to this revolution by developing a new generation of festival wristbands and combining these with built-in communication capabilities, sensors and a software platform for data analysis to ensure a richer festival experience.
Project outcomes
New protocol and wireless gateways for a robust wireless connectivity in high-density 'chaotic' environments
A platform that gathers and interprets different types of realtime data
Unique and scalable localization techniques for a richer festival experience
iFEST Leaflet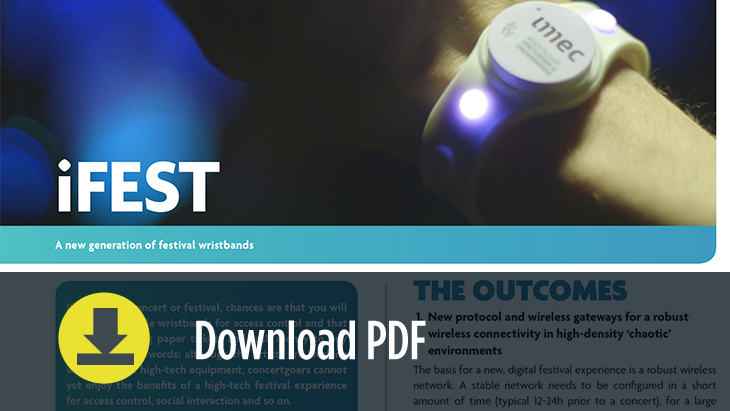 iFEST Video
iFEST News
Imec tests new generation of festival wristbands and improved wireless technology during concert Dimitri Vegas and Like Mike
iFEST
A new generation of festival wristbands.
iFEST is an imec.icon research project funded by imec and IWT.
It ran from 31.12.2014 until 30.12.2016.
Download as pdf
Project information
Industry
ID&T
Playpass
Sentiance
Sendrato
Telenet
3factr
Research
imec - MICT - UGent
imec - IDLab
imec.livinglabs
Contact
Project Lead: David de Wever
Research Lead: Steven Latré
Innovation Manager: Stefan Van Baelen
Want to know more about imec.icon?