The MoniCow project aims to develop an energy-efficient wireless monitoring system for livestock farmers. The system will allow them not only to locate their dairy cattle in real time, but also to monitor down to the smallest detail some aspects of their health and reproduction. These are key advantages in their efforts to manage the dairy farm of the future in a sustainable way.
Dieren efficiënter monitoren dankzij geavanceerd datasysteem
Het MoniCow-project beoogt het ontwikkelen van een energie-efficiënt en draadloos monitorsysteem voor veehouders. Daarmee kunnen ze hun melkkoeien niet alleen in realtime lokaliseren, maar ook bepaalde aspecten van gezondheid en voortplanting van het vee tot in de puntjes opvolgen. Dit zijn belangrijke troeven om het melkveebedrijf van de toekomst op een duurzame wijze te beheren.
Groeiende melkveebedrijven, groeiende informatienoden
Vlaamse melkveebedrijven worden steeds groter. Met grotere veestapels wordt het voor de veehouder moeilijker om gezondheidsproblemen van individuele koeien tijdig op te merken. Iets wat melkveehouders bovendien danig op kosten jaagt… Voor elke uierontsteking die te laat wordt ontdekt, lopen de kosten op tot een slordige 150 euro. En aan een gemiste bronst of niet-gedetecteerde kreupelheid hangt een prijskaartje van 250 euro vast. Kortom: gezondheidsindicatoren in realtime opvolgen, laat toe het economische beheer van elk groeiend melkveebedrijf te optimaliseren.
Sensoren voor uitgebreide dataverzameling
Het MoniCow-project wil een geavanceerd sensor-, locatietracking- en databeheersysteem voor diermonitoring ontwikkelen. Via sensoren op het lichaam lokaliseert het systeem de melkkoeien, zowel in de stal als op de weiden. Ook verzamelt en verwerkt het meerdere gezondheidsindicatoren in realtime, van eet- en drinkgedrag tot lichaamstemperatuur en zelfs algemene bewegingsinfo. De gemeten indicatoren worden bovendien gecombineerd om nog betere inzichten te verwerven.
Krachtig, maar energie-efficiënt datasysteem
Gebruiksvriendelijkheid staat centraal. Zo wordt bijvoorbeeld een autonoom inductief vermogenssysteem ontwikkeld om het systeem een langere energielevensduur mee te geven. Daarbij voorzien supercondensatoren of herlaadbare batterijen volledig draadloos onder meer de lichaamssensoren van stroom. Bovendien waarschuwt het systeem bij noodgevallen via een uniek alarm voor elk dier, en krijgt het een mobiele lokalisatie-app.
Om de kracht, energie-efficiëntie, schaalbaarheid en vooral de nauwkeurigheid na te gaan, worden de MoniCow-prototypes uitvoerig getest in het lab en op het veld.
"MoniCow heeft als doel om een geautomatiseerd datasysteem te ontwikkelen voor diermonitoring en -lokalisatie, dat in realtime geavanceerde gezondheidsparameters opvolgt, en dat zonder enigszins in te boeten aan energie-efficiëntie."
Monicow video
Download leaflet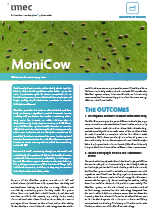 MoniCow
More Efficient Cattle Monitoring Through an Advanced Data System.
MoniCow is an imec.icon research project funded by imec and IWT.
It started on 01.10.2015 and is set to run until 31.03.2018.
Download as pdf
Project information
Industry
DeLaval
ILVO
Metagam
Multicap
NXP Semiconductors België
snapTonic
Research
imec - IBCN - UGent
imec - WiCa - UGent
KU Leuven - DramCo
Contact
Project Lead: Danielle Baetens
Research Lead: David Plets
Innovation Manager: Steven Van Assche
Want to know more about imec.icon?