In several areas of industry, mission-critical communication platforms – being 100% operational - are a must. Think of communication lines between crane operators and ground personnel or between control rooms and security guards patrolling the floor.
A virtual operator capable of switching between LPWAN standards + corresponding software embedded at the device side
The single-antenna device with its advanced communication stack, both developed the by MuSCLe-IoT consortium, has the ability to switch between networks based on the needs of the current application, network availability, link quality and environmental conditions.
The single-module design is not only smaller and more cost-effective than multiple-antenna solutions, it also supports more generic hardware. Over-the-air updates enable the integration of new features, even while the device is in operation. Optimization of the switching between wireless protocols is executed by a central virtual operator, resulting in reliable communications while staying compliant with the specifications regarding reliability, data throughput and power consumption.
Integration with the backend of existing systems of the partnering organizations
Within the scope of the project, two implementations have been done whereby the MuSCLe-IoT technology was seemingly integrated with the backend systems of the industrial partners in the project:
At DIVA, the new diamond museum in Antwerp, where MuSCLe-IoT enabled crisis buttons triggered messages to the existing communication devices of the security guards.
At two locations of Aertssen construction company, where MuSCLe-IoT technology allowed for optimal asset tracking on-site and in transition between sites.
Integration of a variety of localization algorithms
For the use case of asset management, an optimized set of localization algorithms was implemented, based on LPWAN protocols. Allowing to switch from GPS-like accuracy for assets at a given site to a more course-grained localization of a few hundreds of meters for assets in transition from one location to another. All of this with low power in mind, resulting in multi-year operation on a single 3.6V battery charge.
Download leaflet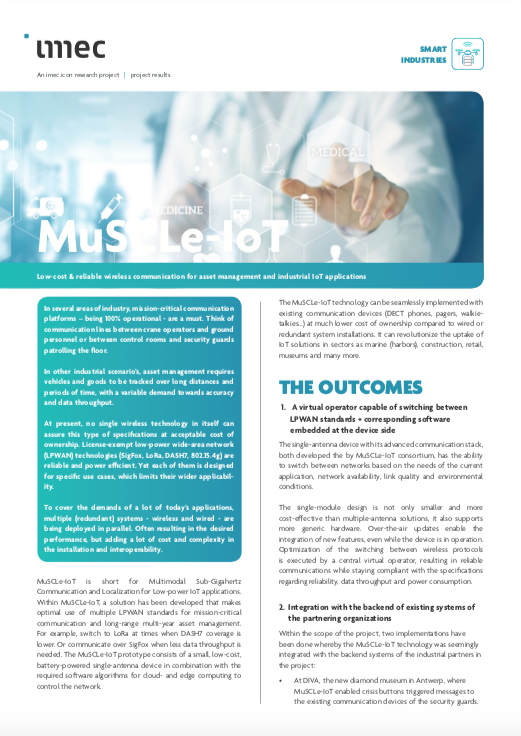 MuSCLe-IoT
Multimodal Sub-Gigahertz Communication and Localization for Low-power IoT applications.
MuSCLe-IoT is an imec.icon research project funded by imec and Agentschap Innoveren & Ondernemen.
It started on 01.04.2017 and was set to run until 31.03.2019.
Download as pdf
Project Information
Industry
Aannemingsbedrijf Aertssen
Engie M2M
Flash Private Mobile Networks
Sensolus
Research
imec - IDLab - UGent
imec - IDLab - UAntwerpen
Contact
Project Lead: Luc Deneubourg
Research Lead: Maarten Weyn
Innovation Manager: Stefan Van Baelen
Want to know more about imec.icon?