Today, travel planning requires people to actively hunt for information in various places (their agendas, public transportation time tables, floor plans from underground stations, weather fore- casts, etc.). But manually linking all this info requires a lot of upfront preparation and often does not allow for on-the-fly adaptations to cope with delays or meetings running over.
The TraPIST project investigated whether an intelligent framework can be developed that knows the traveler (agenda, destination, travel preferences, special needs, etc.) and acts accordingly. It should continuously filter all available data from a variety of sources and proactively provide relevant, tailor-made travel info at the right moment. As such, an optimal travel experience is created while restricting travelers' efforts to a minimum.
(Train) travel is more than simply moving from point A to point B. It starts with planning your trip (often using several modes of public transportation) and ends when you arrive at your destination. But it also includes each waypoint in between. Yet, current trip planning tools are very much siloed (based on one source only) and have not been built to deal with a disparity of information (such as vehicle sensor data, passenger data, etc.).
TraPIST aimed to break those silos. It also explored how contextual information (weekend or not, business or leisure travel) can automatically be taken into account. And it inves- tigated how personalized travel updates can be provided in an optimal way, using a dynamic mix of personal devices (smartphones) and (semi)-public displays.
Project outcomes
A scalable framework that works with any type of (open) data to create tailor-made information; a framework that displays relevant info on a variety of devices even if network connections drop
Close interaction with end-users provides insights on must-have features and steers further (technical) research
A flexible and easy-to-use toolset that enables (international) developers to create new solutions in a wide range of application domains
Download Leaflet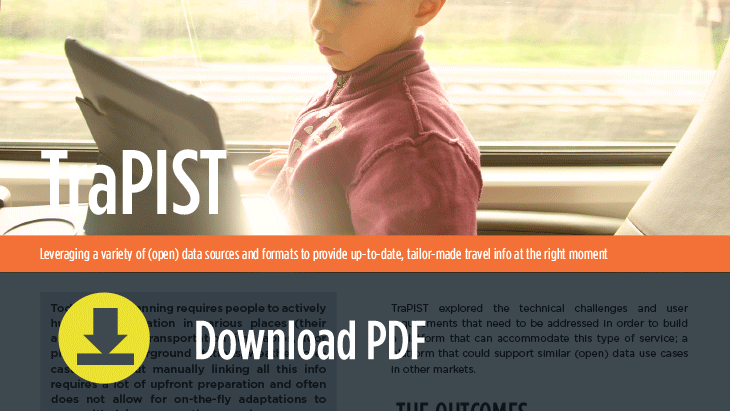 Video
TraPIST
Leveraging a variety of (open) data sources and formats to provide up-to-date, tailor-made travel info at the right moment.
TraPIST (Train Passenger Interfaces for Smart Travel) is an imec.icon research project, funded by imec.
It ran from 01.01.2014 until 31.12.2015.
Download as pdf
Project information
Industry
NMBS (B-RAIL)
STIB - MIVB
Social Spaces
Be-Mobile
NMBS holding
DB Mobility Logistics
Research
imec - IBCN - UGent
imec - mintlab - KU Leuven
imec - SMIT - VUB
Contact
Project lead: Dirk Van Den Wouwer
Research lead: Karin Slegers
Innovation Manager: Stefan Van Baelen
Want to know more about imec.icon?