Zwijndrecht, Belgium, 11.06.2018 – During the last two years, as part of the EU-funded PVme project, an international consortium of 10 companies and research centers worked together to find solutions for a sustainable building façade. PVme stands for "organic PhotoVoltaic systems integrated in Manufactured building Elements". Almost at the end of the project the inauguration of the organic-based BIPV (Building Integrated Photovoltaics) façade took place yesterday at the Engie Fabricom building in Zwijndrecht, close to Antwerp.
The aim of the project was to integrate photovoltaic elements into two existing facade elements, to develop the interlocking production and finally to prove the technical feasibility by means of an installation. About 20 m² of the existing glass spandrels have been retrofitted with OPV glass laminates matching the original building look and 30 PV steel elements were integrated and installed on the company building of the Engie Group.
The main challenges were the accurate production of the OPV film by Heliatek, its integration in a glass-glass BIPV module by AGC Europe and the achievement of a durable bond between the film and the steel cassette. Heliatek OPV films are applied to a Hoesch metal substrate and subsequently formed into facade elements. The installation thus marks the end of the project, which began about two years ago.
Sjoerd Veenstra (project coordinator): "In terms of CO2 reduction targets in the building sector, building-integrated photovoltaics is playing an increasingly important role. BiPV façades like the one in Antwerp could become an important building block for achieving these targets."
The international consortium:
AGC Glass Europe, Belgium
AkzoNobel, Netherlands
ECN, Netherlands*
Heliatek GmbH, Germany
Heliox, Netherlands
Hoesch Bausysteme, Germany
Holst Centre - TNO, Netherlands
Imec, Belgium
Engie Laborelec, Belgium
Sapa, Belgium
* Since April 2018 ECN is part of TNO
The four scientific institutes; Holst Centre, imec, Laborelec and ECN, supported the development, system design and correlation of accelerated ageing and outdoor data. Data on the ambient temperature, module temperature of the steel façade elements and, of course, on the total yield of the system are continuously monitored. So far the installation already generated 260kWh.
This installation sets an important milestone to the long-lasting partnership between AGC Glass Europe and Heliatek, showing not only that glass enables green energy production but that it also makes possible the retrofit of existing building envelopes matching with the building's original aesthetics.
Hoesch/Kingspan is planning a further development and Europe-wide marketing of solar-active steel façade elements. The results of the current product variant solar foil on steel cassette elements are also to be transferred to the sandwich panel variant in the long term.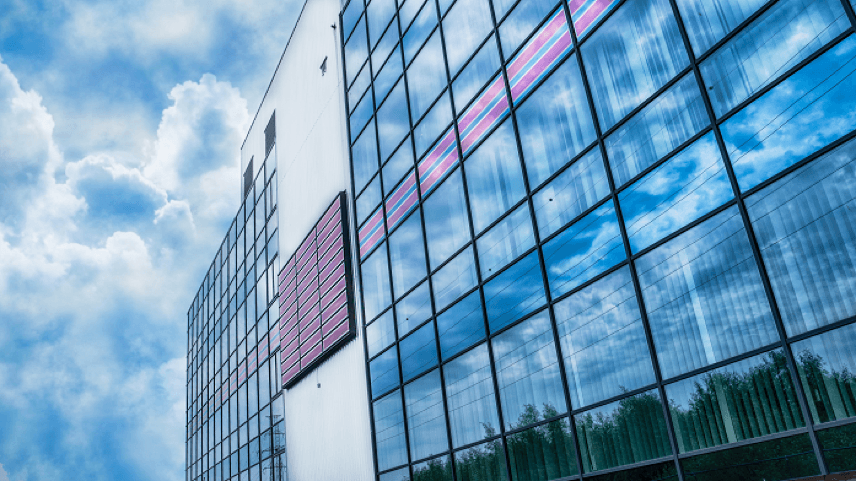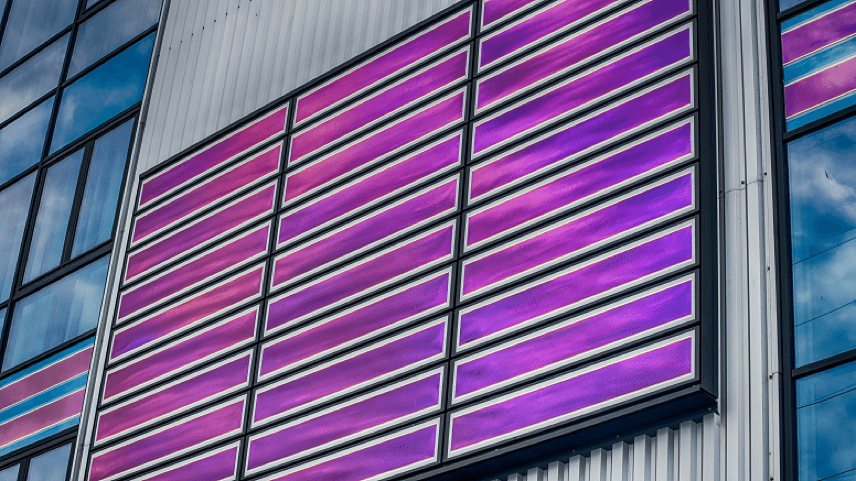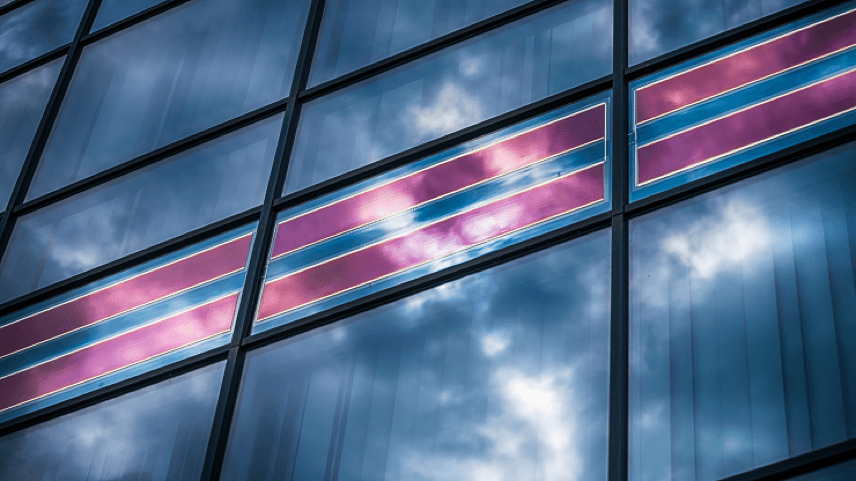 BIPV façade at ENGIE Fabricom, Antwerp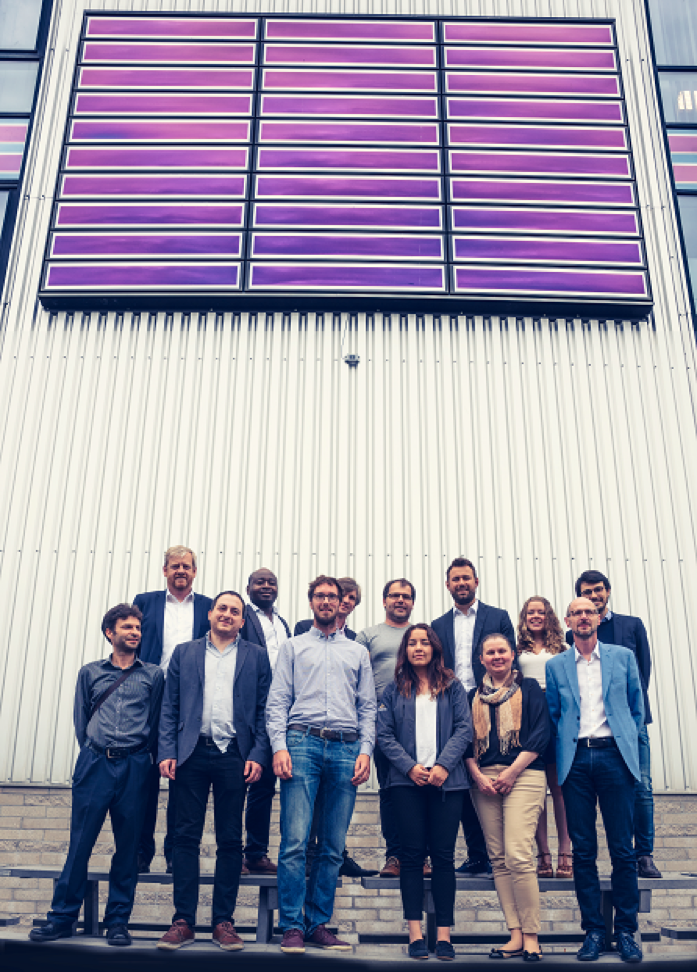 Inauguration moment of the BIPV façade at ENGIE Fabricom, Antwerp, 7 June 2018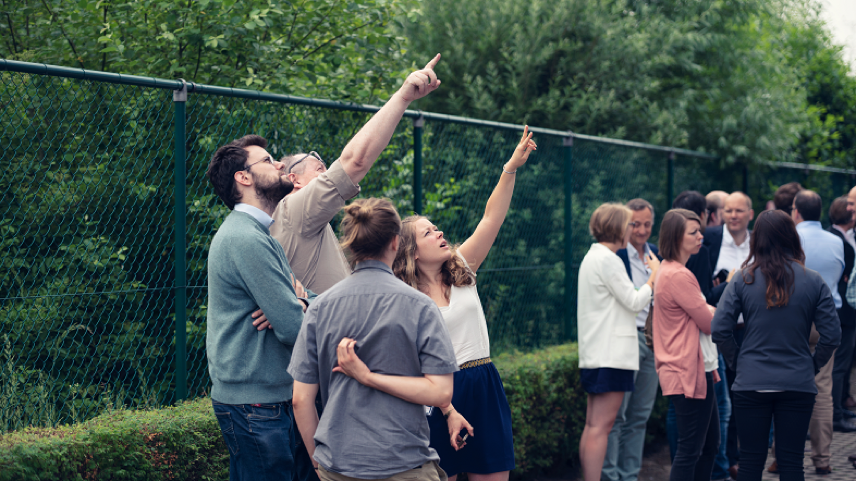 Inauguration moment of the BIPV façade at ENGIE Fabricom, Antwerp, 7 June 2018
###
The PVme project is coordinated by ECN, a Solliance partner. For further information about the BiPV project please contact: Sjoerd Veenstra (project coordinator) / High Tech Campus 21, 5656 AE, Eindhoven, The Netherlands. Phone: +31 88 515 4832; sjoerd.veenstra@solliance.eu
The German subproject is funded by the BMWi and the European research network Solar-Era.net, funding number: 0325908A.
The Dutch subproject is funded by RVO and the European research network Solar-Era.net, funding number: TEZ0214011.
The Flemish subproject is funded by VLAIO and the European research network Solar-Era.net, funding number 140475.
The Walloon subproject is funded by SPW and the European research network Solar-Era.net, funding number 1410166.
Press Contact
Hanne.Degans, press communications manager, +32 16 28 17 69, +32 486 065 175, hanne.degans@imec.be
About Heliatek
As technology leader in organic electronics, Heliatek develops, produces and distributes large area Organic PV solar films. Its business model is to supply the custom-designed solar film HeliaFilm® to partners in the building and construction material industry for integration into façade or roofing system elements. The stand-alone version HeliaSol® targets the retrofit market and can be easily applied on existing building envelops. Today Heliatek maintains a total staff of 115 specialists at its facilities in Dresden and Ulm, Germany.
Research and development work, as well as the installation of production technology, has been funded by the Free State of Saxony, the Federal Republic of Germany and the European Union.
About ENGIE Laborelec
ENGIE Laborelec is a leading research and competence center in electrical power technology, with competences covering the entire electricity value chain: generation, transmission and distribution, and end-use. ENGIE Laborelec offers its specialized research and technical services in each of these domains, to companies all over the world. ENGIE Laborelec belongs to ENGIE (>99%) and is one of its main expertise centers. ENGIE is a global energy and services Group (65 billion Euros in 2017, 150.000 employees, 70 countries) focused on three core activities : low-carbon power generation (mainly based on natural gas and renewable energy); global networks and customer solutions. Driven by its ambition to contribute to a harmonious progress, ENGIE takes up major global challenges such as the fight against global warming, access to energy to all, or mobility, and offers its residential customers, businesses and communities energy production solutions and services that reconcile individual and collective interests.
About AGC Glass Europe, a European leader in flat glass
Based in Louvain-la-Neuve (Belgium), AGC Glass Europe produces, processes and markets flat glass for the construction industry (external glazing and interior decoration), car manufacture and solar power applications. It is the European branch of AGC, the world's leading producer of flat glass. It has over 100 sites throughout Europe, from Spain to Russia, and employs around 16,000 employees.
More information on www.agc-glass.eu (corporate site), www.agc-yourglass.com (glass for the construction industry) and www.agc-automotive.com (for the automotive industry).
About AkzoNobel
AkzoNobel has a passion for paint.
We're experts in the proud craft of making paints and coatings, setting the standard in color and protection since 1792. Our world class portfolio of brands – including Dulux, International, Sikkens and Interpon – is trusted by customers around the globe.
Headquartered in the Netherlands, we operate in over 80 countries and employ around 35,000 talented people who are passionate about delivering the high performance products and services our customers expect.
About Sapa
Sapa offers architects, specifiers, metal fabricators, investors and home-owners worldwide an extensive range of innovative, reliable and aesthetically pleasing aluminium systems for curtain walling, doors, windows and building integrated photovoltaics. Sapa is one of the largest suppliers of aluminium building systems in Europe and is part of the global aluminium company Hydro.
Sapa is able to implement building integrated photovoltaics in many of its market leading product groups such as façades, curtain walling, glazed roofs, conservatories and windows.
About Hoesch
About Hoesch Building Systems Hoesch Bausysteme GmbH as an innovation leader with the markets HOESCH® and EMS isolier® is a member of the global Kingspan group of companies with more than 100 branches worldwide and an annual turnover of 3.11 billion euros. HOESCH® and EMS isolier® is the technology leader in sustainable and ecological lightweight construction elements for commercial and industrial building envelopes. These include curtain walls, highly insulating and fireproof sandwich panels for walls, roofs and ceilings as well as in cold room construction. See soon what is important in the future.
About Heliox
Heliox is dedicated to transforming inspiring ideas into innovative and reliable power products and services on the basis of intensive R&D and close collaboration with our commercial partners.
We have been delivering customized products and services for customers in a range of industries since 2009. Our solutions for operators of electric vehicles are the result of intensive research and years of practical experience in designing and producing cutting-edge charging technology.
We are a lean and agile company whose ability to quickly translate ideas into innovative and reliable power supply architectures has made us a global leader in some of its markets. Heliox has its headquarters in Best in the Netherlands, in the heart of the Brainport Eindhoven region, which was voted the world's smartest region in 2011.
About Solliance
Solliance is a partnership of R&D organizations from the Netherlands, Belgium and Germany working in thin film photovoltaic solar energy (TFPV). In order to strengthen the region's position as a world player in PV, Solliance is creating the required synergy by consolidating and coordinating the activities of 250 researchers in industry, at research institutes and universities.
Various state-of-the-art laboratories and pilot production lines are jointly used for dedicated research programs which are executed in close cooperation with the solar business community.
Solliance partners are: ECN (since April 2018 part of TNO), imec, TNO, Holst Centre, Forschungszentrum Jülich, University Hasselt, University of Twente, Delft University of Technology and Eindhoven University of Technology.
Solliance offers participation in its research programs and opens up its lab facilities to new entrants, either from industry or in research. On the basis of clear Intellectual Property (IP) agreements, each industrial partner can participate in this research effort, or alternatively, hire equipment and experts to further develop its own technology.
Published on:
11 June 2018