These are the words from Patrick Catthoor, Business Development Manager at Aucxis. About six years ago, the company, together with 7 other partners, submitted an imec.icon project proposal. Two years later, this resulted in a unique solution for hospitals to manage inventory and logistics processes more efficiently. For Aucxis, it also resulted in an ongoing collaboration with 2 of the partners. It is a good example of how imec.icon - which celebrates its 10th anniversary in 2020 - can make a difference for companies. And this for both large and small companies, and active in a wide range of sectors.
Steven Van Assche, imec.icon Program Manager, talks about the power of imec.icon projects. Patrick Catthoor, Business Development Manager at Aucxis, and Tom De Caluwé, founder of Amaron, complement from their experience in the imec.icon project HIPS.
What makes imec's ICON projects unique?
ICON stands for 'interdisciplinary cooperative research'. It is a project type in which an interdisciplinary team of partners - research groups and companies - develop new knowledge and tackle a practical problem. An imec.icon project takes 2 years and always results in a prototype or proof-of-concept.
Steven Van Assche: "So it deals with very practical knowledge that a company can further translate into a commercial product. It provides a competitive advantage over competitors. It also brings the company into contact with a new network of companies and research groups, which can be very important for the future. Thanks to the fast evaluation procedure (6 months), companies quickly know whether their project can go ahead or not."
Nowadays there are many ICON programs available, from different spearhead clusters or SOCs (strategic research centre), each with its own expertise and emphasis. Why choose imec.icon? Steven Van Assche: "Our focus is on projects in the field of nanoelectronics, artificial intelligence, software, privacy and security. In 2020, imec.icon will celebrate its 10th anniversary and that is where our strength lies. Today, with a strong team of innovation managers, we are ready to guide the companies in their application process and during the project. Our (selection) process is also fully up to date and we can count on an extensive network of top experts to select the strongest projects. Based on our many years of experience, our extensive network and the unique mix of expertise (thanks in part to the merger of the former iMinds and imec), we are the perfect partner for companies that want to take the step to an applied research project in order to increase their innovative power in this way. It offers companies easy access to imec expertise, know-how and infrastructure".
Companies have their say
Of course it is easy to promote your own product. But what do the companies themselves think about it? Patrick Catthoor: "From 2014 to 2015 we participated in the HIPS project, an imec.icon project also supported by VLAIO (Agency for Innovation and Entrepreneurship) that aimed to coordinate and optimize the flow of patients, medical supplies and information in hospitals. Our expertise in the field of RFID was used to map and automate, among other things, the material stock and the material consumption in hip operations.
At that time, we were mostly active with logistics and industrial customers. The hospital market was therefore completely new to us. Thanks to the project, we gained insight into the needs of this new market and made important contacts. This resulted in a number of new products in the Aucxis portfolio, tailored to hospitals.
We achieved successes on the Belgian market, and recently also abroad (UK). The imec.icon project was a great opportunity for us to gain new insights. As a commercial company, you don't always free up resources and time for such a study. But it paid off! In the meantime, our workforce increased from 42 to 49 and the turnover of the RFID business unit increased by 30% in the period following the project."
Tom De Caluwé of Amaron is also enthusiastic about their participation in the imec.icon project: "We were still a young and small (6 employees) company when we joined the project. The project confirmed to us that our process digitization platform was innovative. It also gave us the extra resources to further expand that innovation.
After the successful project we also submitted other innovation projects ourselves (at VLAIO) and thanks to our network with the academic world we are often involved in internships and theses. All very instructive because it forces you to think about what you are doing and the direction you want to go in.
And last but not least, we entered into an important partnership with Aucxis and we achieved our first joint commercial successes in 2018 and 2019. Partly thanks to the project, we have grown considerably: the number of employees has tripled, as has our turnover. I can recommend it to everyone to take part in an imec.icon project."
Ready to take the plunge?
All too often, companies think that ICON projects are not for them. Steven Van Assche: "If you want to invest in the future, such a project is certainly a good idea. And the size of your company doesn't matter: 49% of the companies participating in an imec.icon project are SMEs. Take Amaron, for example, which had only 6 employees at the time of the HIPS project. And the topics are also very diverse: from augmented reality for production environments (ARIA), a digital coach to tackle obesity (b-SLIM), bluetooth-based networks for smart buildings (BLUESS), blockchain technology (BoSS), real-time monitoring of athletes (CONAMO), to robots for children with diabetes (ROBO-CURE). We have already seen more than 100 projects in the pipeline and we are always amazed at the ingenuity of the participants."
All practical information for submitting a project proposal can be found here. Steven Van Assche: "We are now in the middle of the second call of 2019. If you would like to participate in the call of 2020, you can always consult one of our innovation managers: Annelies Vandamme, Eric Moons and Eric Van der Hulst or follow our information session on 12 December in the Royal Library of Brussels (Sky room). The deadline for submitting the abstract is March 12th. A wonderful resolution for the new year!"
Want to know more?
All info on imec.icon projects can be found here.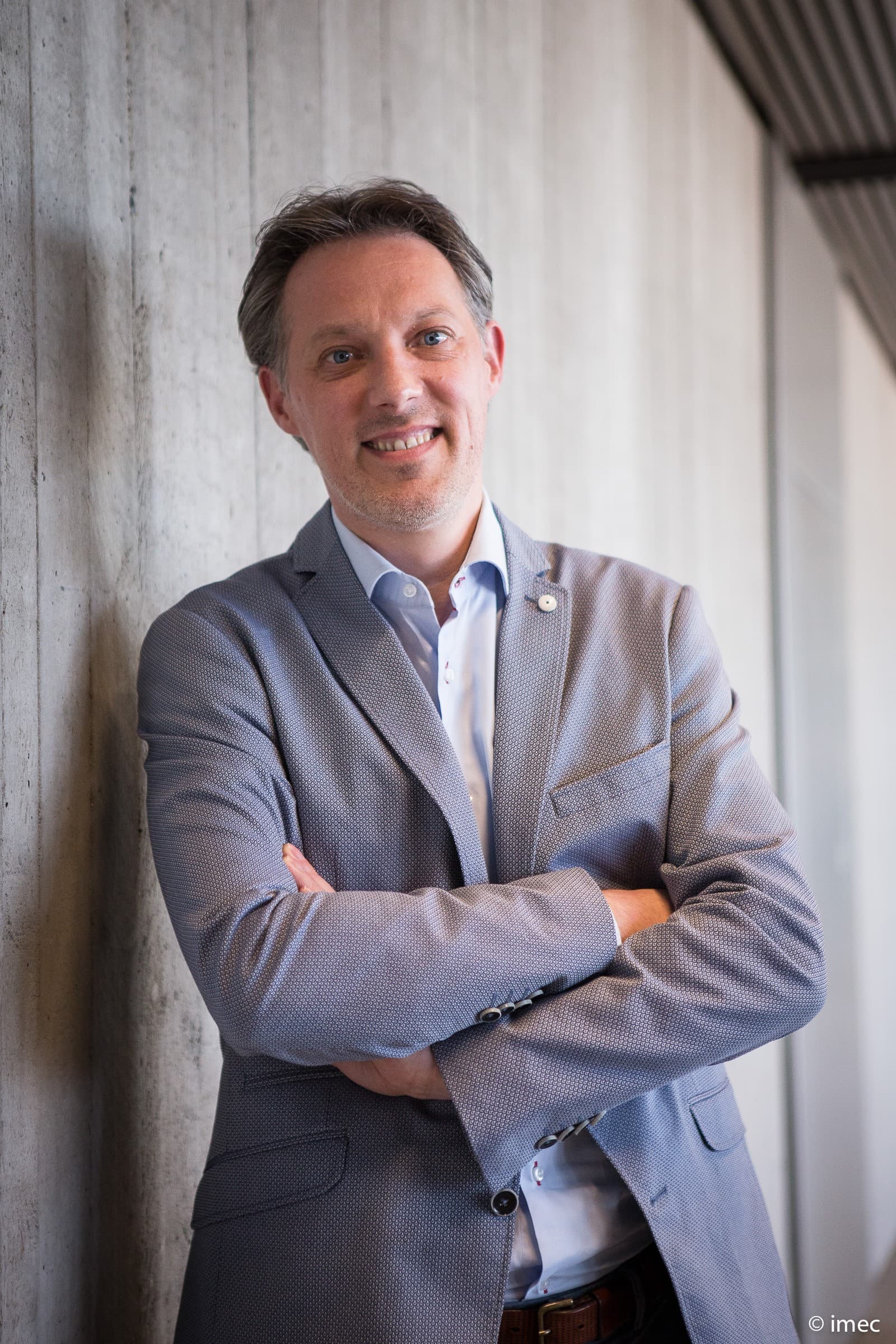 Steven Van Assche is program manager of the imec.icon program. He holds a degree in electrical engineering (1996) and a Ph.D. in computer science (2001) from the University of Ghent. After his PhD, Steven was a researcher and business architect at VRT. In 2012 he joined the Media Innovation Centre of iMinds where he helped set up collaborative projects (including ICON projects) between iMinds and companies in the Flemish media sector. In 2016 Steven obtained an MBA degree from Vlerick Business School (2016). Since 2018, Steven has led the imec.icon program.
Published on:
31 October 2019