Philippe received a PhD in semiconductor electrochemistry from Ghent University in 1998, after which he joined the group of professor Peter Searson as a postdoctoral associate in the Department of Materials Science and Engineering at The Johns Hopkins University, working on magnetic and magneto-resistive thin films. He continued his work in the US as a research staff member at IBM Research working on next generation copper interconnect technologies for almost four years before returning to Belgium in 2005. His first contribution to imec involved research into synthesis of nanostructured materials for microelectronics. He was then promoted to principal scientist, focussing on setting up imec's solid-state battery activities. In 2018, Philippe took up the responsibility of imec's electrochemical storage and conversion activities as scientific director. His current research focuses on nanocomposite materials for solid electrolytes and CO2 sorption, large surface area nanomesh electrodes and thin-film interphase coatings for batteries, electrolyzers, and fuel cells. His work won him the title of imec fellow in 2022.
A detailed look at Philippe's career
Before joining imec, Philippe got his PhD and travelled to the US to pursue a research career, resulting in a memorable highlight. "I started with a PhD in the niche field of semiconductor electrochemistry at Ghent University. Afterwards, I moved to the US where I started as a postdoc at The Johns Hopkins University, and where I was introduced to the wonderful world of nanomaterials. Then, I was hired by IBM in Yorktown Heights. There, we developed a direct plating process for 300 mm wafers, as a first in the world. In parallel, I was involved in a project where we built a miniature electrochemical liquid cell for operation in high vacuum TEM. This was never done before, and we were able to show real-time imaging of an electrochemical nucleation and growth process."
Philippe crossed the Atlantic again in 2005 – this time in the other direction – and landed in Leuven, where he launched his imec career. "Marc Heyns and Karen Maex convinced me to join imec's nano group, which was freshly established at the time. We pioneered nanowires and carbon nanotubes for post CMOS applications. The nanomaterial research evolved into our current activities in energy. First, we worked on solid-state batteries, building on imec's expertise in microfabrication and thin films. We developed a nanocomposite material which is further developed as a solid electrolyte in lithium metal batteries with our spin-off SOLITHOR."
"Today, we're applying our nanotechnology for electrolyser technology such as water electrolysis. Our first target is hydrogen production, and we're already working on scaling up our nanomesh electrodes together with our start-up HYVE. Our next target is the conversion of CO2 from waste streams to valuable chemicals such as syngas, and eventually methanol. Together with the PhD students and postdocs, we're already exploring our nanomaterials for new type of gas-diffusion-electrode technology which will allow efficient conversion even at low CO2 gas concentrations."
Philippe's drivers
When asked about his passions, Philippe smiles: "The nerd answer is science and technology".
He continues: "I guess I'm very lucky to have a job in which I can do what I like. If you can find a profession which is the same as your hobby, you're not really working. Next to that, I like working with students. They challenge me in my daily work, and the interactions with them is my intellectual nourishment, so to speak."
A message to young researchers
Philippe calls upon junior researchers' creativity to generate impact. "Use your imagination as it's one of our most powerful assets. It's pretty hard for young researchers today to separate the wheat from the chaff in the flood of publications and with all the information made available. Being able to recognize realistic ideas is key and then you can use your imagination to develop them further. I find realistic imagination a necessary skill for good innovation."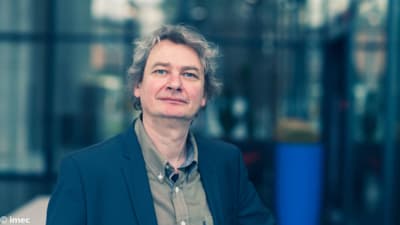 Philippe Vereecken
Scientific responsible electrochemical storage and conversion activities, imec & EnergyVille
Philippe Vereecken is imec fellow and part-time at the KU Leuven. He is scientific responsible for the electrochemical storage and conversion activities at imec and EnergyVille. Philippe began his imec journey in 2005 at the nanomaterials group. Five years later, he started working on imec's electrochemical storage and conversion. His main expertise lays in the combination of electrochemistry, nanomaterials synthesis, and solid-state devices for applications in semiconductors, electrocatalytic conversion, and electrochemical storage.
Expertise
Electrochemistry
Nanomaterials
Semiconductor (photo)electrochemistry
Electrodeposition
Solid-state batteries
Lithium metal chemistry
Hydrogen by electrolysis
Electrocatalytic CO2­ conversion
Career highlights
(co-)author of over 200 scientific publications and (co-)inventor of more than 55 patent applications
Listed in top 2% scientists worldwide according to the latest "Updated science-wide author databases of standardized citation indicators" published by Stanford
Was board member of the Electrochemical Society (ECS) and past chair of its electrodeposition divisio
(co-)promoted 13 PhD to fruition and (co-)promotor of 14 ongoing PhD topics
Published on:
2 February 2023