Nadine Collaert started her imec career almost thirty years ago as a master student. After successfully obtaining her PhD, she took up a first position within imec's community: researcher logic devices. Afterwards, Nadine occupied various roles in imec generating impact across various research areas: from senior researcher memory devices and bio-electronic systems, up until becoming program director of the logic – Beyond Si program and later the advanced RF program, in which she paves the road towards the development of scalable and energy-efficient 6G device technology. Her endeavors earned her the title of imec fellow in 2023.
Collaboration as a common thread in a career marked by two major highlights
Nadine Collaert has encountered significant rewards throughout her impactful imec career. Especially the intense collaboration with the mixed community at imec left a deep impression on her. "I had the opportunity to work on a diversity of projects with different groups across various departments. Such a collaboration is a very enriching experience."
Additionally, two focal highlights have added color to her career. The first one covers her efforts to realize FinFET technology. "In 2001, we launched the very first experiments on FinFET within the ASD (advanced silicon devices) group. Our activities started off very small and I was simply trying to figure out how we could use known processes and tool sets to create FinFET devices. FinFET soon became a part of the larger EMERALD program. And, eventually, the technology made its way to the industry in 2011, when Intel introduced it in their 22nm node."
One of the dearest memories that Nadine cherishes about her work on FinFET revolves around the colleagues she worked with at the time. "I have very fond memories about the FinFET work because I was collaborating with a majority of female researchers. Together, we were trying to figure out if the technology could really make it. I also have nice memories about working with the industrial partners and the brainstorm sessions we had with them."
A second pivotal highlight occurred next to the train tracks of the Leuven train station. There, Nadine had a chat with another imec fellow, Piet Wambacq. "For years, we were trying to bring imec's design and technology communities closer together. During that conversation, Piet and I planted the seeds for the high-speed analog RF program (which is now the advanced RF program) in which we look at compound semiconductors for the next generation of wireless communication. It's a unique program that unites design, system, and device groups all working together towards a single common goal."
Collaborating with the next generation as an imec fellow
Nadine has brought a great deal of innovation to imec. Her ideas have paved the way to plenty of impactful research breakthroughs. Now, the following generation of talented researchers is knocking on the imec door to continue that innovation. It is Nadine's aim to ensure that talent unlocks its full potential.
"Imec consists of a talented young community bursting with new ideas that are lingering in the background. Those ideas need a gentle push or a complementary insight to reach the next level. So, as an imec fellow, I'd like to mentor the new generation of researchers to stimulate their ideas. Simultaneously, I'd like to learn about them as well. They're facing difficult hurdles such as climate change or energy challenges. It's important to hear their voices and learn what they're passionate about."
A message to young researchers
Passion is one of the forces that push imec's research excellence to unprecedented levels. Nadine is the living proof of that, as she believes that being inspired and determined is the basis of new ideas. "It all comes down to passion. If you're passionate about a subject, you can make it work. Also, the greatest innovations are rarely the ideas of a single person. Reach out to your peers and talk to them. Cross boundaries between different groups and scientific areas. Break down barriers if you have to. Combine that with passion, and you can achieve more than you think. Be inspiring."
Nadine also reaches out to aspiring female researchers. "And, to all the talented female researchers out there: make your voices heard loud and clear. Your ideas and insights matter."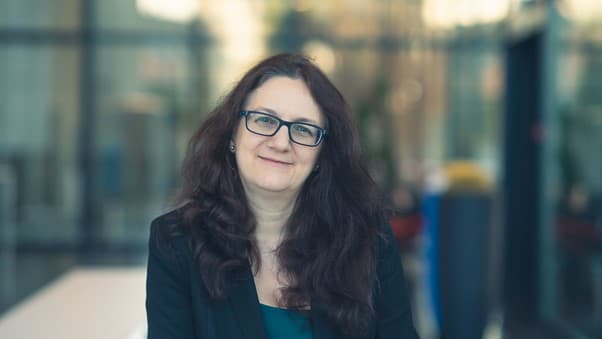 Nadine Collaert is imec fellow and director of imec's advanced RF program. With a career spanning multiple decades, Nadine has contributed greatly to electronics research, and specifically innovated in the areas of semiconductor device design and technology. Throughout her career, she has worked on diverse projects, collaborated with various departments and groups, and made significant strides in advancing cutting-edge semiconductor technologies.
Expertise
Advanced logic devices
Electrical and electronics engineering
Advanced RF
Semiconductor device design
Career highlights
(Co-)authored more than 400 papers published in international journals and conferences
Published on:
31 October 2023