With a career spanning over three decades, Stefaan Decoutere left a strong mark on the field of electronics, particularly in gallium nitride (GaN) technology and power electronics. He started his imec journey as a PhD student in 1987. In 1998, he became head of the Mixed Signal/RF group. Since 2010, his work revolves around GaN Power Electronics. First as a manager, now as the director of imec's GaN Power Electronics program. His imec voyage is characterized by memorable highlights, exciting future prospects, and invaluable advice to young researchers.
Three highlights in more than thirty years of imec
Stefaan's career took a first turn in 1987. "The first highlight is simply joining imec, which is an amazing research institute with a great infrastructure. I started working on Bipolar-CMOS-DMOS (BCD) technology – a form of smart power tech." That decision shaped his career, leading him away from digital technology, logic, or memory towards the fascinating areas of analog, radiofrequency (RF) and power technologies.
He was involved in developing BiCMOS technology, ranging from the 0.5-micron node to the 0.13-micron node. His collaboration with leading companies in the development of silicon germanium, silicon germanium carbon, and complementary BiCMOS technology resulted in enduring process transfers that continue to yield legacy products.
Transitioning further into RF and analog CMOS, Decoutere lead two excellent projects. "As a second highlight, there were two outstanding projects. The first was the Impact Project on 90nm RF CMOS technology and the Nano RF Project on FinFET technology. In those projects, we had an intense and productive collaboration with the imec design teams that resulted in more than 100 demonstrator circuits that have been fabricated and tested, some showing record performances."
The third highlight involved Decoutere's steps towards GaN technology. "I was asked to join imec's GaN activities, first as a group leader and then as a program director. With the team, we were able to push the GaN technology to a readiness level that enabled process transfers for many different voltage ranges."
Driven by pushing technologies to the next level
The final highlight can also be found in one of Stefaan's drivers. Enabling a groundbreaking technology level in the GaN area, has proven to be highly satisfying. "We've been able to push several technologies to a technology readiness level where we could transfer them to partners, see them being implemented in their fabs, and help to ramp up their volume production. We have, for instance, transferred our GaN technology to a fab that's producing more than 10,000 wafers per month."
Innovation through collaboration is a second driver. "Making fully functional demonstrator circuits also drives me. I find it very rewarding to see good performance of sophisticated circuits in a joined effort between design teams and technology development teams."
Aspirations as imec fellow
As an imec fellow, Stefaan is now looking beyond his tasks as program director in GaN Power Electronics. In particular, Stefaan wants to focus on two responsibilities. The first impacts a local scale. "I would like to work with teams to coach either the individuals or the team as a whole. I would help them by giving them advice, looking for alternative solutions, and sketching the bigger picture in which their work is centred."
"Secondly, I would like to work further towards a strategic vision for the GaN program for the next 5 to 10 years. And create a solid IP basis, so we have the freedom to operate towards/for the valorisation of our results."
A message to junior researchers
Stefaan's aspirations as an imec fellow correspond to the advice he would like to share with upcoming researchers and students. "Don't only work out a specific topic in depth but try to build up a broad skillset. That skillset will help you to put your work in a broader context – even if you're more specialized. It could also help you to develop the talents you need to become a team leader or project manager."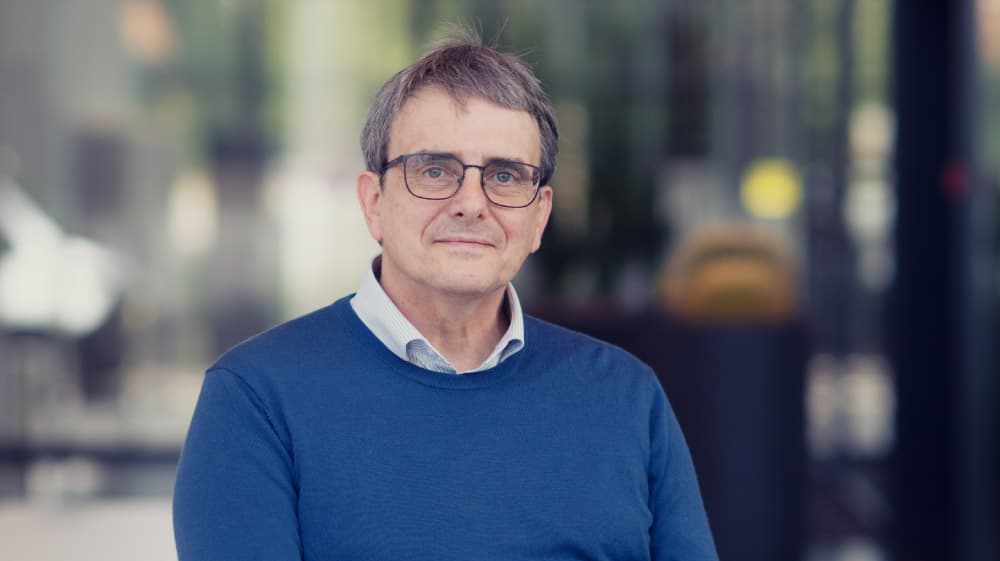 Stefaan Decoutere is an imec fellow and program director gallium nitride (GaN) and power electronics. He has pioneered imec's research activities in the areas of BiCMOS, GaN, and silicon germanium transistors. After heading various successful projects in those areas of expertise and performing innovating research in the areas of Analog/RF CMOS and GaN Power Electronics, he earned the title of imec fellow.
Expertise
BiCMOS
Silicon-germanium heterojunction bipolar transistors
Analog/RF CMOS
GaN power electronics
Career highlights
Received the Compound Semiconductor Industry Award in 2016
Fellow of the International Advanced Materials Association in 2023
Published on:
31 October 2023