CoT for citizens
The true essence of a smart city is not that it is crammed full of new technology just for the sake of doing so. It is first and foremost a city where the quality of living is raised to a new level, capitalizing on the practical needs and expectations of its residents. In the City of Things, citizens are put center-stage during the entire innovation process, from idea development to the validation of the final product.
CoT for governments
City of Things provides the city of Antwerp with a unique infrastructure to develop and test innovative solutions to tackle its urban challenges. To other cities – both locally and internationally – it offers a window to the what's and how's of creating a truly smart city –from a technological, logistical and legal point of view.
CoT for companies
The City of Things is a large-scale and real-life living lab where businesses can test and develop their smart city applications, products and services. We offer a testing ground comprising thousands of citizens, together with a wide range of expertise in the development of smart city applications and business innovation.
CoT for researchers
Our goal is to advance the state-of-the-art of smart city technology. By granting universities and other research institutions access to the unique City of Things testbeds, we aim to combine the unique expert knowledge of all partners and push innovation forward.
A real-life, large-scale testing ground for new technology
City of Things is a collaborative initiative from imec, the City of Antwerp and the Flanders region to turn Antwerp into a living lab where businesses, researchers, citizens and city officials can experiment with smart technologies that aim to make urban life more enjoyable and sustainable. The partners' goal is to become the European reference for Internet of Things testbeds, both technologically and from a living lab perspective – and to develop the archetype of tomorrow's smart cities.
In one carefully selected area of the city – the so called 'Smart Zone' – a fine-grained network of smart sensors and wireless gateways is being installed – across buildings, streets, squares and other city objects. The sensors will enable real-time monitoring of a wide range of parameters, such as air quality, (bike) traffic, pedestrian flows, energy consumption, and many others. Citizens will be able to interact directly with the resulting smart applications, without the use of smartphones, tablets or other (smart) devices – through interactive digital signage, for example.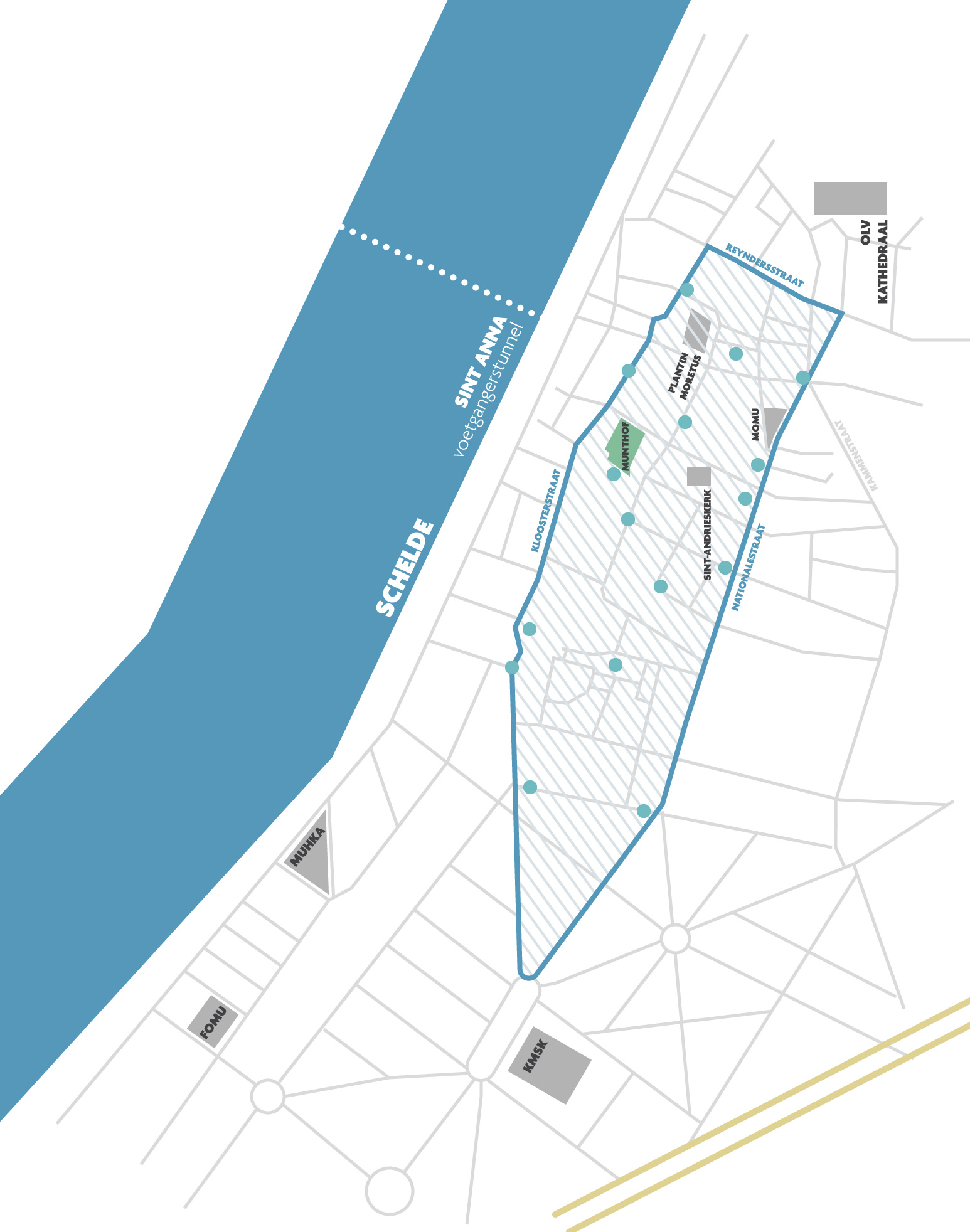 By concentrating most of the smart developments into one area (as opposed to conducting different experiments scattered across the city), all data that is gathered can be combined and correlated to create new intelligence to improve city life. That being said, conducting other experiments across the city is, of course, still possible – with the Port of Antwerp, for example, increasingly becoming one of the main hubs for technology and living lab research and demonstration.
A unique partnership
Antwerp offers the ideal conditions to establish this live, real-life testbed. The city is big enough to test applications properly, yet sufficiently small to keep the cost and time required for development under control. Antwerp – and concretely the 'Smart Zone' – also features an interesting mix of schools, offices, industry and retail, meaning that various applications can be developed to cover different needs.
The particular features of the city, the significant support from the local government, and imec's expert knowledge and partner ecosystem represent a winning combination of factors that make the City of Things a unique initiative among other smart city programs worldwide.
Thanks to the commitment of the city, procedural, legal and regulatory processes are streamlined, especially in the 'Smart Zone'. This offers an attractive setting for companies and research centers to come and use Antwerp as a testbed for their smart city applications
Pushing smart city research forward
Imec's ambition within the City of Things initiative is to help advance the state-of-the-art of smart cities technologies. The key to achieving that lies in getting companies and researchers to come and leverage imec technology and combining it with their unique smart city expertise.
In order to make Antwerp an attractive smart city testing ground, imec is rolling out a robust infrastructure to enable the implementation of a complex network of sensors – a heterogeneous web that uses different protocols and communication standards, such as Zigbee, WiFi, Cellular, LoRa, SigFox and others. Supporting this is a robust framework for data storage and analysis that is technology-neutral and offers an extensive set of tools for converting data into real knowledge.
But building a smart city is not just about technology. Users' needs are to be put center stage. That is the task of imec's living labs team, which has to make sure all technological developments reflect the vision of those who will be using them – whether they are citizens, businesses, researchers or city officials. In other words: all applications developed in the City of Things are co-created, tested and validated by their end-users.
Making the City of Things secure
With a multitude of sensors and smart devices constantly running in the background, an enormous amount of data is gathered on parameters such as air quality or traffic density, but also about people's whereabouts and behavior. This comes with the unique challenge to make good use of those data sets, while protecting users' privacy and anonymity.
The imec Smart City Meter revealed that 63% of citizens are willing to share their data in return for smart city services that will make living and working in urban areas considerably easier. However, it also showed that this should be done with due respect for citizens' privacy – as 88% of respondents are strongly committed to (and concerned about) their privacy. Within the City of Things initiative, imec put together a special team exclusively dedicated to addressing the privacy and ethics concerns raised by citizens, businesses, researchers, city officials and imec itself.
On a hardware level, this group of experts is investigating how to make sensors and smart devices hack-proof in a sustainable, cost-efficient way. On a data level, the team aims at achieving the fragile balance between respecting users' privacy – through data anonymization or by clustering data into user groups instead of individuals – and ensuring that the information that is gathered does not lose its accuracy, thereby becoming ineffective. The group also includes legal experts counseling the City of Things' stakeholders and working towards adapting the current regulations and policies to the new smart city reality.
Want to know more about the City of Things?