"With about 25 employees, imec Florida moved to their brand-new office in NeoCity, where research into image sensors, photonics and space health will be given an extra boost".
In 2016, we started research on American soil, a must in order to expand our R&D footprint and be closer to American customers and talent. With the US as one of the major players in the world of chip technology, this was an important step to ensure imec's growth and innovative strength. Together with the local industry and research groups, and with imec colleagues in Belgium, we are working on solutions for hyperspectral cameras and AI-based image processing, photonic chips for telecommunications, and biosensors for astronauts and future private space travellers (technology that can also be used for 'terrestrial' applications).
Now, some three years later, imec Florida has already grown significantly - from 2 to 25 employees - and is moving into a brand-new office building in NeoCity, Osceola County, Florida. As one of the pioneers of this 500-hectare, barren area, they will see this innovation hub come to life and work to create a vibrant environment where new ideas emerge through interdisciplinary collaboration, and where these ideas can grow into unique creations and innovations.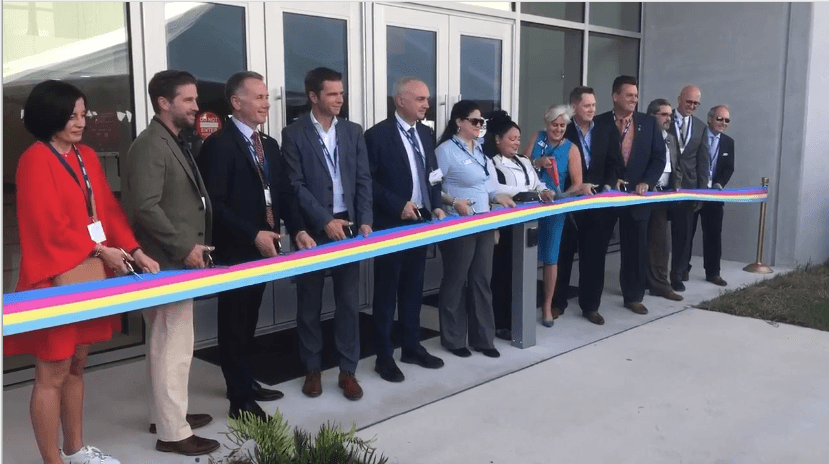 The research at imec Florida focuses on a few specific topics. With their work on hyperspectral cameras and AI-based image processing, for example, they recently made the news in Florida because the cameras are used to tackle the plague of pythons in the Everglades.
The camera succeeds in making the pythons visible to hunters, even in extremely dense vegetation. Moreover, the cameras are so light and small that they can be attached to drones, for example.
Research into chips for health applications did not go unnoticed in the US either. Together with NASA and other partners, imec Florida will test chips that can be used to check the health of astronauts during space travel. Be sure to follow our press releases page to find out more about this in the near future.
At the beginning of this year, we also started a research group elsewhere in the US, namely in Berkeley, California, led by Jan Rabaey.
The focus here is on new architectures for machine learning and AI and on system technology co-optimization. Both offices - the imec USA Berkeley Office and the imec USA Florida Office - are important pillars for strengthening imec's position.
In this imec magazine, you can learn more about the hyperspectral cameras that colleagues from imec Florida and imec Leuven are working on. Not only are they used to combat pythons, but also to research paintings and assist farmers. Also: a testimonial from several companies about their participation in an imec.icon project and how this enabled their company to penetrate new markets; a great solution for cooling chips; an update on the HomeLab in Ghent where companies can test home automation and IoT solutions in a real-life environment; a must-read on the new hype in PV country: perovskite solar cells and how this new generation of solar cells can be put on the market within 2 years; and a collaboration in smart street lighting in the context of smart cities.
Have fun reading!
Luc Van den hove,
President and CEO imec
Published on:
31 October 2019