LEUVEN (Belgium), Monday June 18, 2018 – Imec, the world-leading research and innovation hub in nanoelectronics and digital technologies today announced that T-Mining, a start-up that is supported by the imec.istart program, is testing, together with The Antwerp Port Authority a solution to make document flows safer and more efficient. Documents, such as certificates of origin and phytosanitary certificates, are transferred via blockchain technology that was developed by T-Mining and the document flow is automated by means of so-called "Smart Contracts".

Various parties are involved in the import of fruit and vegetables and today, the exchange of the accompanying paper-based phytosanitary certificates is done by post. During the pilot project, apples from New Zealand and destined for the European market are provided with phytosanitary certificates for transfer via blockchain technology. The transfer involves many different parties such as, the inspection authority in New Zealand that issues the digitized phytosanitary certificate, the New Zealand exporter that transfers the certificate - together with the load of apples - to the Belgian importer Enzafruit, who hands over the who in turn certificates to the Belgian authorities so that they can inspect and approve the certificate before releasing the load of apples for import in Belgium.
"Thanks to blockchain technology, we are able to transfer the original version of documents fully digitally - rather than forwarding a copy of it," explains Filip Heremans, Chief Product Officer at T-Mining. "Compare it to a text file that you email to a person. Both have their own version of the same document, so the question is who has the original version. With important documents such as certificates that guarantee the origin and safety of our food, this is of course a problem. Blockchain technology allows to transfer documents without duplicating them, so there is only one party that owns the original document at any time. On top, the blockchain guarantees the authenticity of the document – as no one can change or delete anything unnoticed – one of the key characteristics of blockchain. For that, all data is stored decentralized on multiple nodes at various parties such as the Antwerp Port Authority, the Australian & New Zealand Port Community System 1-Stop, Belfruco and T-Mining. Another key characteristic of blockchain technology is that all parties have access to exact the same data, which is crucial for an efficient process. Today this is a known problem, causing long waiting times. So-called "Smart Contracts" automate and secure the flow of documents between the various parties, so that certain access rules can be enforced and new information is shared with the parties involved without delay and in a secure manner. Because blockchain is a back-end technology, we work together with PortApps, which develops the front-end application so end-users can upload, transfer and approve documents via the blockchain."
Sven De Cleyn, imec.istart program manager: "We are excited that the possibilities of new technologies such as blockchain are finding their way to applications, and that start-ups such as T-Mining are significantly contributing. This shows that a new generation of start-ups, such as T-Mining, that are supported by the imec.istart program are developing relevant solutions for their customers globally.
According to Nico Wauters, CEO of T-Mining, blockchain is a new technology that enables completely new solutions but depends on partners collaborating closely and at arm's length. This pilot project shows that the Antwerp port community has an innovative mindset.
"I dare to say that the Port of Antwerp is gaining worldwide recognition in the field of blockchain technology," Wauters said.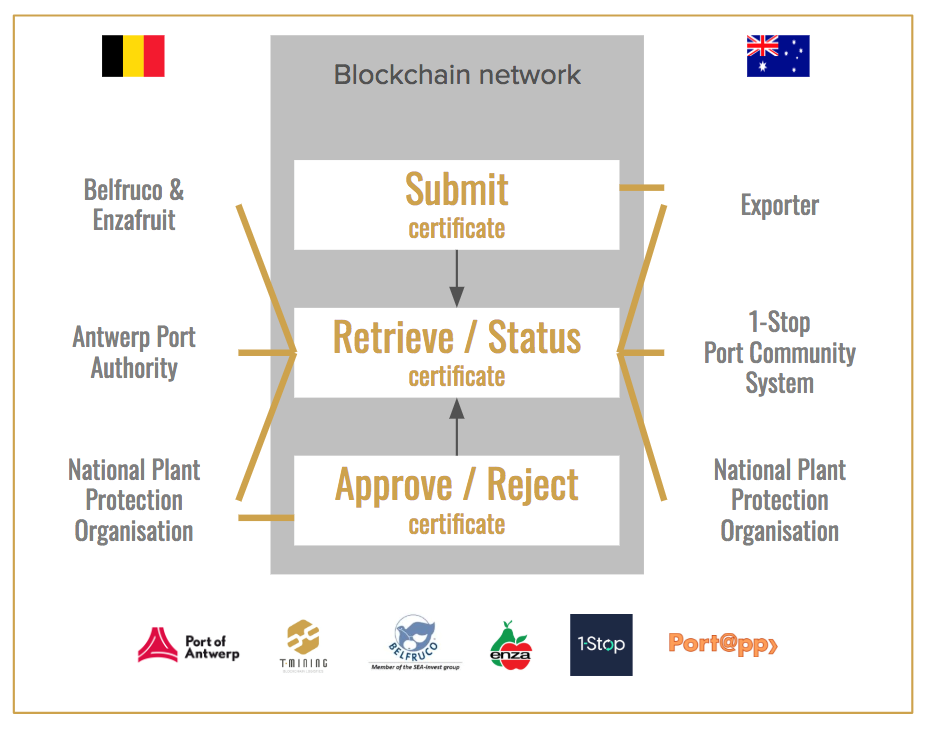 How all involved stakeholders will use blockchain to transfer phytosanitary certificates.

About T-Mining
T-Mining is an independent Tier 2 technology provider building a trusted Smart Contracts Community Platform for Logistics by leveraging blockchain technology. This open platform is a framework for communities, that allows blockchain services for the logistics industry to be build quickly by re-using a number of ready-made components. Third parties can use the platform to develop new solutions for end-customers, add blockchain-powered features to their existing software products and access the underlying blockchain network shared by the business community.
About imec.istart
The imec.istart business acceleration program supports entrepreneurs during the early development phases of their technology start-up. The program offers at least 12 months of support and a financial investment. It is intended to investigate the feasibility of the business concept, to help realize the commercial launch of the first products and to help start up a sustainable and healthy start-up, also supported by imec.istart's partner network.
About imec
Imec is the world-leading research and innovation hub in nanoelectronics and digital technologies. The combination of our widely acclaimed leadership in microchip technology and profound software and ICT expertise is what makes us unique. By leveraging our world-class infrastructure and local and global ecosystem of partners across a multitude of industries, we create groundbreaking innovation in application domains such as healthcare, smart cities and mobility, logistics and manufacturing, energy and education.
As a trusted partner for companies, start-ups and universities we bring together close to 4,000 brilliant minds from over 85 nationalities. Imec is headquartered in Leuven, Belgium and has distributed R&D groups at a number of Flemish universities, in the Netherlands, Taiwan, USA, China, and offices in India and Japan. In 2017, imec's revenue (P&L) totaled 546 million euro. Further information on imec can be found at www.imec-int.com.
Imec is a registered trademark for the activities of IMEC International (a legal entity set up under Belgian law as a "stichting van openbaar nut"), imec Belgium (IMEC vzw supported by the Flemish Government), imec the Netherlands (Stichting IMEC Nederland, part of Holst Centre which is supported by the Dutch Government), imec Taiwan (IMEC Taiwan Co.) and imec China (IMEC Microelectronics (Shanghai) Co. Ltd.) and imec India (Imec India Private Limited), imec Florida (IMEC USA nanoelectronics design center).
Contact
Hanne Degans, press communications manager, +32 16 28 17 69 // +32 486 06 51 75 // Hanne.Degans@imec.be