Whereas gaming is already big business in many countries, the industry in Belgium is still in its infancy. In 2016, FLEGA (Flemish Games Association) listed 72 Belgian gaming studios, with only a few significant players among them. These figures are in stark contrast with the 450 companies registered in neighboring country The Netherlands. So, does this mean game over for Belgium in this market? Not necessarily. There is certainly no lack of talent and quality and, in fact, Belgium is among the world's leading countries in gaming education, with the outstanding Howest Digital Arts & Entertainment (DAE) School in Kortrijk, which was recently voted best game development course in the world.
In recent years, Belgium has embarked on a major catch-up program, supported in part by a number of government initiatives, such as the financial injection into the 'Gamefonds' and the recent announcement that the existing tax shelter, providing fiscal benefits for investors in film and performing arts, will be extended to include the game sector. This enhanced operating climate makes the ideal breeding ground for a whole range of new start-ups to become established. And programs such as imec.istart often provide a little extra push that budding game developers need in order to establish their own game development studio.
Gaming is a serious business
A number of former DAE students decided to take the plunge by forming their own company: Cybernetic Walrus. "We had already taken the first steps towards developing our own game during our student years and following internship," recalls Mike Coeck, CEO of Cybernetic Walrus. "Moreover, we discovered that the project stirred up lots of interest at Gamescom, one of the biggest game shows in Europe. Then the idea morphed into taking things a stage further and putting together our own game development company. The question was, how do you really get started? After all, we were games developers, not entrepreneurs." The answer came in the form of seed capital provided by the Flemish Audiovisual Fund (VAF) and office space obtained via Start it @KBC. And the whole thing really took off when Cybernetic Walrus was selected for imec.istart.
"None of us had ever had any previous experience with creating a company. Which is why the mentoring we received as part of the imec.istart program was so valuable for us. In addition to business courses, we were also able to rely at all times on personal guidance from imec. It is always good to have someone to fall back on when sooner or later problems arise." For imec.istart to accept a gaming company was in any case a first. Robby Wauters, venture acceleration manager at imec.istart and imec coordinator for Cybernetic Walrus: "The time was certainly ripe for us to start working with game development companies. Gaming is a rapidly growing market that is often underestimated. In fact, it is bigger than the music and movie business put together. Cybernetic Walrus had also gained plenty of traction with a number of awards and partnerships, so it was the ideal candidate for imec.istart."
Antigraviator
Cybernetic Walrus only very recently produced and released its first game for pc. 'Antigraviator' is a graphically very impressive futuristic race game. "Aside from the gameplay or the gaming experience, it is the graphics that make a game attractive and that is certainly where Cybernetic Walrus stands out from the crowd. Antigraviator is a typical console game that benefits from using a larger screen – in fact its graphics don't work half as well on a small mobile phone screen. That is also reflected in the audience we are targeting. With Antigraviator, we are focusing more on the nostalgic generation – offering the kind of game that they would have played on Nintendo and PlayStation – and less on the more youthful generation that is mainly interested in mobile games."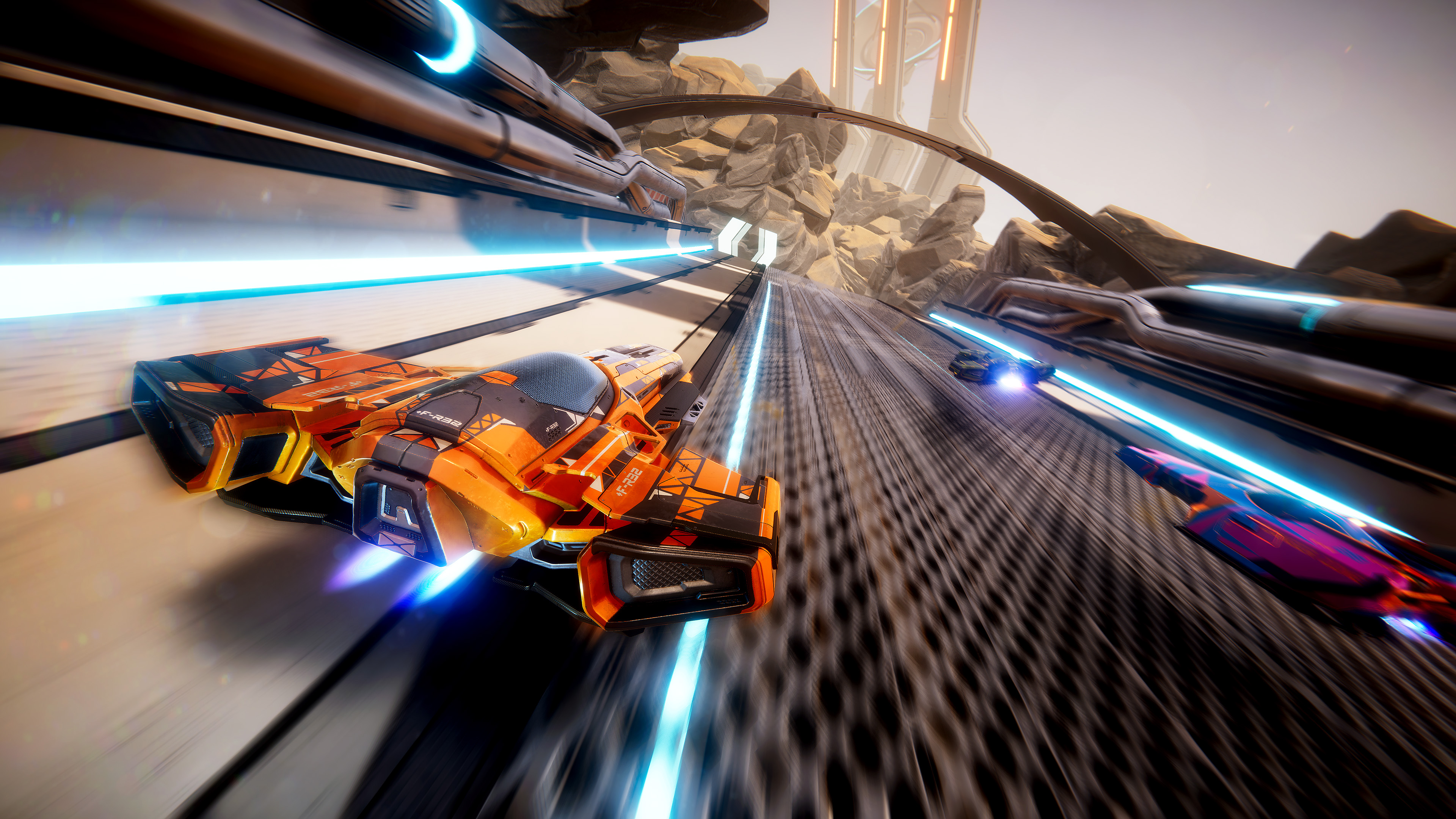 Antigraviator, a futuristic race game, is the first game from start-up Cybernetic Walrus
"At the moment we are working on the release of Antigraviator for Xbox and PlayStation 4, as well as a first extension to the game. Certainly for the first 3 years after release it is a good idea to keep on supporting a game. After that, it becomes less important as the game starts to show its age. The technology continues to advance and certainly in the game industry everything changes incredibly fast. In many areas – especially the graphics – the sector is a pioneer and so it is crucial to keep moving forward if you want your game to keep looking good. That is why the successor to Antigraviator is already primed and ready to go. The new game is more tactical, but also has a futuristic slant to it."
More than just games
"Our main business is developing commercial games, although we also have a number of AR (augmented reality) and VR (virtual reality) projects on the go – plus we sometimes produce architectural visualizations or get involved in gamification. With gamification we introduce gaming concepts into business and sales processes, as well as into daily life. Think of an everyday task such as teaching a child to brush its teeth. This can be done in the traditional way by handing the child a toothbrush and instructing him to brush his teeth, or there can be a game attached to it. For example, if you brush correctly, you get a point and you earn a flower at five points. The extra game element encourages learning. But whether it's a game or a 3D model, in the end everything starts from the game engine, the software environment you build your game in."
The process used to develop a game is relatively standard. In the preproduction phase, a game concept is created and the initial artwork produced, for example visualizing the characters. A prototype of the game is then developed, either in paper form or coded straight away depending on the format that iterates the fastest. Then, in the production phase, the finishing touches are made to the game. There is an intermediate level between both phases, called the 'vertical slice', in which a level is fully developed to look like the finished product in terms of graphics. Most of the functionalities are also in place by then, certainly in terms of the core game mechanics, the set of rules and methods determining how the game is played – hence contributing to the overall game experience. The vertical slice is a very important part of the game development process because it also acts as proof of concept that you can then take out to investors and publishers.
Not child's play
And that is exactly where the catch is. Before arriving at a finished game or even the vertical slice, you need quite a bit of investment up front. "That can still prove difficult in Belgium," says Mike Coeck. "Unlike the situation in other countries, there is barely any investment in games here. Of course, it is a high-risk investment and there are not many Belgian investors willing to dip their toe in the water at the moment."
"The game industry does have an early-access formula on Steam, which is a distribution platform for games. A good number of games is already available on Steam in their beta version and can be bought and played with while the game itself is still being worked on. The downside of Steam is that you need to be further along in the process than the vertical slice, because what you have to show must be a good reflection of the end-product itself – i.e. more than just one level." Government initiatives and sponsorship through programs such as imec.istart are designed to make investing in Belgian games more attractive.
The future of gaming
What about the games themselves? "One often hears that AR/VR is the future, although right now that is not the case. One major obstacle is the price of the hardware, such as the VR headset. As a result, AR/VR still is far from a mass product. The game experience in VR cannot be compared in any way with a game played in front of a computer, but it remains uncertain when a real breakthrough will arrive. That will probably happen when the hardware becomes more affordable."
"The major trends in gaming over the next 10 years will also depend on how the technology develops. 10 years ago, no one could have predicted that so many companies would currently be focusing all their efforts on mobile. Games for mobile technology are now the biggest market in the gaming industry, but also a very saturated market. Every day thousands of games are added to the catalogue, because anyone can create and upload one. Only 10% of them are any good in terms of quality, but it is hard to identify this minority. Large companies survive in this market because they invest so much energy in marketing. For a company to stand out from its rivals, you first need to have a good game of course, but the importance of marketing should not be underestimated."