imec.istart invited its startups and corporate partners from the media, telecom & entertainment sector on an international/inspirational mission to New York. A diverse group of 13 media professionals signed up for this opportunity to connect with the local ecosystem, learn from best practices and stimulate potential partnerships.
The mission to New York was the third edition of these media missions, previous destinations were Berlin & Hamburg in 2017 and Stockholm & Bergen last year. "During these missions, we aim to compile a balanced program for both the media companies and the tech entrepreneurs. Our program covers the different domains of the media sector such as broadcasting, publishing and gaming, but equally to the combination of established companies (The Altantic, °1857) and new kids on the block (OZY Media, °2013).
Our partners DPG Media, Mediahuis, Roularta Media Group, Telenet and VRT learn and brain pick from their US peers. How do they innovate within their media group? How do they collaborate with startups from within and outside the industry? The startups hope to fly back with some qualified leads and insights on expanding their business to the States", explains Elise Descamps (imec.istart).
Patrick De Wachter from Mediahuis (corporate partner): "imec.istart did a fantastic job bringing in the right speakers and delivering new angles to the media and entertainment business."
It was no coincidence that this three-day mission took place in New York, as the big apple is known as the epicenter of the American media industry. Lies Boghaert (imec.istart): "For this years' media mission, we teamed up with BelCham – the Belgian Chamber of Commerce with offices in New York and San Francisco – to nail down an interesting program and to connect with their local network."
More diversification in sources of income
Monetization was an important topic during the media mission. Revenues from traditional advertisements are dropping and media companies must therefore look for alternatives. In the US market, they tend to diversify and spread the revenue streams. Large players such as the New York Times successfully made the transition from ad-based to subscription-based, smaller media rather resort to the organization of events or/and a content agency model.
E-sports as a long-term plan
One of the highlights of the program was a panel discussion with a couple of renowned e-sports experts. Robby Wauters (imec.istart): "E-sports can also be seen as an alternative to falling TV revenues. Gaming attracts a much wider or more diverse audience than generally assumed. The medium also counts much more than just gaming brands among its advertisers, even brands like Luis Vuitton show interest in advertising space in games. Nevertheless, the experts also stated e-sports organizers and advertisers should be patient in terms of ROI and invest in a long-term plan since 2019 should still be considered the early days of e-sports."
The rise of podcasts and audio
Podcasts are on the rise in Belgium, but the US lie ahead in terms of reach and time spent. Whereas the Belgians hoped to learn more about the monetization of podcasts, their US counterparts are equally struggling to take podcasting to a profitable level. Besides that, the omnipresence of the Apple AirPods and the fact that fans are wearing them almost all day long was presented as one of the key trends to watch.
Benjamin Lardinoit of On-Hertz (startup): "Not only does the imec.istart program support us with early funding and extensive mentorship, it also brings long-term value by organizing industry-centric mission in new territories for startups and partners. This media mission to NYC was no exception: high-quality meetings, an efficient local network to support the mission, flawless organization and a very nice group altogether during four days. When will the next one take place? "
Forging new tires
An important objective of this media mission was to connect the startups and partners joining us for four intensive days, introduce them to the relevant players in the New York ecosystem to facilitate discussion and identify potential partnerships with American players. Mission accomplished, according to Lies Boghaert (imec.istart): "It was an intense experience for both the corporates and the startups. Most of the startups already planned follow-up meetings with parties they met in New York. After all, all participating startups are waiting for the right time to start and scale up in the US." To be continued.
3 times a year, startups can apply to the imec.istart Business Accelerator Program and join us on our international missions. Discover all the benefits from our program here.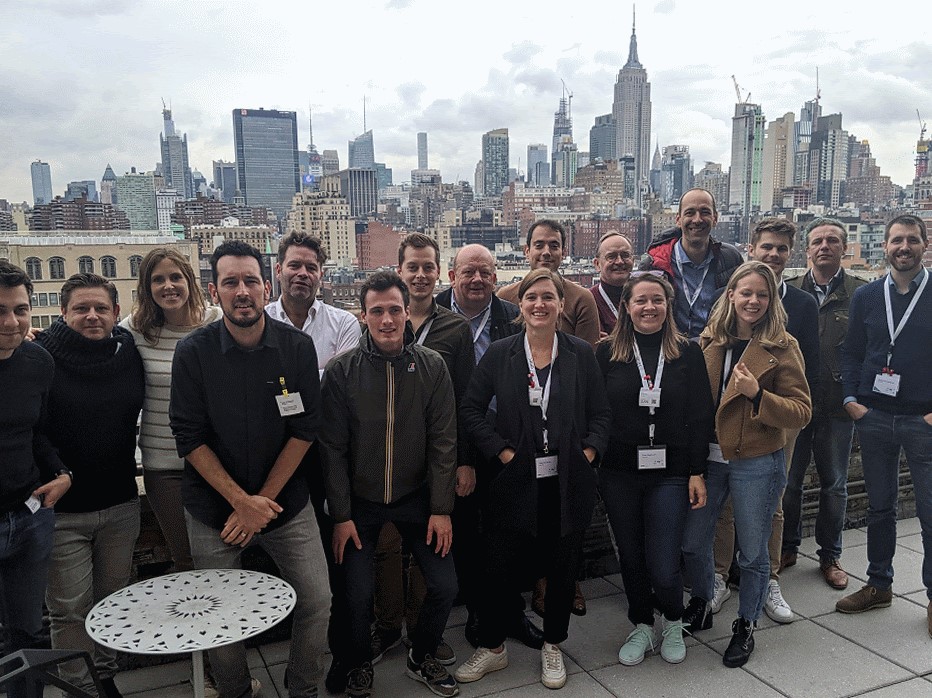 Published on:
2 December 2019