Knowledge is a vital asset in any modern organization. Yet, while many companies are investing in knowledge management solutions, traditional tools typically fail to bring useful information to employees when they need it most, i.e. when faced with an urgent problem or question. To meet this need, Wouter Van den Bosch and Bruno Koninckx developed KnowledgeFlow, an innovative tool that captures and distributes knowledge in a structured and user-friendly way, while making sure that it is accessible from any device. In addition, the tool makes it possible to easily train and test employees' knowledge on a regular basis.
From one-off project to start-up
Although the KnowledgeFlow start-up was founded in March 2016, the story actually began in 2011 – when Wouter Van den Bosch and Bruno Koninckx were asked to develop a knowledge platform for AVEVE Retail, the largest chain of garden centers in Belgium. What started as a one-off project turned out to be the beginning of a whole new start-up adventure.
For AVEVE, sharing knowledge and expertise between employees is essential as customers expect shop assistants to be well-acquainted with the products on offer. So what AVEVE needed was a tool that allowed them to get information to staff members quickly, while at work in the shop. And that's where traditional knowledge management tools typically fall short.
"Many existing solutions are document-based," explains Wouter Van den Bosch "Companies collect information in a mass of Word or PDF documents that they make available to their employees through a shared drive, cloud or collaborative platform. But if a customer asks you a face-to-face question, you don't have the time to skim through a 6-page document to find the answer."
That's why the KnowledgeFlow team developed a whole new content platform tailored to AVEVE's needs. Wouter Van den Bosch: "Our principal aim is to make knowledge usable. To do this, information needs to be captured in a structured, consistent and concise way. Moreover, it needs to be accessible from any device at any time. And we focus on making our tool very user-friendly, thus lowering the threshold for employees to add new information themselves."
The concept they developed for AVEVE mirrors the kind of questions end-consumers might ask. By entering a short search query or by quickly scanning a product's bar code with their phone, employees can access a structured information sheet that outlines that product's main properties and advantages.
Because all the data is inserted in the same question-oriented format, it is easy to re-use the information for other purposes, e.g. employee training by means of a gamified app. Wouter Van den Bosch: "The tests are really short (about 5 mins) and because they can be done on a mobile phone, employees can do them whenever they have a moment to spare. If they score well on these tests, they obtain a higher ranking in the game." Employees can do the tests on their own incentive or as part of a training program, e.g. to become acquainted with a new product range.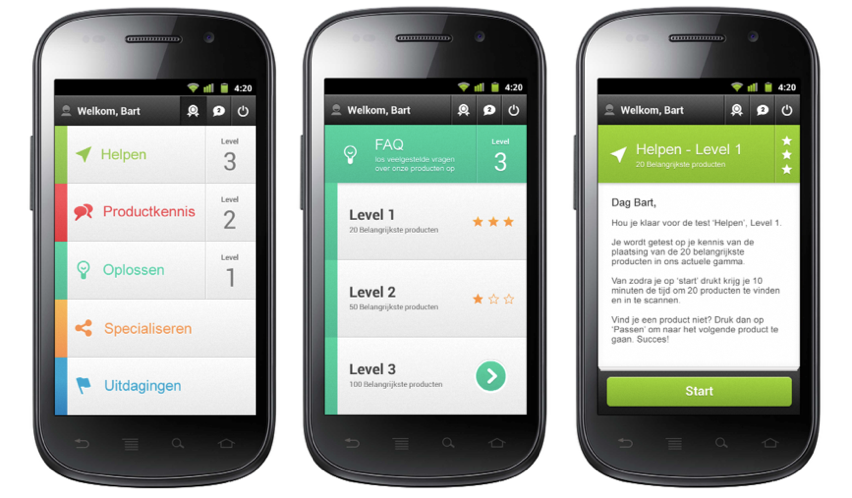 Short, automated evaluations for test-driven learning on-the-go
This training tool also makes it easier for new employees to find their way around and helps them to provide correct answers to customers' queries even on their first day. Moreover, data on these training sessions and tests give HR and management a real-time overview of the staff's in-house competencies. AVEVE has even calculated that using the tool has allowed them to reduce their training budget with 20%.
Wouter Van den Bosch and Bruno Koninckx soon noticed that AVEVE was not the only company struggling with efficient knowledge management. So, in 2016 they decided to start their own company. Drawing on their experience with AVEVE, they created a new, more advanced platform based on the same principles. Today, the platform consists of standard templates (Q&A, product sheet, procedure, etc.) that can be adapted or modified depending on companies' specific needs.