Advancing Moore's Law beyond 2nm technology
In 2022, imec presented its 20-year technology roadmap to continue to enable more performant semiconductors for the next eight to ten generations. A combination of continued dimensional scaling, new transistor architectures, the introduction of new materials, combined with innovative interconnect architectures will be the key to success.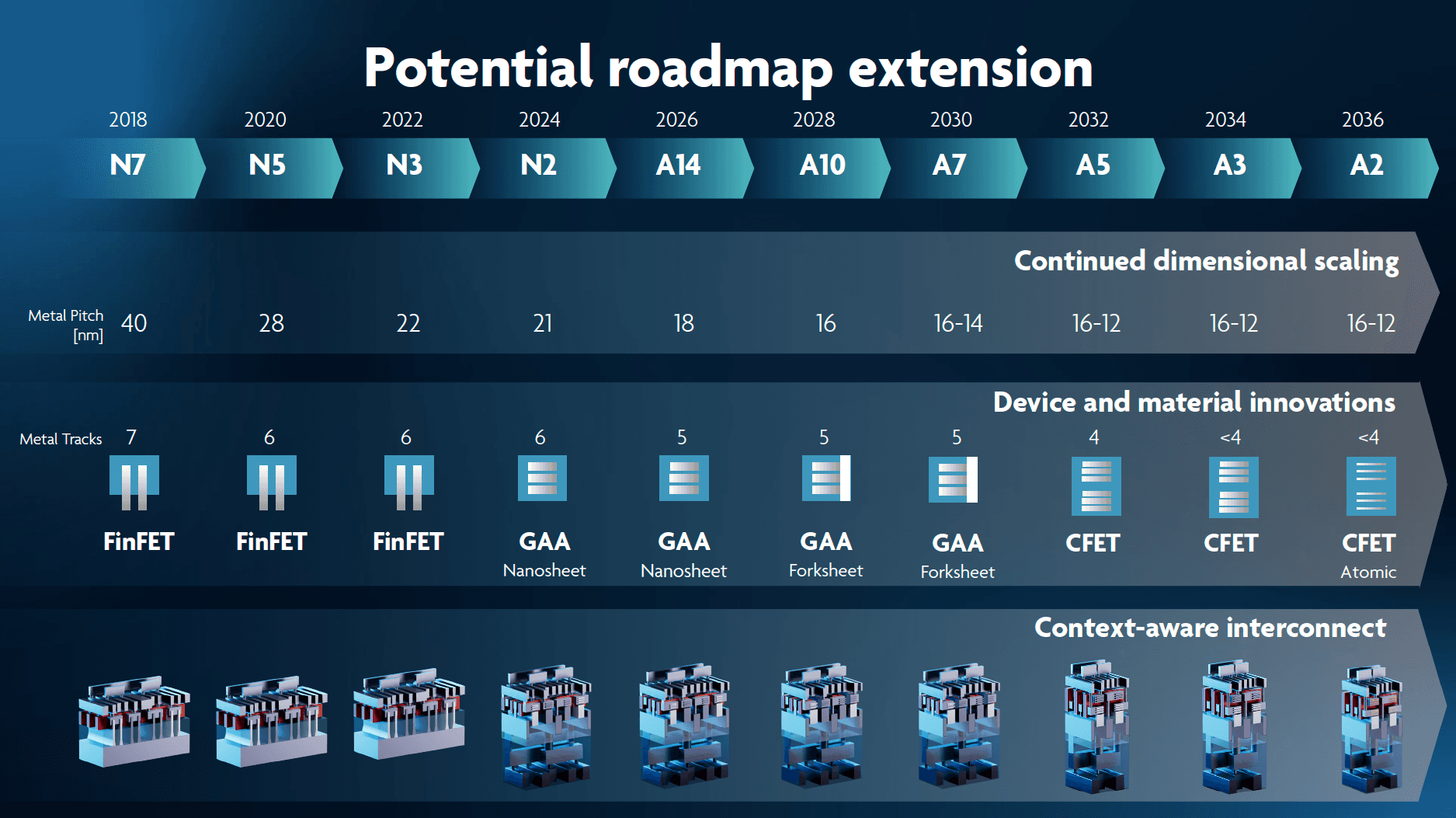 Imec's advanced patterning program moved forward by ramping up the development of the high-NA patterning ecosystem withing the imec-ASML Joint High-NA Lab, centered around the first 0.55NA extreme ultraviolet (EUV) lithography prototype tool. At the 2022 SPIE Advanced Lithography conference, we presented breakthroughs in patterning and etch processes, new resist and underlayer materials, photomask technology, and metrology.
With backside power delivery networks (BSPDN) being considered as the next major performance booster in logic CMOS scaling that will be introduced in the industry, imec demonstrated at the 2022 IEEE VLSI Symposium on Technology and Circuits an advanced integration scheme for BSPDN with scaled FinFET devices featuring buried power rails for back- and frontside routing – a world's first.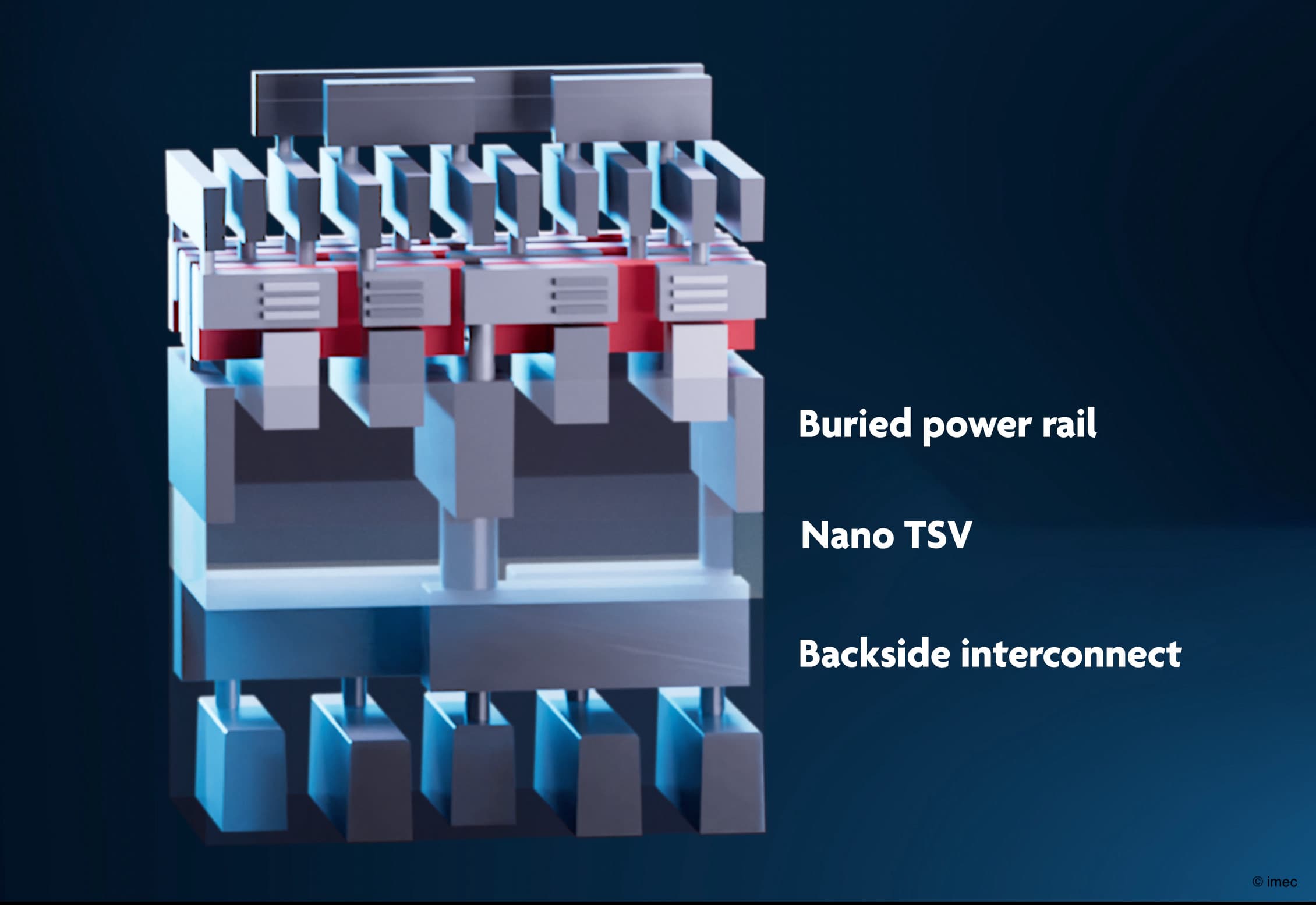 Also in 2022, we demonstrated, for the first time, high aspect ratio (AR=6) processing of ruthenium (Ru) in a semi-damascene fashion, resulting in 40% resistance reduction without sacrificing area. These results pave the way to high aspect ratio metal etch to pattern lines below 20nm pitch. And, we presented a semi-damascene integration approach for implementing the vertical-horizontal-vertical (VHV) scaling booster that designers can use for packing standard cells tighter. Representing 21% area gain over 5T designs, the solution will be critical to gradually push the logic scaling roadmap well into the Å era.
On the memory side, we improved the ferroelectric response and endurance of HZO-based ferroelectric capacitors through interfacial oxide engineering. The results, presented at IEDM 2022, are considered as a critical step towards realizing FeRAM for storage class, filling the gap between fast DRAM and highly dense NAND Flash and as embedded memory.
Another highlight of 2022 was the introduction of system technology co-optimization (STCO) within our core CMOS program offering. The new program integrates all imec's design technology co-optimization (DTCO) activities that study technology to circuit optimization across our core CMOS technology programs, and STCO, to ensure the liaison with the system application. With the new program, we aim to tackle future system needs and bottlenecks into technology requirements in a top-down approach.
Connectivity: From GHz to THz frequencies
Within our advanced-RF program, pursuing the development of next-gen mobile communication solutions, we achieved tremendous progress in electrical performance of GaN-on-Si devices for 5G and 6G, bringing the power efficiency and output power for the first time on par with that of GaN-on-Silicon Carbide (SiC). To ensure the right trade-off between electrical and thermal performance at high operating frequencies in next-gen RF devices, we also introduced a novel simulation tool that better predicts thermal transport in RF devices. These breakthroughs were presented in December at IEDM 2022.
With data rates up to 1.66Gb/s at Milliwatt power, our UWB transmitter chip supports low-power, high-bitrate applications, enabling UWB solutions for smart glasses delivering tomorrow's AR/VR experiences, or for wireless telemetry modules for intracortical sensing. The chip was presented at ISSCC 2022.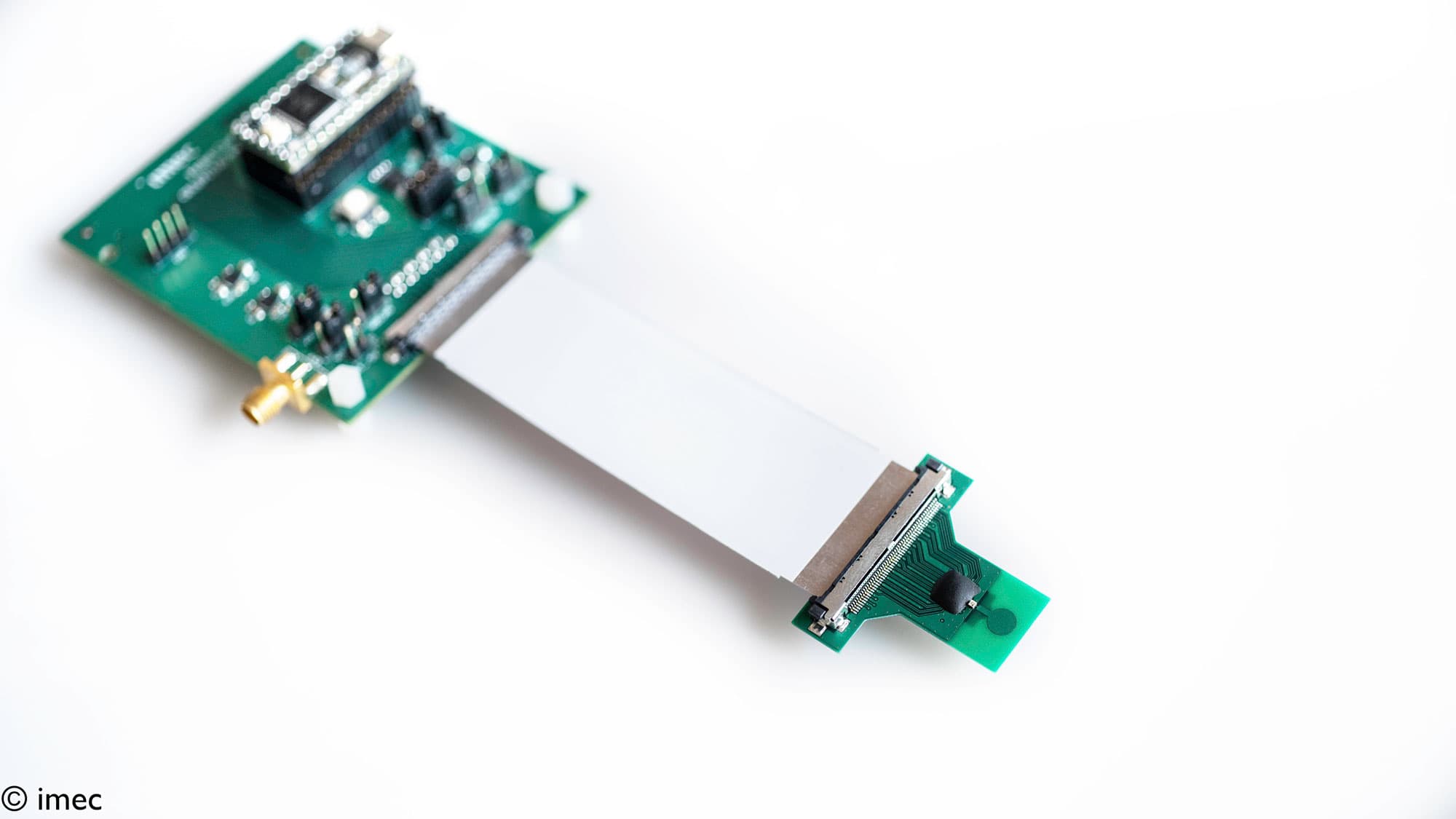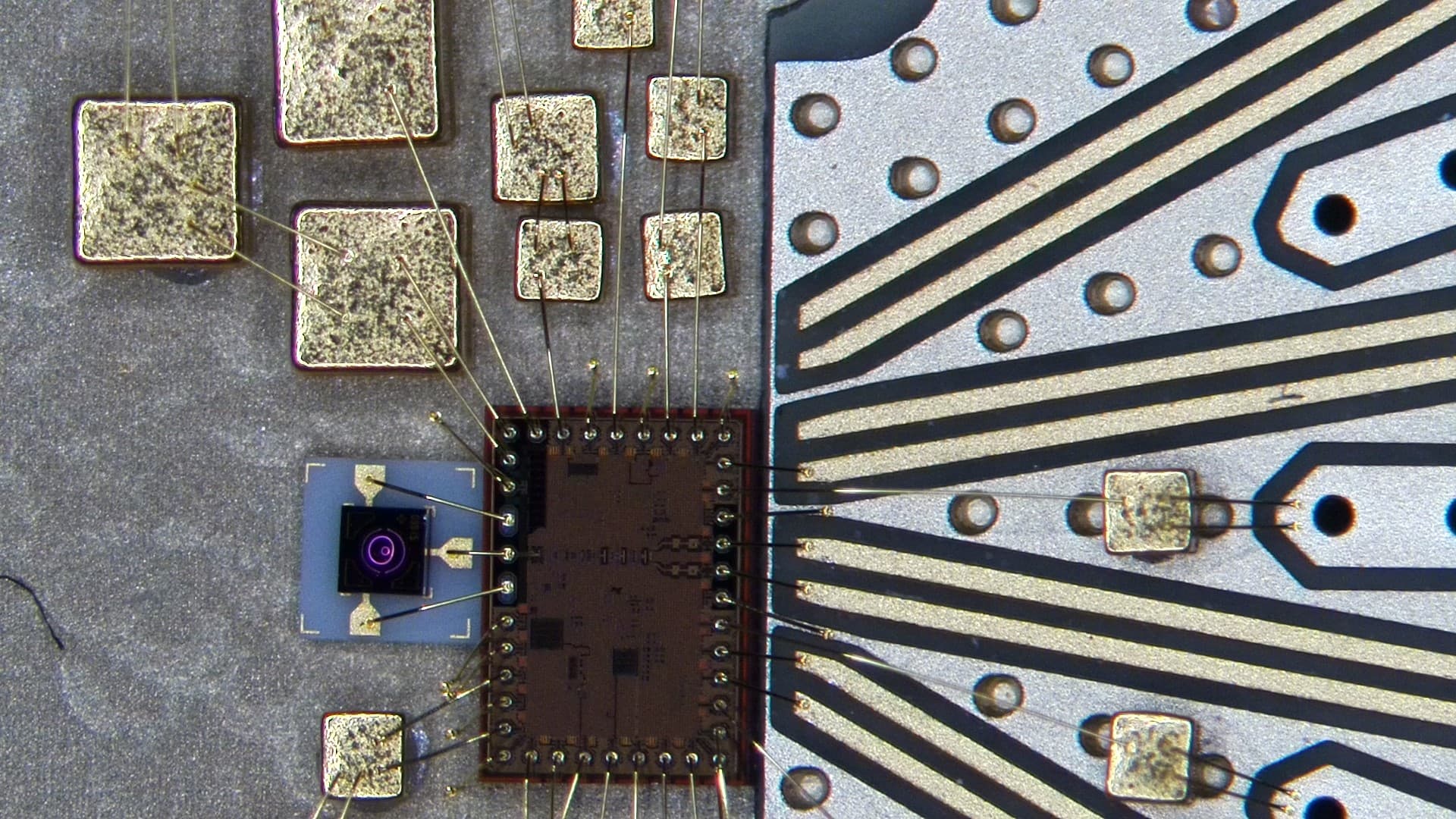 Sense and Actuate
In 2022, we entered a new phase in our hyperspectral imaging technology offering, empowering a whole new range of applications. Through a successful joint development project (JDP) with Bühler, we now offer high-throughput manufacturing of our hyperspectral filter-on-chip CMOS sensors. The JDP with Bühler also resulted in hyperspectral sensors with unmatched precision, higher quality and increased filter complexity.
We presented in 2022 a piezoelectric Micromachined Ultrasound Transducer (pMUT) array that is compatible with flat-panel-displays (FPD) process technologies. This breakthrough result prepares imec's pMUT technology to be integrated in future mid-air applications, such as vibro-haptics, time-of-flight (3D) sensing or gesture recognition, in novel form factors like smartphones and car dashboards.
Leveraging semiconductor technology to tackle societal challenges
Technological innovations are crucial to tackle in a sustainable way the challenges that our society is facing. At the heart of these innovations is advanced semiconductor technology that enables breakthroughs in healthcare, sustainable energy, smart mobility, Industry 4.0, ... Imec continues to drive innovation in all these domains.
In the healthcare domain, we achieved a breakthrough in our R&D on advanced neural probes. At the 2022 VLSI circuits conference, we presented a neural signal acquisition chip that features one of the world's smallest recording channels that can simultaneously acquire local field potentials and action potentials in neurophysiology experiments.
We also performed, together with UZ Leuven and KU Leuven, a large longitudinal study demonstrating that our breath sampler test, detecting virus in exhaled breath, is on par with the golden-standard nasopharyngeal-based PCR tests for SARS-COV-2 detection. The study also indicated that people can spread the virus early on in the infection, even when they just performed a negative self-test. Moreover, our breath-based test is first in consistently reporting a negative result, indicating when a person is not infectious anymore.
Another important step forward in our R&D offering in the life sciences domain was the integration of our diverse biomanufacturing-related activities in 2022. By focusing on shared objectives, we aim to boost our research and achieve breakthroughs faster. In 2022, we complemented our technical expertise with market and applications knowledge and initiated an R&D activity on inline sensing, aiming at developing semiconductor-based sensing solutions to monitor critical process parameters during the biomanufacturing process.
Advanced chip technology is crucial to harness the needed computing power, and at the same time comes with a much better energy efficiency that will drive mobility towards full electrification in view of decarbonization, and towards autonomous cars in pursuit of increased road safety. In September 2022, imec and Volkswagen AG signed an MOU to team up to disrupt the automotive industry, leveraging and driving the latest semiconductors innovations to improve the future performance of cars.
Imec joined euROBIN, a unified European platform for R&D on AI-driven robotics that brings together a large number of distinguished research labs across Europe to jointly make significant scientific advances on core questions of AI-based robotics.
Decarbonization
Imec takes a broad and holistic approach towards sustainability. In 2022, we performed an assessment study with input from external stakeholders as well as from our internal community and defined the priorities of our sustainability policy. In our operations, we are progressing well towards our goal to reduce our carbon footprint with 65% by 2030. A 2022 milestone was our engagement as one on the founding members in the SEMI Climate Council in October 2022, committing to jointly address ambitious decarbonization targets.
In our research on renewable energy production, we reported significant progress in our research on nanomesh structures for future energy-related applications such as electrolyzers technology for cost efficient production of green hydrogen. Our nanomesh material was demonstrated to reach a 100-fold current density enhancement compared to the current standard materials, which puts our nanomesh electrodes in pole position for high-throughput electrochemical applications.
Also in 2022, our sustainable semiconductor technology and systems (SSTS) program, which aims at quantifying and mitigating the carbon footprint of semiconductor manufacturing, attracted many partners from across the entire semiconductor ecosystem including Apple, Amazon, Microsoft, ASM, ASML, Kurita, Screen, Tokyo Electron.
Imec venturing
As a world-leading R&D center, imec is the place to be for startups to test out new concepts and bring new technology into the market. Imec launched three new spin-offs in 2022, SOLiTHOR, Swave and Dyamand. Existing spin-offs followed up on their success story by announcing a product breakthrough (miDiagnostics, Onera), a capital increase (Pharrowtech, Deltaray, Morrow, Spectricity), or a large collaboration agreement (MiCLEDI). Indigo Diabetes embarked on a clinical trial to evaluate the longer-term stability of its continuous multi-metabolite ('CMM') device and established a US presence to drive business development and extend talent acquisition.
In May 2022, SOLiTHOR closed a €10M seed investment round to develop a new disruptive solid-state (Li) battery cell technology. The investment round was led by imec.xpand and supported by a strong investment syndicate including LRM, Nuhma and FPIM.
Swave, a spin-off of imec and VUB was launched in June 2022, raising €7M to develop and commercialize immersive 3D HXR gigapixel technology for future Holographic eXtended Reality (HXR) applications.
Dyamand, a spin-off of imec and Ghent University, develops middleware that turns any hardware into a digital device that can seamlessly connect with digital applications. Dyamand kicked off in June 2022 with the launch of eSave, a heating management application to control heating of individual radiators in large commercial buildings.
Also in 2022, imec.xpand, the early-stage deep tech investment fund shifted up gears and closed already €200M of its second fund. Working closely with imec, the independently managed fund invests in startups that can benefit significantly from imec's knowledge, expertise, network and/or infrastructure. A key element is providing chip designers access to chipmaking capacity without having to invest heavily with foundries in the early stages.
Since its launch in 2011, imec.istart, imec's tech startup accelerator, supported 270 ventures that in total reached more that €655M in follow-up funding in 2022. Ten ventures exceeded €10M funding. One of them is Deliverect, imec.istart's first unicorn company who in total already raised €202M. Another milestone of 2022 was the announcement of the imec.istart.nl seed fund, amounting €12M to support tech startups and spin-offs in The Netherlands.
International recognition and impact
Imec is acknowledged worldwide as a trusted and leading R&D centre for advanced semiconductor research. Our strength lies in the ability to engage all players in the semiconductor value chain: leading tool and materials suppliers, IDMs, foundries, fabless and fablite companies, EDA and IP suppliers, as well as universities and other academic institutions worldwide.
In the context of the US Chips Act, we are working to determine how we can leverage our 38+ years' experience in pre-competitive R&D in semiconductors to support the ambitions of National Semiconductor Technology Center (NSTC). In Japan, we signed an MOU with the newly founded semiconductor company Rapidus to collaborate on advanced semiconductor technologies. In the EU Chips Act, we are well positioned to act as a bridge between leading-edge R&D and the industry. We are taking the lead to build a pan-European pilot line capability strengthening local presence in the semiconductor value chain in various EU member states. We are working closely with CEA-Leti and Fraunhofer to provide process technology modules for advanced logic nodes, to strengthen European technology leadership in materials and equipment and to provide a platform for prototyping future high performance compute (HPC) and other advanced system innovations such as edge AI.
As a precursor to the EU Chips Act, the EU approved €40M funding for the first phase of the PREVAIL project, a collaboration of imec, CEA-Leti and Fraunhofer to jointly establish a prototyping baseline for edge-AI applications. The budget will be used for the installation of new tools.
Published on:
20 December 2022